HENRIK LARSSON celebrates his 52nd birthday today and will deserve every good wish that comes his way.
The talismanic Swede, one of Celtic's greatest-ever purchases at a bargain £650,000 from Feyenoord in 1997, has left Hoops followers everywhere with a host of wonderful and endearing memories.
One such heartwarming recollection was delivered in Govan on a sunny afternoon on April 29 2001 when Martin O'Neill's all-stars ran amok in a gloriously one-sided affair.
Who can forget the confrontation when Henrik Larsson thumped in his 50th goal in a prolific campaign and the astute Lubomir Moravcik chipped in with a double in a joyous 3-0 success?
HALF-CENTURY COMING UP…Henrik Larsson weaves beyond Stefan Klos before scoring his landmark goal.
Before that runaway win which emphasised the gulf in class between Celtic and Rangers, there was the game that became known as 'Demolition Derby' when new boss O'Neill celebrated his first Old Firm confrontation with an extraordinary 6-2 romp at Parkhead in August 2000 shortly after he had moved into the Hoops hot seat.
Author Alex Gordon recalls the Irishman's remarkable debut campaign in his Celtic tribute, '50 Flags Plus One'. In an edited extract, Alex, veteran of fifteen Hoops publications, reflects on a colourful, captivating season in the club's history when they achieved their 37th crown.
He looks back at the rampant performance against Dick Advocaat's stunned visitors as Chris Sutton and Henrik Larsson thumped in doubles and Stiliyan Petrov and Paul Lambert claimed the others to propel the Hoops in the direction of the championship.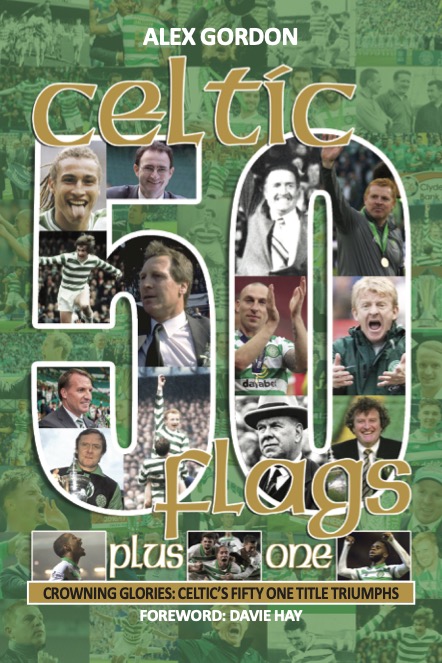 MARTIN O'NEILL said: "Maybe the result highlighted Rangers aren't quite as good as they think they are. There are still only two teams who can win the league and it is far too early yet to say which of us it will be. But just so long as Celtic don't get carried away by this one result and continue going about things the way we have been so far, I think you could see me celebrating come the end of the season."
Chris Sutton added: "It was a great win. I may be new here, but I am aware of the feeling that exists between these teams. The derby games are vitally important and this is a good start. The main thing for everyone at this club is to win the SPL championship. That is our priority. If we keep winning, they'll have to play catch-up and we'll see how that suits them."
The championship – the thirty-seventh in the club's history – was delivered on Sunday, April 7 in front of a crowd of 60,440, the biggest in Scotland throughout the season. There were five games still to go when St Mirren turned up in the east end of Glasgow in the forlorn hope of postponing Flag Day and the crowning of new champions.
Johan Mjallby and Alan Thompson hit the woodwork, Henrik Larsson proved he was human by fluffing his final effort with just keeper Ludovic Roy to beat and a variety of other efforts flew high and wide. It was left to Tommy Johnson to snatch the glory goal seven minutes from the interval.
THE BIG FIVE-O…Henrik Larsson is congratulated by his team-mates after scoring his 50th goal of the season at Ibrox.
With an anxiety-riddled rearguard backing off, Larsson danced his way into the danger zone before pushing a pass in front of the unmarked Johnson. The fans groaned in unison, though, as the former Aston Villa and Derby County forward took an awful first touch. However, he managed to regain his composure before sliding the ball goalwards beyond a startled goalkeeper and into the net.
O'Neill had invested wisely in bringing players such as Chris Sutton, Alan Thompson, Neil Lennon, Joos Valgaeren, Didier Agathe and Rab Douglas to the club. Ramon Vega arrived at the right time on loan from Spurs in December, but returned to the London outfit in the summer.
The new manager had to be complimented, too, with the work he had done with left-winger Bobby Petta who had been rejuvenated since the arrival of the Irishman.
THE CUP THAT CHEERS…Martin O'Neill proudly parades the Scottish Cup.
As April came to a close, the celebrations continued. On the twenty-ninth of the month, Celtic would be asked to parade their skills at Ibrox. It was party-time in Govan when Henrik Larsson scored his fiftieth goal of a spectacular season, Lubomir Moravcik claimed two excellent solo efforts, Martin O'Neill's team beat Rangers for the fourth time in five meetings – including a 3-1 success in the League Cup semi-final – and Celtic, newly-crowned champions, tasted success at Ibrox for the first time in seven years.
There was a carnival atmosphere among the visiting support who had seen their favourites emphatically beaten by four clear goals in their past two visits – 5-1 in November and 4-0 thirteen months beforehand. The turnaround in fortunes between two of world football's fiercest adversaries had been nothing short of incredible.
GOVAN GLORY BHOYS…Neil Lennon and Tommy Johnson show their delight after 3-0 success.
The Premier League championship was duly delivered in style with the total points tally of ninety-seven setting a new record, seven better than the previous best. It was also won by fifteen points from Rangers, a remarkable thirty-six-point swing in a year.
Martin O'Neill's side already had the League Cup in the trophy cabinet following Larsson's hat-trick in the 3-0 romp against Kilmarnock at Hampden on March 18. After the victory over St Mirren, Celtic were one step removed from their first domestic treble since the heady days of the legendary Jock Stein in 1969.
Hibs barred their way to the milestone, the Edinburgh side lying in wait after reaching the Scottish Cup Final which would bring down the season's curtain at the national stadium on May 26. Henrik Larsson fired in a double after Jackie McNamara, an early replacement for the limping Lubor Moravcik, had got the ball rolling to record a successive three-goal Hampden showpiece celebration.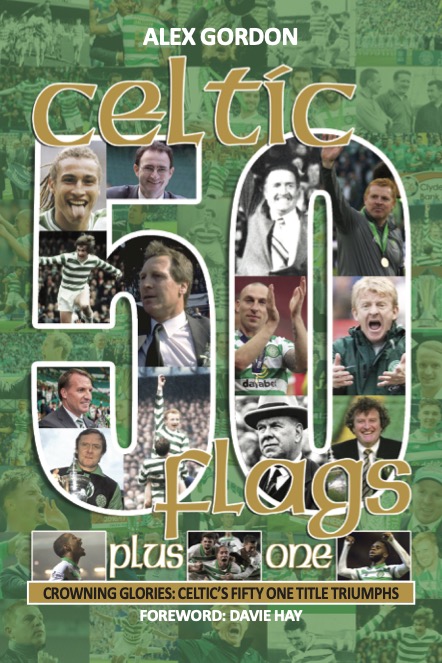 A delighted Larsson exclaimed: "We won the league early, then the CIS Insurance Cup and everyone had been going on about the treble and how much it would mean to the club.
"Now we can talk about it. Now there are no problems. This was the one I hadn't won yet in Scotland.
"However, I've won it today and I'm very, very pleased. The second goal gave us a bit more breathing space and then we could sit back a little bit and try to pick them off.
"When we got the penalty-kick that was it finished."
Click Here for Comments >