EXACTLY fifty-six years ago today, Celtic became the first British club to conquer Europe.
In a series of CQN EXCLUSIVE features over the previous nine days, we have been counting down to the Big One, the 2-1 triumph over Inter Milan in the European Cup Final in Lisbon on May 25 1967.
Sandro Mazzola opened the scoring for the Italians in the seventh minute with a penalty-kick, but Tommy Gemmell equalised with a pulverising drive in the 63rd minute before Stevie Chalmers diverted in the goal of a lifetime six minutes from the end.
The team that unforgettable evening in the Portuguese capital was: Ronnie Simpson; Jim Craig and Tommy Gemmell; Bobby Murdoch, Billy McNeill and John Clark; Jimmy Johnstone, Willie Wallace, Stevie Chalmers, Bertie Auld and Bobby Lennox.
FOLLOW THE LEADER…Billy McNeill guides his Celtic team-mates onto the pitch in Lisbon.
Today, we extensively cover the greatest day in Celtic's glorious history with SIXTEEN features from manager Jock Stein and all the main players.
Author Alex Gordon has reviewed a few of his publications to provide the relevant interviews and information from three of his tribute books, 'The Lisbon Lions: The 40th Anniversary', 'That Season in Paradise' and 'Yogi Bare: The Life and Times of a Celtic Legend'.
To get the ball rolling, we start the extravaganza with a feature on the man who made it possible, iconic manager Jock Stein.
Please enjoy this special trip through Celtic history.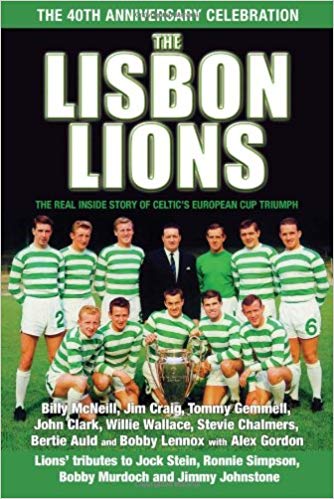 HE was the individual who possessed the keys to open the gates to hitherto unknown abundances of joy and immeasurable delight for the Celtic support.
For the moment, though, Jock Stein was a man alone.
The Celtic manager had abandoned the touchline bench he had shared with Sean Fallon, Neilly Mochan, Bob Rooney, Jimmy Steele and reserve goalkeeper John Fallon for nudging on ninety epic minutes at the radiant surroundings of the Estadio Nacional in Lisbon on Thursday May 25 1967.
Tension, evidently, possessed qualities to invade even the sternest of facades; suspense had the propensity to penetrate the reserves of the most resolute of characters. With Celtic leading Inter Milan 2-1, the remaining seconds were ticking down agonisingly slowly. Stein, unnoticed in the midst of the increasing anxiety as West German referee Kurt Tschenscher showed no signs of placing the whistle to his lips to bring a halt to proceedings, surreptitiously slid off the seat and began walking along the trackside.
Remarkably, Jock Stein couldn't bear to look and actually turned his back on the action taking place only yards adrift of his left shoulder. He had decided to go walkabout. He strolled down the touchline, his head bowed and his hands clasped in front of him, almost as if in prayer. Celtic were moments away from becoming only the fifth team to win the European Cup while Stein paced steadily forward, his gaze fixed on the track in front of him.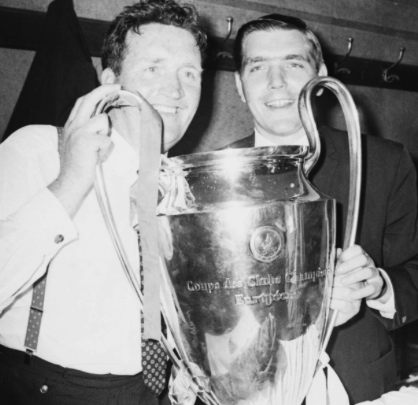 SILVERWARE SMILES…Jock Stein and Bobby Murdoch with the newly-won European Cup.
A lifetime's achievement was within touching distance; his hard work, toil, graft and genius about to be rewarded. The delay was interminable, verging on the unendurable.
Suddenly, there was the welcoming blast from the match official's whistle and the stress was expunged immediately. Stein spun, brought up his fist in acclaim and yelled: "Yes!". The job was done; Celtic had made history by conquering Europe, the first British club to achieve what had previously been deemed by so many football experts as an impossible task.
The Celtic bench, thirty yards away, had already joined the cavorting players. There is a famous photograph of the backroom team leaping around with unconfined joy on the touchline seconds after full-time. There is assistant manager Fallon, trainer Mochan, physiotherapist Rooney, masseur Steele and substitute goalie Fallon catapulting to their feet in salute.
There is no sign of the man who masterminded it all, though. Jock Stein absorbed the moment of glory in his own company, alone with his private thoughts for a fleeting second or two. And then the party started.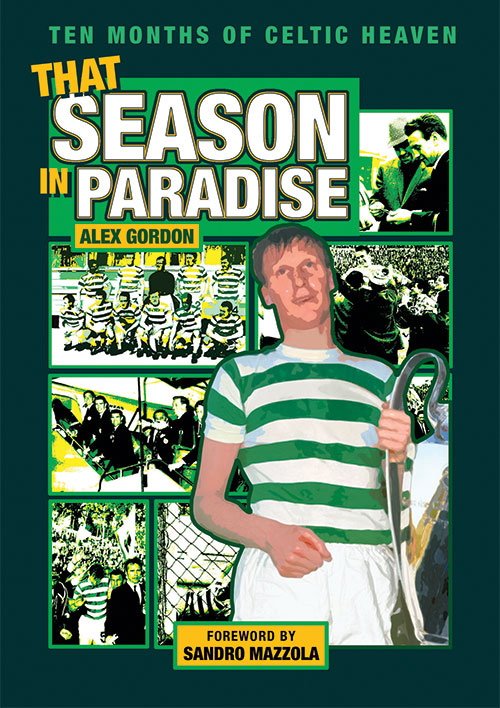 Back in Glasgow the following evening, the Celtic manager was cornered live on television as his beaming players paraded the newly-won European Cup to the adoring thousands at Celtic Park who had turned out to give a rousing welcome home to their heroes. The BBC commentator, a chap by the name of George Davidson, pushed the microphone towards Stein and said, 'I am told the secret is that Celtic are one big happy family and you keep it that way.'
Stein thought for a moment and replied: "Actually, there is a better secret than that – we are a good football team."
What motivated the phenomenon that was Jock Stein? There can be no argument that graphic, etched-in-coaldust memories of his early life as a miner, beginning as a sixteen year old at the Earnock pits in Lanarkshire, never left him. He would tell journalists of those days when he fed bread to the rats who awaited his company as he descended 1,000 feet underground on a daily basis to make a living.
He would say: "No-one knows darkness like the darkness inside a mine." Another oft-used expression was: "You go down that pit shaft and you can't see a thing. The guy next to you, you don't know who he is. Yet he is the best friend you will ever have."
Stein wasn't a particularly complex character and had little time for complications while dealing with matters in a basic and practical manner. He could trample on people's sensitivities and he upset more than a few players in his time. There were those who would insist agreeability wasn't exactly his stock in trade. Undoubtedly ruthless, he made decisions that were far removed from popular.
A WORD IN YOUR EAR…Jock Stein has something to relate to Inter Milan manager Helenio Herrera as they walk to their touchline benches in Lisbon.
Although some former Celtic players of my acquaintance admit to still experiencing traces of bitterness and resentment at the way they were treated, not one of them has even attempted to cast aspersions upon his managerial ability. That aspect of Jock Stein's persona is unchallengeable.
No-one was ever sure whether he was joking or being philosophical when he said: "The secret of being a good manager is keeping the six players who hate you away from the five who are undecided."
Jim Craig made this honest observation: "Jock was not an educated person, in general, but he was a highly intelligent man. He would have sauntered through a university degree course."
To many, the Celtic manager thrived on argument and debate and not just on the topic of football. Craig also pointed out he possessed a general knowledge to enable him to be "a stimulating conversationalist".
Sir Matt Busby, the legendary former Manchester United manager, who was a close confidante of Stein, said: "He had a remarkable eye for detail in football and a memory bank that bordered on the impossible. As history shows, he put it all to a good use."
On a sun-bathed evening in the Portuguese capital, as far removed from his days of pummeling for coal in the underground gloom, Jock Stein cut a solitary figure. The man who invited Celtic supporters to a destination beyond comprehension was isolated for a moment in time.
In his subconscious, though, he may very well have detected the faint, lilting tones of a well-known Celtic anthem…
"You'll never walk alone."
Click Here for Comments >