Lou Macari had a well-earned reputation as a gambler. He liked a flutter, he enjoyed taking risks. Perhaps, then, it was not surprising he rejected a lucrative five-year contract to extend his stay as Stoke City manager to return to Celtic as the replacement for Liam Brady on October 27 1993. Once again, Macari was willing to speculate. On this occasion, though, he called it spectacularly wrong and was out of a job eight months later.
Macari realised his old club were in a mess, on and off the pitch, and, by his own admission, he was 'parachuted into a crisis'. But he didn't hesitate in accepting the under-siege board's invitation to become the eighth individual to be named team boss of Celtic Football Club. Stoke City agreed £225,000 in compensation for Macari who was under contract following two successful years at the club. Ironically, Celtic had accepted an offer of £200,000 for the busy, little forward from Manchester United to prise him away from the east end of Glasgow in 1973. It was a record fee for a Scottish footballer at the time. Now, twenty years later, the board would be forced to pay £25,000 more to lure him back to his spiritual home.
Three days after the appointment, Macari was in the Ibrox dug-out to take his bow as the Celtic manager. A game against Rangers certainly didn't appear to faze this naturally effervescent character. On the day of the encounter, the television crews were waiting for him as he stepped out of Celtic's age-old HQ, Seamill Hydro, en route to Govan. He was asked for his thoughts. Smiling broadly, Macari answered, 'Really looking forward to going up there and getting plenty of stick.' As a Celtic player, the Rangers support rarely missed the opportunity to single him out for special 'treatment', but it hadn't bothered him then and, on the face of it, anyway, it appeared his attitude hadn't changed.
With sublime irony, Macari last kicked a ball as a Celtic player against Rangers on the same ground on January 6 1973 before his big-money move to Old Trafford ten days later. As a manager, he was hoping for better luck on this occasion. As a player, he went out a loser after Alfie Conn, who would later play for Celtic, netted the winner in the last minute. Macari didn't make a single change to the line-up selected by caretaker boss Frank Connor for the previous league game, a 1-1 draw with Hibs at Easter Road. Pat Bonner was in goal with a back four of Peter Grant, Gary Gillespie, Tony Mowbray and Tommy Boyd. Paul Byrne, a young Dubliner brought to the club by Liam Brady from Bangor, played wide right with a mid-line of Pat McGinlay, Paul McStay and John Collins. Gerry Creaney and Charlie Nicholas led the attack. Andy Payton and Brian O'Neil were on the bench.
The confrontation was evenly balanced until the Celtic rearguard committed an act of sheer folly in the sixty-seventh minute to allow poacher supreme McCoist far too much time and space in the penalty box. Those commodities were oxygen to the Ibrox striker. McCall whipped in a low cross from the left and, unforgivably, there was no-one anywhere near challenging distance of McCoist, only eight yards out. His first shot was blocked by Bonner, but he snapped up the rebound to ram it into the net.
Three minutes afterwards, Macari was doing a jig of joy on the Ibrox touchline as he celebrated the first goal of his managerial reign at the club. McGinlay, on the right forty yards out, slung a long diagonal high ball into the Rangers penalty area. Nicholas chased what looked like a forlorn cause as Ally Maxwell leapt and stretched above him. It looked a simple catch for the keeper. He must have had one eye on his Celtic opponent, though, as he fumbled the ball and dropped it behind Nicholas. Collins, reading the situation perfectly, stepped in, took control and, with a fair degree of nonchalance, swept the ball into the net.
The game was deep into injury time when substitute O'Neil, on for Nicholas in eighty-eight minutes, made a massive impact. Collins hurled over a right-wing corner-kick and once again Maxwell was in trouble. He jumped along with Payton and both missed. O'Neil, right behind them, rose toweringly and thumped in a glorious header from practically under the crossbar. Game over. Job done. Dream debut. Macari happy.
Sitting among the Celtic support that afternoon, behind the goal where Collins and O'Neil had just scored, were Fergus McCann, Brian Dempsey and other members of the consortium plotting feverishly and working overtime in their dogged and determined efforts to oust the current board. They were now known as 'McCann and his Rebel Gang' and Lou Macari couldn't have guessed the full significance the shift in balance within the corridors of power at Parkhead would have on his return to the club. For the time being, though, deep in the heart of enemy territory, he whooped it up with the rest of the Celtic contingent. However, Macari would also have been aware of McCann's thinking at the time. Only a couple of days beforehand, McCann, with undisguised disdain, proclaimed the appointment of Macari as 'nothing more than a publicity stunt'.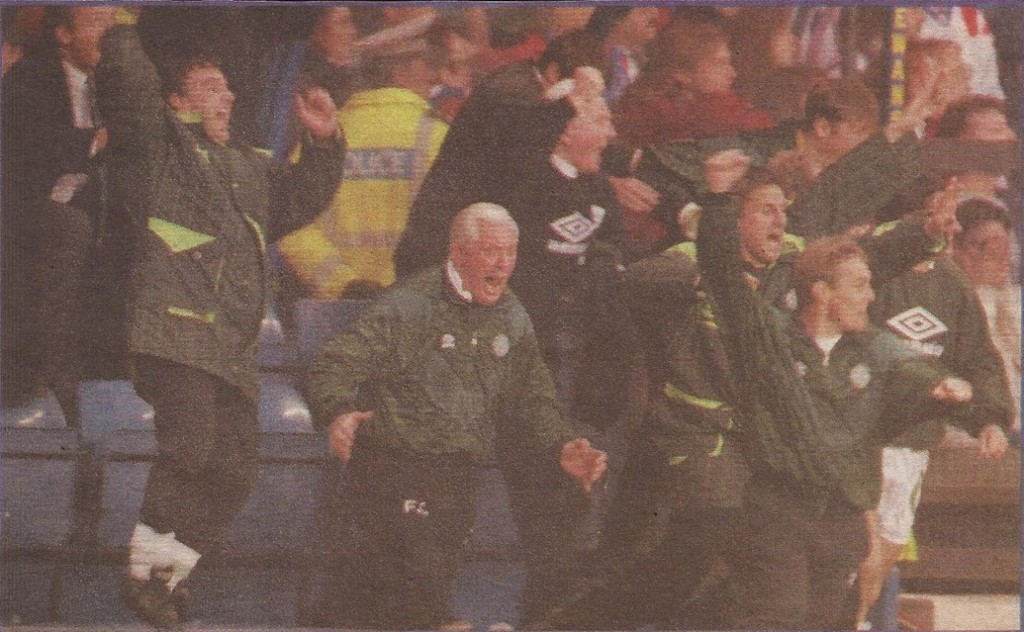 Extract from The Winds of Change by Alex Gordon. Copies are available from CQNBookstore.co.uk – now priced at only 9.99 – the first one ordered gets a copy signed by Davie Hay and the author!
Click Here for Comments >