BACK on October 16 2021, Celtic boss Ange Postecoglou had a clever quickfire response after being quizzed on his thoughts following news Steven Gerrard's side had dropped two points in the 1-1 home draw with Hearts.
The Greek-Australian gaffer had just witnessed his team turn in a professional performance to overcome Motherwell 2-0 at Fir Park with goals in each half from Filipe Jota and David Turnbull.
Postecoglou was especially pleased as it was the Hoops' second consecutive away domestic victory after almost EIGHT months without success on the road. The Parkhead chief had also seen his players beat Aberdeen 2-1 at Pittodrie a fortnight beforehand when Kyogo Furuhashi and Jota claimed the crucial strikes.
SILVER SMILES…Ange Postecoglou beams proudly with the Premieriership trophy and the League Cup.
Coupled with the Edinburgh side's late leveller in Govan in mid-October, it cut the gap between the Glasgow rivals to four points.
Asked if the league leaders dropping two points was "icing on the cake", Postecoglou grinned: "Well, I thought the Premiership race was over, mate, so I'm not looking at the table any more.
"We are just kind of doing our own thing and it's of zero significance for us."
At noon on May 1 at Parkhead, Postecoglou's men had the opportunity to move nine points ahead of the Ibrox club as he prepared for the fifth and final derby of the campaign. Only three games remained after the all-Glasgow fixture – with two at home to Hearts the forthcoming Saturday and Motherwell a week after that with a trip to Tannadice to take on Dundee United sandwiched in between.
After the dust settled of the meeting with Van Bronckhorst's outfit, the Hoops still had a six-point advantage following a 1-1 draw and the manager declared himself "pleased" and even name-checked keeper Joe Hart following another tense confrontation.
The Hoops looked to be heading in the right direction when Filipe Jota gave them a 21st-minute advantage when he collected his 12th strike of an impressive campaign, but Daizen Maeda blew two glorious opportunities to put the contest out of sight which allowed the visitors to regroup and claim an equaliser through Fashion Sakala.
SHINING EXAMPLE…Ange Postecoglou at Tannadice as the tenth title in 11 years is secured.
The 35-year-old 75 times-capped England international netminder was then tasked with making a couple of vital saves to make certain the team did not capitulate as they did at Hampden in the Scottish Cup semi-final the previous month.
Postecoglou observed: "It was a cracking game. Pretty tight and pretty tense. Both teams had chances to get more goals, but, ultimately, it was a good contest between two good teams.
"I'm pleased we got a draw out of it. We had the chances and we don't take the chances to get the second and third and they stayed in it.
"In the end, they've got nothing to lose so they're going to throw men forward and put us under pressure which we expected if we were ahead. We dealt with it okay, but it became difficult at times. Joe Hart hasn't made many saves this year, but he was outstanding today.
"That's why we brought him to this football club."
However, Postecoglou refused to get ahead of himself when he was asked if winning the Premiership would be the greatest achievement of his career.
The 56-year-old gaffer added: "It's not the time for reflection. That time will come at the appropriate moment.
"Right now it's about supporting the players, they've been unbelievable this year in every challenge we've had."
Hart was equally effusive in his thoughts about Postecoglou and said: "I've loved working with him, I have been so impressed by him. He's a top manager and a top coach. I'm 35, football could run out on me. It could just be a game to me. I'm not a young kid coming into training every day, wanting to learn, wanting to improve.
"That's probably the biggest compliment I can pay him because he has made an old donkey like me feel young again."
WINNER…the sign says it all for Ange Postecoglou.
As the manager prepared his players to go once more in the run-in against Hearts in the east end of Glasgow on May 7, he said: "I think it's important to actually enjoy this bit.
"The challenge is still before us, we haven't accomplished what we want to – so enjoy this bit. Be up for it, don't want it to just come to you.
"We've been pretty strong on the players, and everyone, of just embracing the challenge to win it, win it our way, play our football and finish it strong rather than hoping it all finishes so we can get it over and done with."
Postecoglou added: "Obviously, we want to finish strongly, we want to make sure that we play our best football at the most important part of the year and we're going to have to be good on Saturday to do that.
"As I've said, we've been really consistent for a long time, particularly here at home and we'll be up for it.
"After last weekend's game, I think for everyone there was quite a bit of emotion and physical exertion on the day, so we gave the boys a couple of days off to recover and refresh them a little bit.
"It's been a challenging year, but we're in the final straight now and as a group we've got 10 days together so we want to make the most of it."
The Celtic players revelled in the confrontation against Hearts after gifting the visitors a goal of a before roaring back to win 4-1 in front of a rocking Parkhead.
The well-deserved triumph has all but guaranteed Ange Postecoglou's side the Premiership crown with just two games left to play – against Dundee United on Tayside in midweek and Motherwell in Paradise on the Saturday.
Ellis Simms momentarily stunned the home fans when he neatly fired past the exposed Hart in the third minute, but the hosts were 2-1 ahead by the interval after goal from Japanese double-act Maeda and Kyogo. It was all over after the interval when the impressive Matt O'Riley slid No.3 beyond Craig Gordon and Giorgos Giakoumakis rifled in the fourth.
SUPPORTERS' SALUTE…what the Celtic fans think of their manager.
Postecoglou beamed: "We haven't gone behind often on this run, but I was in no doubt of what the reaction would be.
"I'm sure some people were trying to see what it would do to us, but I'm really proud of the players, they don't miss a beat or any belief on what we're trying to do.
"I thought they were outstanding. When we've needed someone they've stepped up and it's a different person wearing the cape every time, it's not one or two we are relying on.
"It's a massive collective effort from all the players. I'm super pleased for them that they got the rewards they deserve."
The tenth title in 11 years was sealed in the 1-1 midweek draw with Dundee United at Tannadice. Postecoglou had said back on September 19 after their third loss in six league games, his team would have to be near flawless if they had to have any chance of winning the coveted silverware.
They had lost 1-0 to Livingston in West Lothian which added to the disappointment of defeats at Tynecastle and Ibrox to leave the Hoops trailing with some critics already writing them off.
On Tayside, they got the point they required to achieve the flag in their THIRTY-FIRST consecutive unbeaten league game on their way to a sensational success. Giakoumakis powered in a header to get the ball rolling, but Dylan Levitt replied with a stupendous long-range effort that left Hart helpless.
Postecoglou was cornered by a Sky News reporter immediately after the final whistle as the team did a lap of honour and he said: "That was pretty special, mate. It's probably the first time this year I've been lost for words.
PRIZE GUY…Ange Postecoglou with the Premiership trophy after the 6-0 win over Motherwell during the season's grand finale at Parkhead on May 14.
"I'm really proud of the players, the staff and the supporters. Everyone. Nobody gave us much of a chance at the start of the year. To do what they've achieved this year, achieve the ultimate, is an unbelievable effort.
"It's massive. The fans had a tough year last year. Not just the fact we didn't win anything, but that they couldn't do this, couldn't come and support their team. They've been right behind us from day one and I couldn't be happier.
"I'm just really proud of this group of players and the staff, they've been unbelievable for us this year."
The manager added: "I think our football has been outstanding, but the character this team has shown to get through the last 31 games and rise to every challenge and, as I said, I couldn't be more proud.
"It was a bit nervy. You know, it's only natural. But these guys have had their heads down and just been so narrow-minded about being successful that when you get so close there's going to be a bit of nerves there.
"But we got the job done."
Unsurprisingly, news broke that Celtic were in the throes of putting together a new contract for Postecoglou and planned to have discussions with the title-winning team boss who had arrived in June from Yokohama F Marinos on a 12-month rolling contract.
Now, though, the Parkhead powerbrokers were eager for the 56-year-old Greek-Australian to accept terms which will see him remain in place for the foreseeable future.
Twelve players had been brought in during the summer, another five arrived in January and the Hoops' tenth Premiership crown in 11 years has been delivered in some style.
HAPPY DAZE…Ange Postecoglou celebrates with the delighted Celtic support.
"Champions – that's who we are," beamed Postecoglou as he was handed the microphone following the 6-0 rout of Motherwell on the final day of the season. Even the sun came out on May 14. The 60,000 full house played their part in the carnival atmosphere.
The Greek-Australian had taken over a team that had finished 25 points adrift after a disastrous term and fashioned into a relentless machine that ended four points ahead of their nearest challengers.
The charismatic gaffer looked around a bouncing Celtic Park following the six-goal saunter against an overwhelmed Fir Park outfit – with Kyogo Furuhashi (2), Giorgos Giakoumakis (2), David Turnbull and Filipe Jota on target – and vowed to be ready to take on Europe's elite.
He said: "It is brilliant. There were plenty of motivations to win the title this year, not least that we obviously didn't win it last year. Knowing potentially that the extra carrot was there was a massive motivator.
"I felt it was a great way for us to accelerate our growth as a football club with us being involved at that level and getting exposed to that level- our players, our team, our football club, that is the level we want to be at every year.
"It is going to be exciting. Celtic Park, Champions League, brilliant."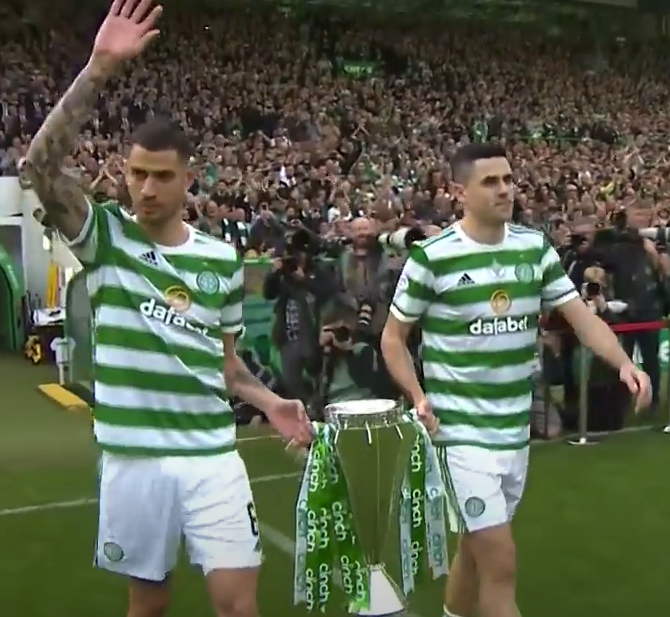 THE LAST HURRAH…Nir Bitton and Tom Rogic escort the newly-won championship silverware onto the pitch in their final appearances in the famous green and white hoops.
On the same afternoon, club stalwarts Tom Rogic and Nir Bitton, with over 18 years' service between them, bade emotional farewells in front of the fans in a super-charged afternoon.
The hard work in replacing two excellent and reliable professionals in time for the £40million group stages was already being undertaken by Postecoglou who had along the way picked three Manager of the Year awards from his fellow-professionals at the PFA, the Scottish Football Writers Association and the Premiership.
The man who turned things upside down in a phenomenal 12 months in charge signed off with a typical message: "I look around and see the joy it brings people, the players, the fans, people who work for this club. I take enormous pride out of that.
"There is no secret to what I do. I tell the players every day that the magic happens out there through sheer hard work.
"It's sweat and tears and pushing yourself all the time. It is easy to say, but to be willing to do it on a daily basis, that's the only way you can make something special.
"This group has done that. They have been committed to a cause and we wanted to play our football a certain way.
"We have stuck to that and it was our road map to success this season."
RESULTS
MAY 1: CELTIC 1 Rangers 1
Jota
May 7: CELTIC 4 Hearts 1
Maeda, Kyogo, O'Riley, Giakoumakis
May 11: Dundee United 1 CELTIC 1
Giakoumakis
May 14: CELTIC 6 Motherwell 0
Kyogo (2), Turnbull, Jota, Giakoumakis (2)
* TOMORROW: Don't miss the thirteenth thrilling instalment of CQN's EXCLUSIVE tribute to Ange Postecoglou.
Click Here for Comments >