CQN continues its EXCLUSIVE series to salute Celtic's Greatest-Ever skipper Billy McNeill.
Author Alex Gordon, who has had fifteen Celtic books published, including 'Caesar and The Assassin' and 'Lisbon Lions: The 40th Anniversary Celebration', interviewed many of the club legend's team-mates and opponents for his tribute tome, 'In Praise of Caesar', which was published in 2018.
In the second last instalment of CQN's long-running feature, Peter Latchford has his say.
Please enjoy.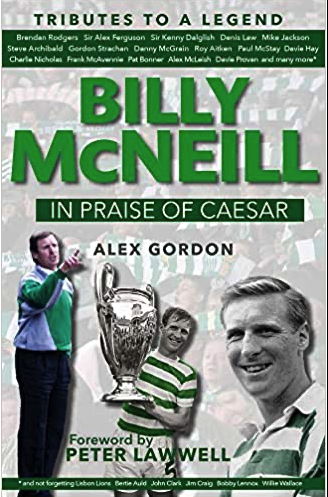 I CAN still vividly recall the first time I saw Billy McNeill. I was fourteen years old and living with my family in Birmingham.
There used to be an evening TV sports programme that wrapped up the football news on ITV. It was hosted by former England international skipper Billy Wright and dealt mainly with what was going on in the Midlands.
However, on the evening of May 25 1967, it gave us a very brief clip of Celtic winning the European Cup. Honestly, the footage wouldn't even have lasted a full minute. Obviously, the programme editor had never heard of Celtic. To be absolutely honest, I didn't bother too much with Scottish football, either.
But I watched with interest as this good-looking, blond bloke, with a pristine green and white shirt, hardly giving anyone the impression he had just played a game of football, held up this enormous, gleaming trophy in beautiful sunshine. Honestly, he looked as though he had just walked onto a film set.
I thought to myself: "He must be some player. He's won that Cup all on his own! Where's the rest of the team?"
ALL ALONE…Billy McNeill with the coveted prize, the European Cup.
Normally, at trophy presentations, you have the entire line-up, the skipper accepts the award, waves it to the fans and then it gets passed around the other players. But this guy called Billy McNeill, apparently the captain of a Scottish team called Celtic, was being handed the silverware all on his lonesome.
There wasn't a mention on the show that the other players were in the dressing room and the fans had invaded the pitch in Lisbon at the full-time whistle that heralded a British club winning the European Cup for the first time.
I could never have believed I would one day bump into this character. And when I say 'bump', I mean it literally.
Okay, I was the new guy in the team after signing from West Brom, but I couldn't change my style overnight. I liked to try to control my penalty area; those high balls were mine. That's the way I had been played since my schooldays and I had been encouraged to dominate that eighteen-yard box.
What I hadn't realised was that Billy had attacked those crosses for years. European Cup-winner Ronnie Simpson was a class act, but he wasn't that tall for a keeper, so he would often stay on his line and it was Billy's remit to go for everything in the air. He had a free rein in our box when it came to defensive headers.
THE LAST HURRAH…Billy McNeill is lifted shoulder high by his team-mates after his final game for Celtic, the 3-1 victory over Airdrie in the Scottish Cup showpiece at Hampden in 1975. Peter Latchford joins in the celebrations.
Needless to say, there were a few clashes as I ventured into traffic and Billy was jumping for the same ball. On some occasions, he gave me more grief than the opposing centre-forward!
I used to call him all sorts of names under my breath, but I don't think he understood my Brummie accent. Perhaps that was just as well for me because Billy was a big guy and could certainly look after himself.
It was marvellous to spend some time, however briefly, on the pitch with such a legendary footballer. It didn't take me long to catch up with the history of Celtic Football Club, their heritage, their great managers and players and, of course, their truly magnificent supporters.
It was an honour to bump off Big Billy a few times in his last game at Hampden when he went out in style with a Scottish Cup triumph. Airdrie were a big, determined team and we had to work hard to win 3–1 that afternoon.
No-one in Celtic's colours that day would have given their skipper anything less than 100 per cent for him and the club. The man deserved to go out as a winner.
Click Here for Comments >