KIERAN TIERNEY is likely to be among the Celtic supporters when the club honours Billy McNeill, the legendary Lisbon Lion who passed away this week at the age of 79.
The left-back could be ruled out for the remainder of the season with a persistent pelvic problem and will be in the crowd when the champions face Kilmarnock as they attempt to edge ever closer to the eighth successive title.
McNeill, of course, was the man who played all the way through the nine-in-a-row achievement that kicked off in 1966 during the team's most glorious period under the management of Jock Stein.
The towering centre-half was the team's onfield leader as they dominated the domestic scene for almost a decade and returned for two stints as manager, the highlight being the league and Cup double in the club's centenary year in 1988.
As a Hoops fan, KT knows exactly how highly the club's greatest-ever captain is revered among the followers and anticipates a massive tribute before the match against Killie.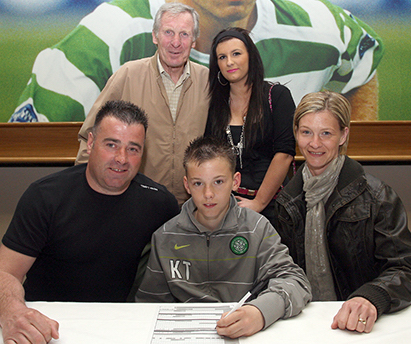 THE MASTER AND THE PUPIL…Kieran Tierney signs forms for Celtic with Billy McNeill in background on May 26 2009.
The 21-year-old Scotland international defender, speaking to the Celtic website, said: "This is a really sad time for every Celtic supporter and everyone here at the club passes on their thoughts and prayers to Billy's family.
"As a supporter, you grow up hearing the stories of what Billy and his team-mates achieved, not only here in Scotland, but also in winning the European Cup back in 1967.
"That was an incredible success and the fact that the fans sing a tribute to it in the 67th minute of every match just shows you how much it still means to everyone.
"When we all come to the stadium, the fans and the players, the first thing that welcomes us is the statue of Billy McNeill holding up the European Cup. That's an amazing sight and it just reminds you what an incredible history that Celtic has.
"As players, we're all proud to wear the Hoops and we want to make the fans proud of us, just as the Lisbon Lions did back when they played.
"And I'm sure that when all the fans get together at Celtic Park this Saturday, they will have a fitting tribute to Billy, who was always a great supporter as well as being a legend as a player and manager.
"Real men conquer Europe. God bless."
Click Here for Comments >