Negatives out of the way first: we're not good enough, this is a low achievement by a Celtic team who have reached a group stage. There's no disputing that, but amid the predictable 'Throw them all overboard' reaction, I know I'm not the only one who is not panicking right now.
When I heard we were playing three wingers (Forrest, Mackay-Steven, McGregor) I anticipated a thrashing. Gordon Strachan would often drop all his craft players for the more industrial types in European football, with good reason.
As it turned out, we had the majority of the chances, and all the better ones, as we spent most of the second half pushing for a winner.
No arguments with Leigh Griffiths assessment immediately after the game, that was his worst performance in a Celtic shirt. Nor is there dispute in Ronny Deila's retort that he's scored plenty for us before and will continue to do so. Even the greats have days like that, including the Swede.
The midfield formation was fluid throughout the game. Tom Rogic initially played as a defensive mid, before moving in front of Stuart Armstrong (who moved everywhere) and Callum McGregor. The defensive mid role Rogic played isn't one carried out by either Nir Bitton or Scott Brown. We've not had anyone in this role since the departure of Victor Wanyama (still pining) and it remains a large gap in the offering.
Lesson: we need a defensive mid. The deep lying playmaker + box-to-box player isn't robust enough in Europe.
Callum McGregor carried possibly the lowest expectations of everyone in a Celtic shirt but he put in an excellent shift. His goal was outstanding, losing possession immediately before Ajax equalised took the shine off things a bit, but it was still a strong performance.
Do you know the last time McGregor started a game? October 2014. Under those circumstances that was a remarkable performance.
General consensus is that the defence played well. Kieran Tierney is as good a left back as we've had in years. Had he not gone off with an injury the result might have been different.
Jozo Simunovic is clearly out best central defender. I know I'm not setting the bar too high with that statement, but he's a move in the right direction. He's also young, still working on his fitness, and will continue to progress.
A week ago Celtic Underground's Harry Brady suggested Dedryck Boyata plays better alongside Simunovic than without him. Dedryck still has a long way to go but the evidence suggests partnered with a game-reader like Jozo has helped him. Let's see where he is at the end of the season.
And Craig Gordon? He could have stopped both Ajax goals. That's not to say he was to blame for either, he wasn't, but these were the kind of stops he was making in last season's Europa League.
Ronny is 18 months into the job and has contributed to the situation we find ourselves in (tactical mistakes in both Molde games), but this is not the time to lurch off plan. We're not good enough largely because we've recruited too few players since 2012 who have improved the team.
We need to continue to develop players like Tierney and we need to recruit better. Get this right in January, and again in the summer, and we will be vastly better. The alternative is likely to be to pick up a best from the SPFL pool, or someone from the English circuit who cannot get a better paid gig. And then it would take until November 2017 before we could assess them properly.
Return of the Bampots
Tonight, for one night onlyt, Phil Mac Giolla Bháin, John Fallon and myself are in the Hibs Club, Carfin, for a Q&A in aid of Mary's Meals, with Phil Agnew hosting. The event starts at 7:30, £5 entry, can pay at the door.
Looking forward to seeing you there.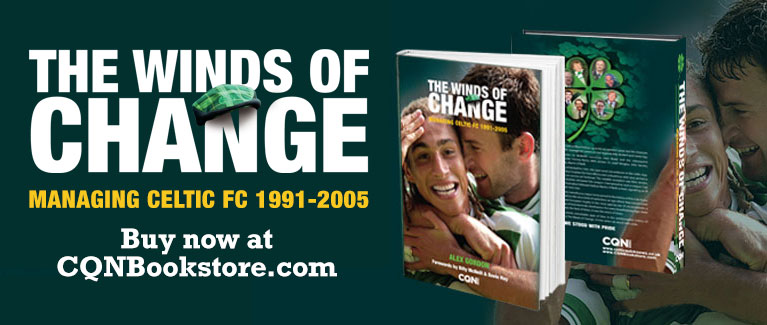 Click Here for Comments >