CQN continues its dramatic and EXCLUSIVE extracts from Alex Gordon's book, 'That Season In Paradise', which takes you through the months that were the most momentous in Celtic's proud history.
Today, we look at another thrilling tipsy-turvy month that saw the end of the team's marvellous unbeaten run.
IT was inevitable Celtic would fire blanks somewhere along the line as they embarked on their 1966/67 crusade. No-one saw it coming, though, at a chilly, windswept Rugby Park on the Saturday afternoon of December 3.
Jock Stein's side went into the encounter against Kilmarnock following a twenty-six goal landslide in seven games the previous month. As the eager Celts lay waste the defences who provided wary and futile opposition, the champions rattled in a total of forty-five strikes in only twelve league outings. Impressive shooting. Unfortunately, Bobby Ferguson, the young Kilmarnock keeper who had just made the step up to international level, was determined not to join the growing list of Aunt Sallies. The twenty-one year old proved to be an impenetrable barrier and Celtic's hopes of kicking off a new month of devastation were thwarted. For the time being, anyway.
In the opening minutes, Ferguson showed a glimpse of what was to follow when he raced from his line to bravely throw himself head-first at Bobby Lennox's feet as the striker prepared to latch on to an expertly-driven through pass from Bertie Auld. Billy McNeill was next to test the red-jerseyed custodian with a typical soaring header from a corner-kick, but once again Ferguson was equal to the task. Joe McBride had a go from just inside the box, but the agile No.1 catapulted across his goal to fingertip the ball round the post. Tommy Gemmell joined the procession with a scorching twenty-five yarder and Ferguson matched that effort, too, as he touched the shot over the bar. And so it went on for virtually the entire match.
The keeper was forced to admit defeat late in the game when McNeill sent another header spinning high past his upflung arm, but resourceful defender Andy King raced back to knock the ball off the line. That clearance underlined it was not going to be Celtic's afternoon. However, the players were delighted to hear Rangers had lost 3-2 to Dunfermline at East End Park and the champions' lead at the top of the First Division had actually been increased to four points.
Jock Stein fretted, though, in the aftermath of the scoreless stalemate in Ayrshire. It didn't matter that his players had come up against an inspired opponent in Bobby Ferguson, who was sold to West Ham at the end of the season for £65,000, which, at the time, was a British record transfer fee for a goalkeeper. After parting with £22,000 for Joe McBride some eighteen months earlier, the Celtic manager reckoned it was time the club's cheque book came into operation again. He had been paying particular attention to a forward who had scored two goals in Hearts' 3-2 win over Celtic at Tynecastle earlier that year, January 29, to be precise. Three days after the Rugby Park encounter, the Celtic manager paid £30,000 to the Edinburgh team for Willie Wallace. Ironically, he was twenty-six years old – the same age McBride had been when he had arrived from Motherwell in June 1965.
Wallace recollected, 'I had been in dispute with Hearts and just wanted a transfer. Newcastle United and Stoke City were showing an interest, so it looked as though I would be packing my bags and crossing the border. Then Jock Stein came on the scene and he didn't have to try too hard to sell Celtic to me. As soon as I realised there was a chance of going to Celtic Park and working alongside Big Jock, there was no choice to make. Newcastle United and Stoke City, without any disrespect, had no chance of getting my signature on transfer forms.
'Let's try to clear up a few mysteries that have followed me about for years. I was not, and never had been, a Rangers supporter. The story goes that I was poised to sign for the Ibrox side until Big Jock made his move. There was a tale that the Celtic manager waited until Rangers were away from home and playing in a European tie before he quickly sealed the deal with Hearts. Sounds like a good yarn, but it simply didn't happen that way. I don't know if Rangers were ever interested in me at all. Okay, my whole family were Rangers fans and they would have loved for me to sign for them, but I was overjoyed when I got the opportunity to move to Celtic.
'Yes, some of my family didn't share my enthusiasm for all things Celtic back then. Actually, I admit I did see a lot of Rangers in the Fifties because my Uncle Jim just happened to be President of the Kirkintilloch Rangers Supporters' Club! However, I spent more time watching Falkirk at Brockville which was just up the road from where I lived in Larbert. But I am a Celtic fan now, you can be certain of that. Once you have mixed in that company, you couldn't be anything else. I admit playing in Europe didn't mean an awful lot to me when I joined up at Parkhead. Celtic winning the European Cup five months after I joined would have been a step too far in my imagination. I simply wanted to sign for them and who wouldn't want to play for Big Jock?'
Of course, Celtic's gifted master tactician possessed many talents, but it's fairly certain clairvoyance was not among them. Over the years, the myth has grown that Willie Wallace was bought as a direct replacement for Joe McBride. Not so. McBride had yet to sustain the injury that savagely wrecked his campaign while it was in full flow. Jock Stein's first two signings for the club, in fact, teamed up in attack during Wallace's debut against Partick Thistle eleven days after his arrival. And it was McBride who very thoughtfully set up his new team-mate for his first goal for the club in the same match.
Willie Wallace, whose signing hadn't been registered with UEFA in time to play, took his place in the stand as Celtic prepared to finish the job against Nantes in the second leg of their European Cup encounter in Glasgow on Wednesday December 7. Sitting beside Wallace that evening was Joe McBride, ruled out through injury. At that stage, though, no-one had any reason to be concerned.
Jock Stein promised the supporters his team would attack, despite holding a 3-1 advantage from the first game. Torrential rain cascaded violently before and throughout the match and there was an early scare for the Scottish champions when Nantes' Yugoslavian striker Vladimir Kovacevic sneaked through to alarm Ronnie Simpson. The veteran recalled, 'Their player went on a solo run and beat me with his shot, but the ball hit the post and rebounded clear. He should have scored.'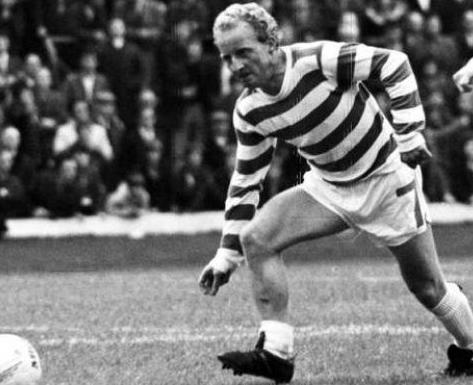 LORD OF THE WING…Jimmy Johnstone in full flight.
Jimmy Johnstone, aka 'La Puce Valente', provided the apt reply when he seized upon a Georges Grabowski slip before rifling the ball beyond keeper Andre Castel to put Celtic 4-1 ahead on aggregate in the thirteenth minute. Gerard Georgin equalised with a fine effort that left Simpson helpless. The keeper said, 'It was a great goal from their player with a first-time shot on the drop. At that stage, Nantes were coming back at us and our fans weren't too happy.'
Francis Magny, who had scored in France, had Simpson scrambling, but the veteran managed to grab the spinning ball just as it was about to cross the line. And moments later, the keeper defied the same player with another smart save. Thankfully, Jinky Johnstone sparkled in the drizzle after the turnaround and he skipped through the French rearguard on the right wing to pick out Steve Chalmers with a perfect pass and he nodded in from close range. It was all over a few minutes later when the winger treated the French to a deja vu moment with an identical run and a perfect low cross that was swept in by Bobby Lennox for a mirror image of the first leg score and a 6-2 aggregate triumph. Celtic could now afford to take a breather in the competition with the quarter-final tie against Vojvodina Novi Sad awaiting them in March 1967.
Stevie Chalmers reacted positively to the additional threat of Willie Wallace to his place in the forward line. The whippet-lean, speedy frontman cracked in a hat-trick as Motherwell were downed 4-2 at Parkhead in the following match. Chalmers, who would celebrate his thirty-first birthday sixteen days later on Boxing Day, may have been perceived as the most likely candidate to make way for Wallace. The player who had been at the club for almost eight years after joining from Junior club Ashfield in February 1959 was more than just a shade eager to prove he wasn't quite ready for football's version of the knacker's yard.
Chalmers linked up with the new signing while Joe McBride, with the knee problem beginning to manifest itself, wasn't risked even as a substitute with youngster David Cattenach on the bench. Bang on the half-hour mark, Motherwell's elongated goalkeeper Peter McCloy went down in instalments to push away a low drive from Bertie Auld, a deceptive effort which was arrowing in at his near post. The ball broke loose and Chalmers, with the electric fusion of pace and anticipation, was first on the scene to lash the rebound into the net. Four minutes from the interval, he displayed the same qualities after a shot from Bobby Lennox had cannoned off an upright. McCloy hesitated, his defence was posted AWOL and in raced the Celtic Number 9 to gleefully prod the ball over the line.
Suddenly and unexpectedly, the game exploded into violence when Jimmy Johnstone and Motherwell striker Dixie Deans, a volatile double-act, decided to re-enact their own mini-version of Ali v Liston. It led to an ordering-off for Deans, who, of course, later signed for Celtic and, as you might expect given their history, became a lifelong friend of the club's greatest-ever player. Johnstone escaped censure. Deans, in his autobiography, 'There's Only One Dixie Deans', admitted, 'When I first met Jimmy Johnstone, I wanted to punch his lights out and he wanted to do the same with me. It was the first time I had played at Celtic Park and I was desperate to make the right kind of impact. But we were losing and frustration was perhaps getting the better of me.
'It was a fifty-fifty challenge, but neither of us was prepared to back down. Before you knew it, our fists were flailing at each other. It was the battle of the little big men – I'm five foot seven inches and Jinky was five foot four inches – but I picked the wrong guy to have a square go with. Not because I was feart of the Wee Man. No, because the fisticuffs happened right in front of the old Jungle and some fifteen thousand fans were baying for my blood.'
Five years later, after a £22,000 transfer from Fir Park had propelled Deans along the same career path as Joe McBride, the striker was welcomed to Parkhead by those same supporters. However, back on a December afternoon in 1966, he departed the action to an accompaniment of a cacophony of boos from the patrons of the Jungle who were far from pleased at the treatment of their team's little winger. When the action restarted, Bobby Murdoch unleashed an unsaveable thirty-yarder for the third goal in the sixty-sixth minute. Lapses in defence allowed the Lanarkshire side to haul back two goals before Chalmers made certain with the fourth seven minutes from the end.
There was the welcome sight of Joe McBride leading the attack for the game against Partick Thistle on a frost-covered surface at Parkhead the following week. Willie Wallace and Stevie Chalmers also played in a fearsome three-pronged strike-force with Bobby Lennox backing them up from the left wing. Jock Stein, possibly not as understanding as the match official following last week's fracas on the touchline, decided to leave out Jimmy Johnstone, who still got a place on the bench. Wallace went into the game after being put through the rigours by trainer Neilly Mochan following Stein's orders for extra sessions for his new signing. Apparently, the Celtic gaffer was not enamoured with the player's level of fitness that had apparently satisfied former club Hearts for five years.
The encounter against the Maryhill side was only two minutes old when Wallace scored the first of his 135 goals in his five seasons at the club before his transfer to Crystal Palace in October 1971, surprisingly joined at the London club by a reluctant John Hughes. However, that was far from the thoughts of Celtic's latest recruit as Bertie Auld – 'racing down the right touchline as though being chased by a swarm of bees', according to one colourful newspaper report – slung over a cross to the far post. McBride's timing was superb as he headed the ball across goal and Wallace followed up to nod in from six yards.
Chalmers claimed the second in the fourteenth minute following a corner-kick and the 25,000 fans were cheering again when Wallace blasted in a third ten minutes later. Willie O'Neill thumped over a deep cross from the left, Wallace hit the ball full on the volley and it was a mere white streak as it flew towards its journey's end. One reporter wrote, 'The shot went in like a mortar bomb into the top left-hand corner of the net.' Celtic's goalscoring exploits were certainly inspiring the populous of the Press Box to pen some purple prose. Bobby Murdoch made it 4-0 with an accurate thirty-yarder into the corner, but Arthur Duncan, a pacy outside-left, pulled one back eight minutes before the interval.
Wind and rain whipped up to add to the chill at the start of the second-half, but it didn't prevent McBride adding a fifth eight minutes after the turnaround when he finished off a slick move instigated by Lennox and Wallace. The striker took the salute of the crowd for the thirty-sixth time that season little knowing it would be almost a full year before he would be embraced by those accolades again. Tommy Gibb punished slackness in the home defence to pull one back just after the hour mark, but Chalmers struck again fifteen minutes from time for his fifth goal in two games to make the final score 6-2 in favour of the champions.
THE MAVERICK DEFENDER…Tommy Gemmell, scorer of so many crucial goals for Celtic.
'We had scored ten goals it two games and that would have kept most managers happy,' observed Tommy Gemmell. 'But we, as defenders, knew we would be required to put in some extra work in the next few days at Barrowfield. That was our punishment for conceding four goals at the same time and Big Jock was never likely to overlook that statistic. "Every goal comes from a mistake," he would say, "Let's cut out the mistakes and we'll cut out the lost goals." He would often add, "Ach, the training won't do you any harm, anyway." Then he would turn to Bobby Murdoch and Bertie Auld and lecture them about their midfield duties and, after that, he would have a few words for the forwards. Stickler for detail? You don't know the half of it. We were top of the league, in the quarter-finals of the European Cup, had two trophies in the bag and he still wasn't satisfied. Difficult to argue with his outlook, though, when you view the man's record.'
Jock Stein was among the 38,172 crowd at the Vicente Calderon stadium in Madrid on Wednesday December 21 to discover which team Celtic would meet in the European Cup quarter-final. Atletico Madrid and the Yugoslavs of Vojvodina Nov Sad had stalemated 3-3 over their two legs and a third game was required to sort out the winners. The Spaniards won the toss for the tie to be played on home soil and they must have thought they were heading through as they raced into a two-goal lead in six minutes through goals from Adelardo and Enrique Collar. Sylvestre Takac reduced the deficit just before the half-hour mark and Dimi Radovic, later red-carded, levelled in the sixty-fifth minute. Extraordinarily, the Slavs hit the clincher in extra-time with another effort from Takac.
The Celtic team boss had been impressed. 'A very strong, physical team,' he summed up. 'Good in possession with the ability to pick the right passes. Defenders who play the ball and like to bring it forward and dangerous players up front who can score goals. I saw plenty to think about. We can get through, but we will know it will be extremely tough. We will have to be at our best over the two legs, that is absolutely certain.'
Flurries of snow greeted Celtic's visit to ice-bound Pittodrie to face Aberdeen on Christmas Eve. A snell wind whipped in from the north-west and the conditions were hardly conducive to attractive, free-flowing football as players on both sides slithered and skidded unsteadily on a white carpet of frost while twenty-nine thousand hardy souls shivered in the stands and on the terracings. The Dons, unbeaten at home all season, were on the back-foot when Bobby Lennox opened the scoring in the twenty-fifth minute. Bertie Auld skimmed a ball into the heart of enemy territory and centre-half Tommy McMillan slipped as he attempted to cut it out. That was all Lennox needed as he sped onto the pass and smacked the ball away from the advancing Bobby Clark.
Celtic hardly had time to celebrate when it was all-square again five minutes later. Left-back Ally Shewan lofted a high ball into the penalty area, Frank Munro, who had a twenty-two game stint at Parkhead before being released in April 1978, headed across the six-yard line and Harry Melrose was unguarded as he applied the finishing touch. Ronnie Simpson made a valiant attempt to claw the ball to safety, but the power eluded his despairing grasp.
Snowflakes began to decorate the playing surface as the second-half got underway and home keeper Clark, sporting an all-black tracksuit in an attempt to repel the cold, made several good saves. Simpson, at the other end, was earning his keep, too, with some smart stops. Ironically, the closest either side got to scoring the winner came from McBride. Chalmers picked out his frontline partner with a shrewd cross and, as ever, the centre-forward's timing and execution were in sync. He powered a header beyond the searching fingers of the sprawling Clark, but his celebration was cut short when the ball struck the upright and bounced to safety.
How fitting would it have been for Joe McBride to bid his farewell to the campaign with a wonderful winning goal? Fate, alas, had other ideas as the game ended in a 1-1 stalemate.
Celtic were within eighteen minutes of completing the first half of the season with an unbeaten record when they carelessly tossed away a 2-1 advantage to lose 3-2 to Dundee United at Tannadice. Remarkably, the Tayside outfit were the only Scottish team to beat Jock Stein's men during the campaign and, equally as incredible, they triumphed by the same scoreline in Glasgow five months later. And once again they came back from trailing 2-1 midway through the second period. Even the most imaginative purveyor of fiction would have thought twice before conjuring up that ridiculous premise.
Stein and his players would never have known they were on the brink of their first league defeat in nine months – implausibly their last reverse had come in a 1-0 shocker against Stirling Albion at Annfield on February 26 – when they took the lead in the twelfth minute. Tommy Gemmell fired over a low right-wing cross which escaped the grasp of keeper Sandy Davie. The ball ricocheted off the lurking Bobby Lennox and bounced over the line. Finn Dossing levelled ten minutes later and his goal immediately set in motion an on-the-spot inquest among the visiting defenders. Within a minute, though, Celtic were in the lead again. Willie Wallace flashed an angled waist-high drive at goal which took Davie by surprise. Desperately, he tried to push the effort round the post, but only succeeded in nudging it onto the woodwork and the ball rebounded into the net.
As the game edged beyond the seventieth minute, Celtic looked fairly comfortable. John Hughes had been given the go-ahead by Jock Stein to make a surprise comeback after his two-month lay-off following the knee injury sustained in the League Cup Final victory over Rangers. The left-winger, after only two reserve team outings, looked to be easing himself back towards full match fitness. He was up against a wily, experienced opponent in Tommy Millar, the brother of Rangers' Jimmy. The United defender was from the old school who, unlike Tommy Gemmell, preferred to do all his work in his own half of the field and wasn't adverse to clattering into wingers on a regular basis. Hughes was finding it extremely difficult to get into his stride as Millar threw himself into challenges with ferocious gusto.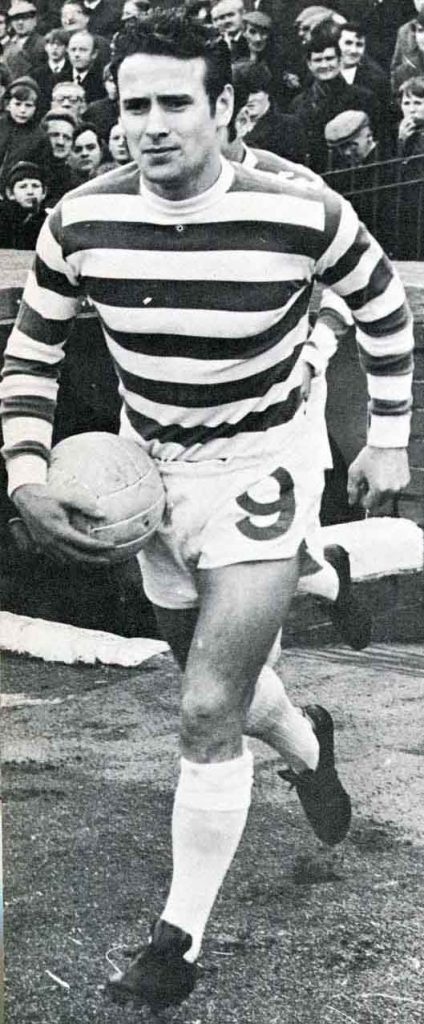 MASTER MARKSMAN…Willie Wallace, a bargain buy from Hearts.
In the seventy-third minute, United equalised with a bit of a rarity. Ronnie Simpson's cat-like reflexes and keen anticipation made it practically impossible for him to be beaten from a range of around thirty yards. So highly regarded was he among opponents, the Celtic keeper was seldom challenged from such a range. On this occasion, though, Dennis Gillespie, a workmanlike forward, tamed a pass from Billy Hainey, moved the ball a couple of feet in front of him and then let loose a cannonball of a shot that sizzled high over Simpson into the net. It was as spectacular as it was unexpected. Even the home fans in the 25,000 crowd seemed momentarily transfixed before they danced their jigs of joy. Simpson sat in the mud and shook his head in disbelief.
It was an emotion shared with his captain Billy McNeill. 'We all thought Faither was unbeatable by shots from well outside the penalty box. Sometimes the defence might even have been a wee bit slow getting out to deal with the danger twenty-five or thirty yards from goal when we saw a player lining up a shot. We all thought it was a waste of time. But, to be fair, the United player gave that ball a helluva dunt. I only heard a whoosh as it flew over my head. I turned round just in time to see the ball flying past Faither who didn't have a chance. Maybe he conceded two or three goals like that all season and, unfortunately for us, this was one of those times.'
Celtic were still pondering the loss of the goal when United streaked up the field and claimed another two minutes later. A simple long high ball punted forward by centre-half Doug Smith eliminated the entire backline. United forward Ian Mitchell was first to react as Simpson hesitated in coming off his line. Mitchell controlled the ball in an instant, moved in on the exposed keeper, swept to one side and trundled the ball into the empty net. And as the leather sphere leisurely rolled over the line, Celtic's unbeaten sequence was coming to a halt. There would be no happy Hogmanay for strict teetotaller Jock Stein or his players.
At least, though, the Celtic manager could derive some sort of consolation from a glance at the top of the First Division table. After seventeen games, the champions had amassed twenty-nine points, four ahead of Rangers who had played one game fewer. Aberdeen, after seventeen outings, were also on twenty-five points. Stein would have been satisfied with the haul of fifty-eight goals, eight more than the Ibrox team and nineteen ahead of the Dons. However, a frown may have developed with a look at the goals against column. Ronnie Simpson had been asked to pick the ball from his net twenty-two times, seven more than either Billy Ritchie or Norrie Martin at Rangers and one more than Bobby Clark at Aberdeen.
After conceding eight league goals in December, Billy McNeill and Co could look forward to some extra training sessions early in the New Year as life was breathed into 1967, Celtic's year of destiny.
TOMORROW: JANUARY 1967: NEW YEAR, SAME STORY
Click Here for Comments >