CQN continues its exciting and EXCLUSIVE extracts from Alex Gordon's book, 'That Season In Paradise', which takes you through the glorious months that were the most momentous in Celtic's proud history.
Today, we look at how the first piece of silverware was won in the unforgettable 1966/67 campaign.
THE first piece of silverware in Celtic's all-conquering season arrived after Bobby Lennox's whiplash strike had defeated Rangers in the League Cup Final on October 29 1966. The Hampden triumph brought down the curtain on an astonishingly successful month for Jock Stein's side.
They had played eight games in four different competitions, had won the lot and had scored an extraordinary total of twenty-seven goals throughout their ruthless rampage. Ronnie Simpson had been required to fish the ball out of the back of his net on only five occasions – and three of them were conceded in one rollicking encounter against Hibs.
It was clear this Celtic team were on the verge of something special even this early in what was developing into a stellar campaign.
The players underlined their intentions on October 1 when they overwhelmed St Johnstone 6-1 at Parkhead to hoist their goal tally to the season to fifty-one. During this outing, Joe McBride could even afford to miss his first penalty-kick for the club, but atoned for a lack of accuracy from twelve yards with two second-half piledrivers. The Perth side erected a doughty defence in front of keeper Jim Donaldson, but Jimmy Johnstone pierced the barrier in the eleventh minute and Bobby Lennox did likewise seven minutes before the interval. Both were on target in the second-half before McBride walloped in the fifth in the sixty-fifth minute and added No.6 ten minutes later.
Four days afterwards, Celtic took their crusade on the road when they played their first-ever away tie in Europe's premier tournament against FC Zurich in Switzerland. It would be the first – and only – time the players disagreed with their manager. They chose the occasion of Stein's forty-fourth birthday to voice their united disapproval of his tactics before the second leg as they prepared to defend their advantage obtained in Glasgow seven days earlier.
Ronnie Simpson said, 'In the pre-match tactics talk, the Boss told us that Zurich would play a 4-4-2 system and would continue to use a sweeper despite the fact that they were down two goals. Not one player agreed with him. I chipped and said, "They must come at us. They are bound to play an attacking style of game and try and get the goals they need. But I was wrong and so were the rest of the lads. Jock Stein had read the game perfectly. He told us, "They haven't got the guns to do any damage. They haven't the power we have. They'll try to get the score down." None of his players saw it that way and we told him.'
Not even one of Jock Stein's best friends, Glasgow bookmaker Tony Queen, was in accord with the manager's thinking. The well-known Celtic supporter was on the club flight to Zurich when Tommy Gemmell cheekily asked him what odds he would lay on an away win. Queen thought for a moment and offered 7/2. Gemmell immediately put on a few quid. The player passed on the information to Stein and he, too, didn't hesitate in putting on a wager.
'I have to say that was a most unusual situation,' admitted Gemmell. 'We were aware Big Jock liked a flutter, but it was mainly on the horses. I was a bit of a fan of the gee-gees myself and I would bump into the Boss every now and again at meetings at Hamilton, Musselbrough, Perth and the like. We would compare notes and then work out what we were prepared to gamble. I haven't a clue what Big Jock placed on the nags. For me, it was a bit of fun. I liked a day-out at the horses, but I rarely went anywhere near football, as far as punting was concerned. I reckoned that particular sport was far too unpredictable!
'I didn't throw money at the bookies, either. Remember, I was always good with figures, so I had a budget and I kept to it. Some days, I won; most days, I lost. I was never hooked, but when I asked Tony for odds on Celtic winning in Switzerland, I realised that was just too good a price to overlook. A quick calculation in my head told me it was definitely worth a wee punt. It was a private bet struck between two individuals, so I didn't see as any sort of problem, as far as football authorities were concerned. Obviously, Big Jock thought the same way. But I have to say the bet meant nothing when the game got underway. I can say in all honesty the thought didn't enter my head until well after full-time and Tony Queen turned up at the rather opulent Dolder Grand Hotel, on the slopes overlooking Lake Zurich with the Alps beyond. It was the perfect setting to take money off a bookie. All that and we were in the draw for the next round of the European Cup!'
THE BIG SHOT…Tommy Gemmell.
The European football officials had received a report with details of the first game that informed them it could have got out of hand. They reacted with commendable speed to change the referee. They gave the tie to hard-liner Concetto Lo Bello, a Sicilian policeman, who had been in charge of the USSR v West Germany World Cup semi-final earlier in the year. Lo Bello, of course, would be the referee when Celtic lost 2-1 to Feyenoord in the 1970 European Cup Final in Milan, but that is an altogether different story for another time.
Tommy Gemmell, the Swiss side's torturer-in-chief in Glasgow, belted in another screamer for the opener in the twenty-second minute and it was all over when Bobby Lennox flicked on a right-wing corner for Steve Chalmers to fire low and hard under the keeper's body.  Gemmell crashed in a penalty-kick  shortly after the turnaround for his third goal in a 5-0 aggregate win. Keeper Stefan Iten, after facing a virtual one-man firing squad in Gemmell, must have had enough of the bombardment by this stage and dived the wrong way as the defender lashed the ball unerringly into the net.
The returning heroes were given a rousing reception from the majority of the 43,256 crowd as they ran out onto an Easter Road pitch bathed in sunshine the following Saturday for one of the most electrifying encounters of the season. As they had achieved against Dundee at Dens Park the previous month, the Parkhead men took one on the chin before getting off the floor to administer some fearful punishment in gleeful retribution. This, remember, was against excellent opponents with many fine players such as Pat Stanton, who would enjoy an Indian Summer late in his career at Celtic, astute defender Alan Cousin, cultured left-back Joe Davis, clever midfielder Peter Cormack, flying left-winger Eric Stevenson and Colin Stein, a centre-forward with all the delicate touches of a wrecking ball. It made for compelling viewing.
Celtic's marking at a corner-kick in the tenth minute would have had their manager sucking out his fillings as Cormack, practically unhindered, placed the ball beyond the exposed Ronnie Simpson, who, once more, had some choice words for his dozy team-mates. Five minutes later, it was all-square when Joe McBride responded to the task at hand and fired one low past Thomson Allan at his far post. It seemed only a matter of time before the visitors scored again and they duly obliged on the half-hour mark when Stevie Chalmers swept in the rebound after a McBride shot had struck the woodwork. Edinburgh defender Davis, who rarely missed from the spot, was given another opportunity to display his expertise seven minutes later after Billy McNeill had rashly floored Stevenson. The full-back left Simpson stranded with a flawless execution.
McBride then struck twice in four minutes as half-time beckoned and he collected his fourth of a satisfying day in the seventy-fourth minute as Celtic dominated proceedings following the turnaround. Allan McGraw's strike in the fading moments was deemed an irrelevant intrusion in a fine display from the visitors. John Rafferty, a veteran journalist with the Glasgow Herald and a good friend of Jock Stein, extolled the virtues of the champions to his newspaper's readers the following Monday. He wrote, 'The well-known noisy partisan who sits behind the Press seats at Easter Road bravely faced the moment of truth. In unusually subdued tones, he said, "You've got to admit they're a good team." It was like saying the rain was wet.'
The scribe added, 'There was individual brilliance from Celtic in the impish Auld, the sweeping precision of Murdoch's passing, the exciting shooting of McBride, the jinking of Johnstone, the galloping of Hughes and the dashes of full-back Gemmell, but, at the end of the day, most admiration must go to the highly-geared team work.'
Queen's Park, the gallant amateurs from Hampden, were next in line as they visited Parkhead for the second stage of the Glasgow Cup and Celtic, just as they had done against Rangers in the previous round, cantered to a 4-0 triumph. Jock Stein shook things up a little and Ronnie Simpson missed his first game of the season with Danish keeper Bent Martin brought in. The Celtic gaffer had taken a liking to the blond, lithe and athletic shotstopper who had performed so well against the Parkhead side in the previous season's European Cup-Winners' Cup and was the main reason the aggregate advantage over Aarhus was pegged at a respectable 3-0. Although he had a shut-out, he never played again for Celtic and moved on to Dunfermline in December that year. Martin won a Scottish Cup medal with the Fifers in 1968 – after having defied his old team-mates at Parkhead in an earlier round as his team triumphed 2-0.
He wasn't exactly overworked on his first and last game for the club. It was an evening for Jimmy Johnstone to light up the east end of Glasgow with his unique repertoire of tricks and flicks. The defenders of the wonderfully-nicknamed 'Spiders' hadn't come up against his like in the old Second Division and, on the rare occasions when they did get within touching distance, they were normally found floundering after a shake and a shimmy from swivel hips took the flame-haired winger away from them and into dangerous areas. One scribe wrote, 'There could be no holding Johnstone, except, perhaps, by the jersey.' It was a routine night's work for Celtic with Joe McBride and Bobby Lennox scoring in the first half-hour and Charlie Gallagher and McBride adding two more after the interval.
Curiously, and at long last, 41,000 Celtic fans were given the opportunity to join in delightful and rousing harmony when the league flag was eventually unfurled on the afternoon of October 15 when Airdrie, unbeaten in the league up until that point, provided the opposition. Chairman Robert Kelly's wife conducted the ceremony in a carnival-like atmosphere and no-one ever explained why it took until the third home league game of the season before the ceremonial event took place. One resident of the Jungle reasoned, 'Probably it's just because it's so difficult fitting in an extra celebration these days.'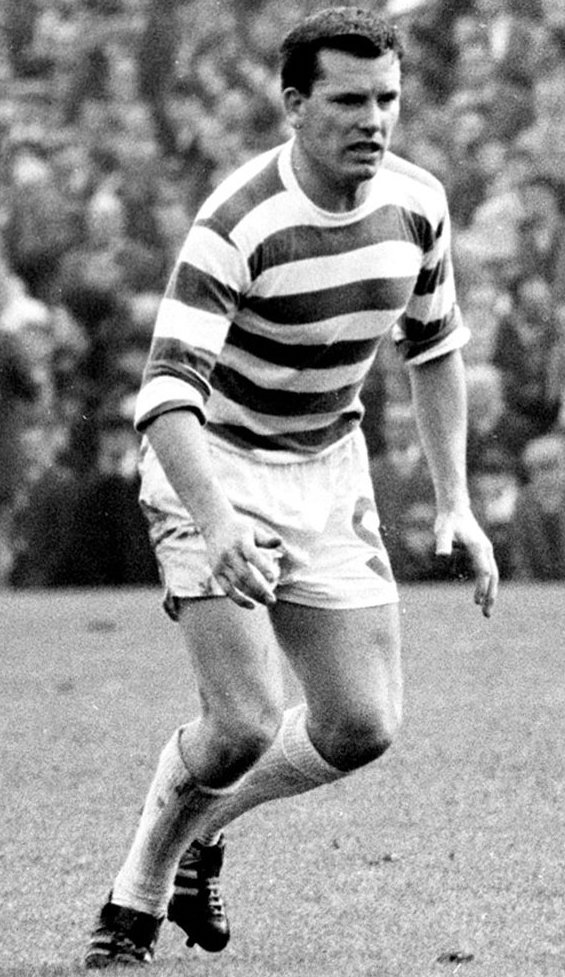 Mr GOALS…Joe McBride, the Hoops' prolific hitman. 
Jock Stein, with an eye to playing the same opponents in the League Cup semi-final the following midweek, left Jimmy Johnstone on the substitute's bench and rested the midfield double-act Bobby Murdoch and Bertie Auld. John Clark was detailed to a more offensive role alongside Charlie Gallagher with Willie O'Neill coming in to partner Billy McNeill in the middle of the defence. In truth, the team struggled to discover a rhythm and fluency to upset a rugged Broomfield side who were more than satisfied to camp in front of keeper Roddie McKenzie, who had conceded nine goals at the same venue three years earlier. Capping a bizarre performance that particular day, he saved a penalty-kick from Celtic's often-erratic goalkeeper Frank Haffey with the game petering to a halt.
McKenzie and Co's resistance endured until twenty-five minutes from time when Joe McBride, with his eighteenth goal of the campaign, swept a Stevie Chalmers pass beyond the shotstopper with his customary aplomb and, three minutes later, Bobby Lennox diverted in a Tommy Gemmell cross for the second. Lennox put the finishing touches to another fine move three minutes from time to make the final score 3-0. Billy McNeill recalled, 'It's understandable for people to look back at our record in season 1966/67 and see a scoreline like this one and believe it was a walkover. However, very often we had to work exceptionally hard at getting the victories. Airdrie were never a flamboyant or particularly attractive team, but they could make life helluva difficult. The fact that they had been unbeaten when they played us tells you everything. That was the sixth league game of the season so they must have been doing something right.
'My memories of Airdrie back then are of some bitter, bruising battles, particularly at old Broomfield. No-one looked forward to these encounters in deep winter on their tight, uneven little pitch. A lot of teams back then favoured big, burly centre-fowards and Airdrie had a guy called David Marshall. King Kong would have thought twice before tangling with this character. I always knew I was in for a bit of a buffeting when Marshall was in opposition. That was the way it was then and it was okay, so long as they could take it back.
'I recall St Johnstone had this bloke by the name of Bill McCarry who had the nickname 'Buck'. I don't know if that had anything to do with bucking broncos, but he was another who liked to put it around. Buck, in fact, was normally a centre-half, but he was often switched up front and I admit my heart sank when I saw he was wearing the No.9 shirt against us. I knew the old rib cage was in for a battering. Stirling Albion also had a massive character who led their attack. His name was Jim Kerray and it was never a joy to face up to him, either. Ayr United had Alex "Dixie" Ingram and there were a few others. Don't get me wrong, I'm not saying they were dirty players. Let's just say they were enthusiastic – maybe overly-enthusiastic!'
The Celtic captain came face to face with Airdrie's human steamroller in the League Cup semi-final at Hampden only two days later. The luck of the draw handed the teams the Monday night fixture with Rangers and Aberdeen due to play their last-four encounter on the Wednesday at the national stadium. Once again, the team nicknamed 'The Diamonds' – known to most of the opposition by their unofficial monicker of 'Rough Diamonds' –  camped in their own half, protecting Roddie McKenzie, and relying on high balls to the lumbering Marshall in the hope he could knock something down for a team-mate following up in an isolated breakaway. In fact, Ronnie Simpson had to look lively on two occasions to repel Airdrie with the game locked in goalless stalemate.
The tie followed the same pattern as the Parkhead match and it was still 0-0 after the hour mark. However, Celtic, with Bobby Murdoch, Bertie Auld and Jimmy Johnstone back in the line-up, continued to seek ways through the well-organised shield and the breakthrough goal arrived in the sixty-second minute – three minutes before the opener at Parkhead. It was Murdoch who provided the key to unlock the door leading to the Final. A Bobby Lennox free-kick was haphazardly cleared towards the edge of the box and fell with the utmost perfection for the midfielder who hit a howitzer-like attempt that screamed past McKenzie.
Tommy Gemmell had good reason to remember the strike. 'I picked up a first edition of one of the newspapers in Glasgow city centre that night,' he said. 'I was reading the match report of our game and I had to laugh when one sportswriter described Bobby's goal as "Gemmell-esque in its power". I had to show him the paper when we went through a light training session the following day. "Keep that up, mate, and you'll get yourself a good reputation," I told him. It was all in jest, of course. Bobby possessed ferocious power in both feet, although, like me, his right was undoubtedly his stronger.
'There was a friendly rivalry between us – and Big Yogi Hughes could give the ball a fair dunt, too – and we could never prove who had the harder shot. However, someone did rig up an electronic device and players from all over Scotland were invited to take part. I won when my shot measured 69.2 miles per hour and I was christened 'Scotland's Big Shot'. It didn't matter, though. As Big Jock continually reminded us, it was about Celtic the team and not anyone as an individual.'
Fifteen minutes from the end of an exacting, gruelling tie, Auld picked out Joe McBride, lurking with intent as always, and he headed the crucial second counter past the valiant McKenzie. In between the goals, Stevie Chalmers had two shots cleared off the line. It had been a workmanlike performance from the Parkhead side and Jock Stein observed, 'We had to grind out this win and you must give our opponents credit for that. They had a game-plan and they stuck to it. We had to break it down, we kept at it and eventually we got our reward.'
Stein and his players would have to wait, though, to learn who they would face in the Cup Final at the end of the month. Rangers and Aberdeen fought out a 2-2 draw in the first game, but the Ibrox side won 2-0 in the replay five nights later. So, for the third successive season, it would be an Old Firm head-to-head conflict to decide the destination of the League Cup at a damp, colourless Hampden Park on Saturday afternoon October 29.
Tommy Gemmell, John Clark, Jimmy Johnstone and Joe McBride headed for Cardiff three days after the victory over stubborn Airdrie to represent Scotland in a Home International Championship match against Wales. The quartet were 'invited' to perform on the glue-pot surface of Ninian Park and were heading for a shock 1-0 reverse after Ron Davies had flicked the ecstatic Welsh ahead in the seventy-sixth minute following a left-wing corner-kick. However, McBride played a huge part in the equaliser and facesaver two minutes from time when keeper Gary Sprake couldn't hold his low shot and the irrepressible Denis Law, with the well-deserved reputation as 'The Merchant of Menace', slid through the mud to toe-poke home from eight yards.
Unfortunately for McBride, he sustained an injury in a punishing game against the rugged Welsh and had to sit out the league match against Ayr United at Parkhead the following Monday. Gemmell had been injured, too, but overcame his ankle knock to take his place at right-back with Willie O'Neill still patrolling the opposite wing. Clark and Johnstone, thankfully, came through unscathed following their international experiences.
Celtic were expected to stroll towards their twentieth consecutive win of a pleasantly developing campaign, but they toiled and were being held 1-1 by the Somerset Park part-timers as the interval loomed. Bobby Lennox had got the opener in the second minute and the 21,000 crowd sat back and awaited an avalanche. However, inspired defending, slack finishing and wayward passing allowed Ayr United the platform to spring a shock and Bertie Black stunned the stadium when he levelled in the fortieth minute. However, John Hughes netted the second on the stroke of half-time and it was mainly one-way traffic in the second period with Johnstone claiming two and Gemmell powering in another for an ultimately handsome 5-1 victory.
BEST FOOT FORWARD…Billy McNeill clears from Rangers' Alex MacDonald.
Five days later, Celtic returned to Hampden, the scene of their Scottish Cup Final demise in April. Now the League Cup was up for grabs against the same opponents and Bertie Auld recalled, 'We had been tipped by many the previous season to win the national competition and, of course, the bookies rarely got it wrong. We just shaded the odds, but the favourites don't always win, as was the case that painful night in Mount Florida. So, the turf accountants once again put their mouth where the punters put their money and had us as odds-on to win the League Cup. I was acquainted with a few bookies, of course, and I didn't know any who had difficulty finding the cash to put petrol in their Rolls-Royces. They weren't wrong too often. They had confidence in us not to fall twice at the final hurdle. We were fairly confident ourselves, as a matter of fact.'
Rangers, following back-to-back embarrassing reversals from their venerable rivals, were in determined mode and desperate to turn events on their head. The Ibrox side were only too aware of the startling progress that was being made across the Clyde and realised the Jock Stein express had to be derailed; the sooner the better. Long-serving keeper Billy Ritchie, after conceding six goals in two Old Firm confrontations, was brutally axed to make way for Norrie Martin, who had played in the 2-0 replay triumph over Aberdeen. There were also indications that the new boys, Davie and Alex Smith, were beginning to settle into their roles within the team structure. The ever-dangerous Willie Henderson and Willie Johnston, two pacy flankers, were beginning to motor while a lot of the goalscoring onus was put on the unpredictable George McLean, the forward who infuriated the club's followers with his particular mixture of wonderful and woeful.
Tommy Gemmell reflected, 'I had a lot of admiration for Willie Henderson and, as a matter of fact, he is still a very good friend to this day. He was so fast and elusive when he got into his stride. I always tried to encourage him to go inside when we were face to face and I was playing at left-back. If I could coax him in there, I knew John Clark and Billy McNeill could take care of business. But you knew you were in trouble when Henderson got his head down and went straight for the bye-line. Big Jock was always happy to play Willie O'Neill against the winger. Willie's great strength was his tackling, his timing was excellent. Henderson would show him the ball and our man would jockey along beside him, refusing to rush into a rash tackle. If you did that, you would find yourself swiping at nothing and the wee Rangers player would be on his way, haring down the touchline. Big Jock again chose Willie O'Neill at left-back for the League Cup Final and I played at right-back. I was up against Willie Johnston and he could be real handful, too. Like Henderson, he was speedy, direct and could deliver a good cross. Willie O'Neill and I knew we had our work cut out that afternoon.'
And so it proved. Rangers rose to the occasion and performed diligently throughout, a fact acknowledged afterwards by Jock Stein. However, the Final was settled as early as the nineteenth minute when Bobby Lennox, with his usual lightning-swift reactions, put the Ibrox side to the sword. Bertie Auld clipped over a cross to the edge of the penalty box and Joe McBride back-headed the ball into the tracks of his striking team-mate. Lennox, racing at top speed, was perfectly balanced to receive the pass and fizzed an unstoppable drive past the helpless Martin from eight yards. The move had developed at such bewildering pace the Rangers defence resembled exhibits at Madame Tussaud's as it was speedily constructed around them.
THE GOAL FIRM…Bobby Lennox celebrates another strike against the Ibrox side.
That was the solitary goal of a tension-laden, rain-drenched, sodden afternoon at the national stadium. The nearest Celtic came to adding to Lennox's strike came when John Greig scooped away a shot from Jimmy Johnstone that had eluded Martin. Rangers claimed a goal when Bobby Watson battered the ball into the net, but referee Tiny Wharton blew for a foul after detecting a sly nudge by Alex Smith on Ronnie Simpson as the Celtic keeper came for a swinging high ball. Ibrox manager Scot Symon was asked for his verdict on the match official's call. He sniffed, 'The referee is the judge. What I think doesn't count.'
The nearest Rangers got to scoring a legitimate goal against Celtic in four-and-half hours of football that season arrived in the fading moments when Alex Smith scrambled the ball beyond the grounded Simpson. It was rolling, apparently inexorably, towards the net when Willie O'Neill arrived on the scene. Gemmell recalled, 'I got a good close-up view of the incident and I have to say I thought the ball was going over the line. Willie seemed to appear from nowhere. It called for a right-footed clearance, but we all realised Willie was all left foot. If he had swung at it with his right, goodness only knows where the ball would have landed! Thankfully, he slid in with his left and hooked it to safety. Willie normally shunned the spotlight and never bothered with praise, but that was an extremely important piece of defending from a very reliable professional.'
Stein accepted his team had not fired on all cylinders, but said with a measure of defiance in his tones, 'We won the Cup and that's what we set out to do. Naturally, we are delighted. We didn't play as well as we can and I think everyone who saw this game would agree with that.'
One newspaper reporter noted, 'If Rangers don't know where their trouble lies, they should all be using white sticks. At centre-forward, George McLean had no idea how to beat Billy McNeill without fouling him. Every high ball was the property of the Celtic centre-half and captain – and nearly every low one, too.'
One trophy down – and four to go.
TOMORROW: NOVEMBER – MYSTERY, MAGIC AND MAYHEM
Click Here for Comments >