CELTIC legend Billy McNeill made his first team debut exactly SIXTY-FIVE  years ago today and took his first steps into club folklore.
Author Alex Gordon paid tribute to his friend in his publication, 'BILLY McNEILL: In Praise of Caesar', which was published in 2018.
In the fourth and concluding part of CQN'S EXCLUSIVE series, we continue our walk down football's memory lane to honour the man voted Celtic's Greatest-Ever Captain by the supporters.
Here is his lifelong chum and former Celtic team-mate Mike Jackson's view in an edited extract from the book.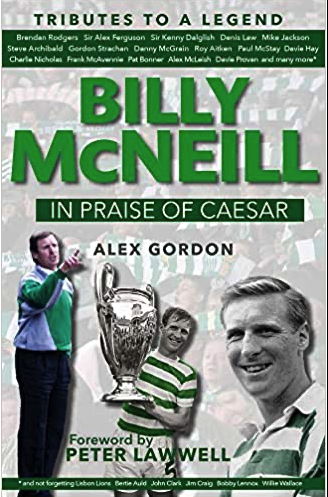 MILLIONS of people know the name Billy McNeill. But I would pose the question, 'How many people know Billy McNeill?'
The Celtic legend has been a great friend of mine since we first met in the summer of 1957. I was his best man when he married Liz in June 1963 and he would have been mine, too, if my brother Jim hadn't claimed the honour.
We came through the ranks together after Billy returned from a year with Junior side Blantyre Vics. I had arrived from Benburb and had been playing in the reserves while he was gaining experience in that rough, tough environment where old professionals were eager to let youngsters know who was the boss.
I had the chance to sign for Manchester United, but when Celtic came calling there was only one team for me. And, of course, it was exactly the same for Billy.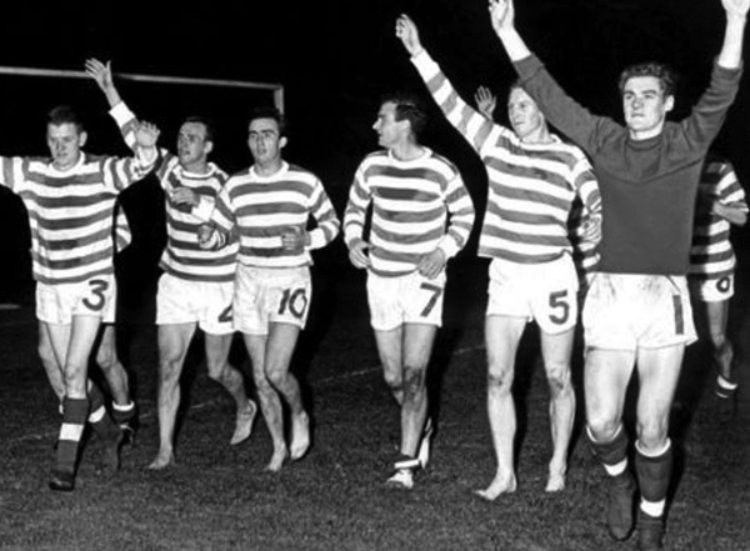 LAP OF HONOUR AFTER 3-1 LOSS…Mike Jackson (No.10) and Billy McNeill (5) join their team-mates for the applause of their fans after the friendly game against European champions Real Madrid at Parkhead in September 1962. Others in the photo are Jim Kennedy, Pat Crerand, Billy Price and keeper Frank Haffey. 
He was more fortunate than me – they kept him and gave me the boot! The Celtic management, well, basically, the chairman Bob Kelly made all the decisions and if your face didn't fit you would soon be heading for the exit.
Paddy Crerand, Bertie Auld and yours truly had a few things to say about how things were being mishandled back in the early sixties and, one by one, we were 'invited' to leave the premises. They weren't so daft, though, as to sell my big mate. I doubt if the fans in the old Jungle would have tolerated that.
However, the true measure of a man as a human being is not determined on a green patch of grass on match day. On the field of battle, anyone can be a hero to legions of fans, a Roy of the Rovers character who can do no wrong. They can score winning goals in Cup Finals and take centre stage for their country in vital international campaigns.
That just means they have been blessed with God-given football skills. Away from the roar of the crowd and the adulation, they are mere mortals like you and me.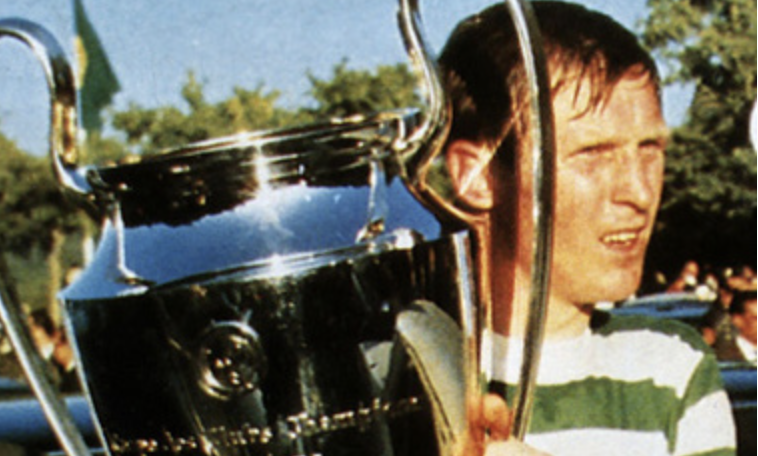 EUROPEAN CONQUEROR…Billy McNeill with the glittering trophy after the historic win in Lisbon on May 25 1967.
Allow me, please, to give you an illustration of how Billy McNeill shapes up as a man. My mother, Sarah, passed away in November 1984. The funeral mass was arranged for Holy Cross Parish Church in Crosshill, Glasgow, at ten o' clock on Thursday morning, the twenty-second of the month.
I realised Billy was due to be in London the previous evening with his Manchester City team scheduled to play Chelsea in a League Cup-tie at Stamford Bridge.
I thought the time factor would be against him attempting to turn up to pay his last respects. The game in London wouldn't have finished much before ten o'clock and it would have taken a good hour after that for the players to get showered and changed before they would be ready to get on the team coach bound for Manchester.
The game was shown on BBC, so that would entail Billy doing late interviews with the likes of John Motson as well as reporters from other TV channels, radio and newspapers. After all that had been taken care of, the City party would have headed back to their old ground at Maine Road to pick up their cars and make their own way home.
The journey from London to Manchester back then would have taken approximately four hours.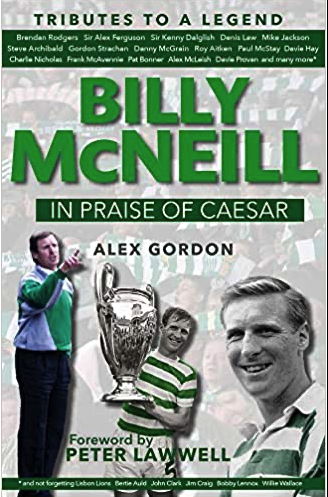 So, Billy might have got to his house around four o'clock in the morning, six hours before my mother's funeral. He would have been shattered. On top of that, City were thumped 4-1 and the weather was lousy, a typical November in the UK.
Would anyone have blamed him for collapsing into bed? Not me. However, this is Billy McNeill we are talking about, a genuine human being.
He took the opportunity to freshen up, shower and shave, put on a dark suit, white shirt and black tie and have a quick snack before getting back into his car. He drove through the night to get to Glasgow later that morning. When the family and relatives walked into the church, Billy was already sitting in a pew.
And that gesture is what makes this extraordinary man so special.
Click Here for Comments >