CELTIC legend Billy McNeill made his first team debut exactly SIXTY-FIVE years ago today and took his first steps into club folklore.
Author Alex Gordon paid tribute to his friend in his publication, 'BILLY McNEILL: In Praise of Caesar', which was published in 2018.
In Part Three of CQN'S EXCLUSIVE series, we continue our walk down football's memory lane to honour the man voted Celtic's Greatest-Ever Captain by the supporters.
Here is goalkeeper John Fallon's view in an edited extract from the book.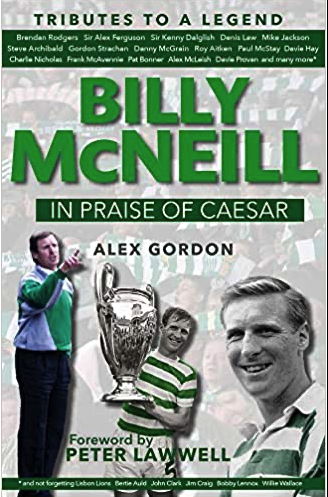 THE telephone call left me a little mystified. 'Billy McNeill wants to see you at the park,' was the simple message from my old teammate John Clark. As usual, there was no preamble from the quiet man of the Lisbon Lions team.
'What's it about, Luggy?' I asked.
'I'll let Billy fill you in with the details when you catch up,' came the even more puzzling reply.
Intrigued, I made arrangements to see my old captain the following day after training at Barrowfield. Billy had just returned as manager of the club in May 1978 and, as you would expect, had plenty on his plate to contend with, but he had taken the time to ask his assistant boss to get in touch with me.
The call came right out of the blue and I spent most of the previous evening wondering why the new Celtic team boss wanted to have a chat with me. Somehow, I didn't think he would be asking me to look out my old goalkeeper's gloves. So, in a bit of a quandary, I made my way to Celtic Park to get my answer.
MY BALL..daredevil keeper John Fallon prepares to swoop as he is watched by Celtic team-mates Bertie Peacock and John Kurila.
Billy was waiting to greet me and he ushered me into his manager's office. He went behind his desk and told me to pull up a chair. He was his usual charming self, the perfect gentleman. As a centre-half, playing directly in front of me, we had the odd disagreement, but nothing too serious to affect our friendship.
He smiled at me, that big, bright grin that could light up a room, and said, 'I hear you don't get in the front door here any more. Is that the case?'
Sadly, I had to tell my old skipper he had heard quite correctly. There was no welcome and certainly no admission at Parkhead for someone who had been on Celtic's books for just over twelve years, having signed from Junior outfit Fauldhouse United on 11 December 1958. That door was firmly closed behind me when I left the club to join Motherwell in February 1972.
No one told me I had been barred. As usual, I went up to the entrance for the second leg of the European Cup semi-final against Inter Milan – the night Dixie Deans missed a penalty-kick in the shoot-out decider. The doorman stopped and told me I wasn't getting in. He told me he was acting on orders. Whose orders? I had no doubt where they had come from – Big Jock.
'I still watch the games, though,' I told Billy. 'I pay in at the turnstiles. I'm a Celtic fan and I'll always support my team.'
SAFE HANDS…John Fallon grabs the ball from Dunfermline's Harry Melrose with John Clark for back-up in the unforgettable 3-2 Scottish Cup Final triumph over the Fifers in April 1965 when captain Billy McNeill claimed the headed winner.
Jock Stein's successor looked at me, laughed and pushed a ticket and a pass across his desk top. 'There you are, my friend. That'll get you back in the front door.'
The little pieces of cardboard, that got me into the stand behind the directors' box, were most welcome and the gesture was a typical act of kindness by a fine human being.
It wasn't one of football's best-kept secrets that I did not get on with Jock Stein. I don't think he particularly liked any goalkeeper and I'm told that came from his playing days. Like Billy, he was a central defender operating smack in front of the last line of defence, so there might have been a little animosity when a goal was conceded. Big Jock carried that on when he gave up playing to become a manager.
His man-management skills left a lot to be desired. He would give you a right sherricking in front of your teammates and he was always quick to blame the keeper for the loss of a goal. Remember Racing Club's winner in the World Club Championship play-off in Montevideo? No prizes for guessing who got it in the neck for that one.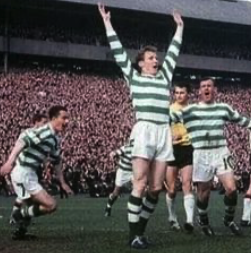 HAMPDEN HERO…Billy McNeill takes the acclaim after his header brought Celtic their third goal in the 3-2 Scottish Cup Final win over Dunfermline in 1965. Stevie Chalmers and Bobby Lennox  join the celebrations.
Not too many other people, including my team-mates, with Billy among them, pointed the finger at me, but the Celtic boss did. Goalkeepers were always an easy target for Jock.
But, back in 1978, Billy had big boots to fill when he took over as manager from Jock Stein. Whether or not Jock and I sent each other Christmas cards, you could not take his achievements away from him. He was phenomenal for Celtic when he returned as team boss in March 1965. We hadn't won anything for years, but he changed all that.
So, credit where credit's due, he turned things around in a remarkably short period of time and no one can ever take that away from him.
Billy was most people's choice to take Celtic into a new era and I was delighted when he got the job. I had known him since before we teamed up at Celtic as seventeen year olds – Billy is six months older than me – back in 1957. I played against him in schools' football when I was with St Bride's Cambuslang and he was at Lady's High Motherwell.
I have to admit Billy stood out even then and it would be a few years later until I discovered his father had been in the army. He was always smart in his appearance, remarkably straight-backed and walked with a certain poise. And you could see immediately he was going to make the grade in professional football. Even as a kid, Billy caught the attention with his blond hair, height and stature. He was unbeatable in the air with his timing and ability to leap so high.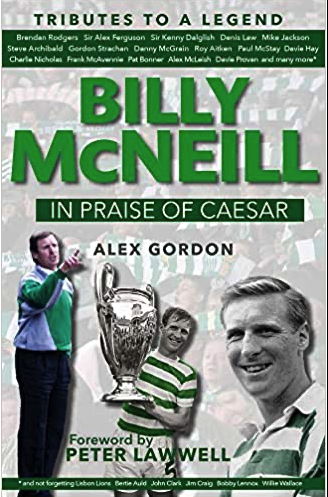 Billy signed professional forms at the club while I went to Fauldhouse before eventually catching up with him on the books at Parkhead. We played a reserve game alongside the legendary Charlie Tully who was in the twilight of a truly outstanding career.
He had someone ghost-write a column for a newspaper and in one of his reports he stated, 'Fallon and McNeill, look out for these youngsters. I think they'll be big names in Celtic's future.' At least, I was keeping good company!
I made my debut for the first team on September 26 1959 when Bobby Evans wore the No.5 shorts. We drew 1–1 with Clyde at Parkhead and I kept my place for the next game against Arbroath at Gayfield. Evans was on Scotland international duty that day in a 4–0 win over Northern Ireland in Belfast and Billy, who had already had a few games in the top side, stepped in to take over.
Coincidentally, John Clark made his first appearance that afternoon. We won 5–0, so it wasn't a bad start to our careers at Celtic.
Click Here for Comments >