CELTIC legend Billy McNeill made his first team debut exactly SIXTY-FIVE years ago today and took his first steps into club folklore.
Author Alex Gordon paid tribute to his friend in his publication, 'BILLY McNEILL: In Praise of Caesar', which was published in 2018.
In Part Two of CQN'S EXCLUSIVE series, we continue our walk down football's memory lane to honour the man voted Celtic's Greatest-Ever Captain by the supporters.
Here is Pat Crerand's view in an edited extract from the book.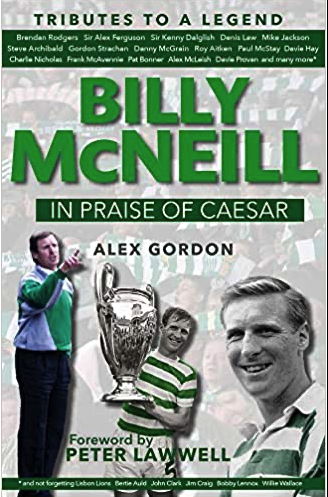 BILLY McNEILL and I both signed for Celtic on the same Monday evening on August 5 1957. I arrived from Junior side Duntocher Hibs while Billy came in from Our Lady's High School in Motherwell before being farmed out for a year to Blantyre Vics.
When we turned up at Parkhead we were met by the reserve team coach who would have a huge impact on both of us, a bloke called Jock Stein. The manager was Jimmy McGrory, the club's all-time highest goal scorer, but we soon found out he was manager in name only.
The man who ran the team was the chairman, Bob Kelly. I'm not being disrespectful, but he knew nothing about that side of the game. And I mean nothing. McGrory was a genuine club legend because of his phenomenal goalscoring record, but, as team boss, he appeared to accept the situation and take a backseat.
On the night of our arrival, Big Jock had a word with Billy and me, but there were no grand speeches, just a firm handshake and he told us both he hoped we would have good careers as professional footballers. Obviously, that was the first time I had ever met Jock, although I had seen him often enough from the terraces.
YOUNG BHOYS…Pat Crerand, Billy McNeill, Mike Jackson, Jim Kennedy and Dunky McKay before a five-a-sides tournament in Falkirk.
In 1954, for instance, I travelled with my mates on the Gorbals Celtic Supporters' Bus to Edinburgh to watch Jock captain the side and play at centre-half when the club won its first title since 1938.
I remember they beat Hibs 3–0 at a packed Easter Road with Neilly Mochan, who would later become a trainer, scoring two goals. I was in the crowd at Hampden a fortnight later when Jock again inspired the team to a 2–1 Scottish Cup Final victory over Aberdeen.
So, I was quite thrilled to meet a Celtic hero who, unfortunately, had been forced to quit playing in 1956 with an ankle injury that left him with a permanent limp.
He was only thirty-four. That was when he took over the role of looking after the reserves and the youths. No one could have forecast it at the time, but what a move that was in the right direction for the club.
As Billy and I left the ground that night, I was on a high. Jock Stein had actually shaken my hand! Billy smiled and informed me Jock had already visited his parents' house to tell them their son should sign for Celtic. Billy also told me Jock had said, 'If he's cheeky, can I skelp him one?' When we signed, I was eighteen, a year older than Billy.
WALKING ON AIR…Pat Crerand and keeper Frank Connor join forces to repel a raid from Hibs midfielder John Fraser in a 1-1 draw at Parkhead in April  1962.
We first played alongside each other in the reserves and I knew immediately he would be a monumental success. He was in a different class from day one. I really mean that; his quality just shone through, even at that age.
What struck me immediately was his astonishing spring and his timing in the air. It was actually quite breathtaking. I had never seen anyone leap so high and, in all my years in the game, I never witnessed anyone who came anywhere near Billy's aerial prowess. He was unbeatable and, for me, that is one of the two qualities a top-class central defender requires, the other being the ability to tackle. Big Billy ticked both boxes.
No-one should be unduly surprised at the rapid rise through the ranks for young players back then. It was so typical of Celtic. Players just out of the Juniors were expected to fill in when a first team player was injured or had left the club.
Bobby Evans, who had captained the club when they beat Rangers 7–1 in the 1957 League Cup Final, left to join Chelsea in the summer of 1959 and that practically ensured Billy McNeill would be the first team centre-half for the foreseeable future. And then I stepped up to play in the No.4 position, which today would be called right midfield.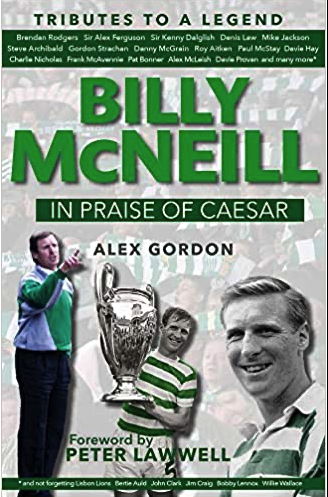 You knew you were getting near the top side when you were allowed to train with the first team. Jimmy McGrory was probably too nice to be a manager and I know that thought will be backed up by many who came through the ranks at Parkhead in the early sixties. He didn't get involved in tactics. He would instruct Billy to head the ball 'as far away as possible'.
Me? I was told 'aim for the corner flag'. He reckoned if I passed the ball in that direction there should be a winger waiting. Not exactly revolutionary, was it?
But that's what we were brought up with and it didn't matter because we were playing for Celtic. Every now and again, the first team would play the reserves in a bounce game. After Billy and I had signed, we played in a few of these with Jock Stein taking the second string. I don't know who would be in charge of the top side because Jimmy McGrory never went anywhere near the training ground.
We regularly won these matches, mainly because we were better prepared by Big Jock and were tactically aware.
I left my boyhood idols to join Manchester United in 1963. I didn't want to go, but it was obvious the Celtic hierarchy did not welcome someone in the dressing room having a say about how the club was being run. Bertie Auld was the same. And, of course, it wasn't long before he was shipped out to Birmingham City, although Bertie, like me, had no desire to leave the club.
TWO OF A KIND…Celtic players and Hoops fans Billy McNeill and John 'Yogi' Hughes at the beginning of their Parkhead odyssey.
Mike Jackson was another who couldn't just sit there and keep his mouth shut. Mike was an excellent midfield player, but he didn't play as many games as he should have and you have to question why that was the case. Anyway, Mike's Celtic career was cut short when he was sold to St Johnstone.
Big Billy was obviously smarter than the three of us; he kept his own counsel inside the walls of Celtic Park. Outside, he was just as vehement as Bertie, Mike and me. The directors didn't like hassle, no one had an opinion outside the boardroom, it had to be their way or the highway.
I was surprised Billy did not join me at Manchester United. When I left, I was convinced he would follow me to Old Trafford. Matt Busby liked Billy, I knew that, and the United boss also realised what Scottish players would bring to his team. That was why he paid £115,000 to sign Denis Law from Torino in 1962, which was by far the British record transfer fee at the time.
I believe Celtic received £43,000 for me – the biggest deal between English and Scottish clubs at the time – and something in that region might have been enough to tempt them to sell Big Billy.
Would he have gone?
The mere fact he never played for any other club answers that.
Click Here for Comments >