CELTIC legend Billy McNeill made his first team debut exactly SIXTY-FIVE years ago today and took his first steps into club folklore.
The iconic former manager and player, who sadly passed away on April 22 2019 at the age of seventy-nine, played 790 games for his only club, winning nine league championships, seven Scottish Cups, six League Cups and, of course, the European Cup.
PARADISE…Celtic legend Billy McNeill and author Alex Gordon share a joke.
McNeill also represented the full Scotland international team on 29 occasions, played nine times for the Scottish League and made five appearances with the Under-23 side.
Author Alex Gordon paid tribute to his friend in his publication, 'BILLY McNEILL: In Praise of Caesar', which was published in 2018.
Today CQN takes a walk down football's memory lane to honour the man voted Celtic's Greatest-Ever Captain by the supporters.
Here is an edited extract from the book which appeared under the headline: OH, BILLY IN THE SUN.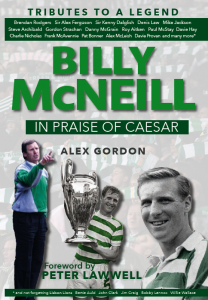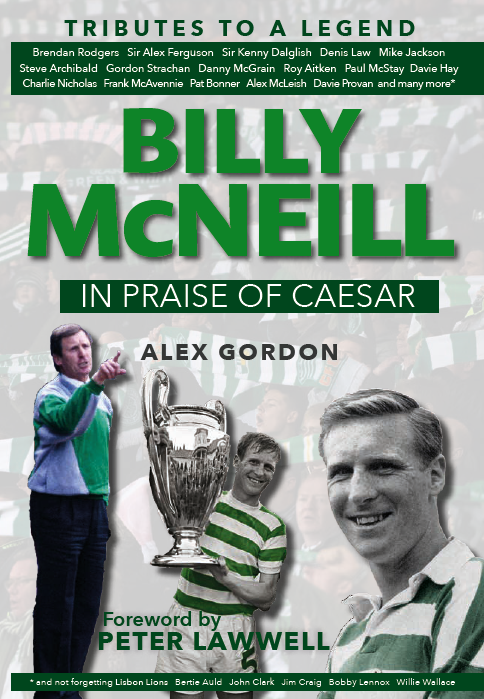 BILLY McNEILL was still a part-time player when, at the age of eighteen, he made his Celtic first team debut appearance against Clyde in a League Cup-tie at Parkhead on Saturday, August 23 1958.
McNeill worked for the Lanarkshire County Council and then Stenhouse Insurance, a company based in Glasgow city centre, in his first three years at the club after joining from Junior side Blantyre Vics in 1957.
The future legend didn't expect his rapid rise to promotion, but Celtic manager Jimmy McGrory didn't have too many options at the time when club stalwart Bobby Evans, an experienced Scotland international of some repute, called off with an injury and his replacement, John Jack, a reliable, if unspectacular, back-up, was similarly afflicted.
FRESH-FACED AND RARING TO GO…a teenage Billy McNeill was about to embark upon a liftetime of golden memories back on August 23 1958. 
And, so, in front of a crowd of 39,000 supporters on a sun-kissed afternoon in the east end of Glasgow, Billy McNeill trotted out behind skipper Bertie Peacock, the Northern Ireland left-half, and goalkeeper Frank Haffey, making only a second appearance after his initial outing in a 4-1 win over Third Lanark at the end of the previous campaign.
Bertie Auld, who accompanied McNeill out of the Celtic Park tunnel to be cheered onto the park that day, has hazy recollections of Celtic's 2-0 triumph. 'Clyde had a good team in the fifties with individuals such as Harry Haddock, Tommy Ring and Archie Robertson in the line-up. We knew we would have to scrap to get anything from them – and so it proved.
'Going into the match, I was aware Clyde could go top of our section if they beat us. We were sitting on five points after three games – remember, it was two points for a win and one for a draw – and they were one behind. We were holders of the trophy, of course, following our win over Rangers in the Final the previous year.
'The fans were still singing, 'Oh, Hampden in the sun, Celtic 7, Rangers 1' at all our games. The manager must have had a lot of faith in Billy at that age to bring him in.
PARADISE, HERE I COME…Billy McNeill prepares for match day.
'Naturally, I took the pressure off him with the second goal. I started off looking after Big Billy and It was something I got used to in all our years as team-mates! Seriously, I think Billy eased into the first team that afternoon. Even a blind man would have recognised his ability in the air.
'Bobby Evans, who played a lot of games at wing-half, was not tall for a centre-half and did most of his good work on the ground. So, it was a real change to see someone in our defence so dominant at dealing with crosses. It seems ironic we had a clean sheet in his first game.'
In those days, there was often a stampede for the newstands or the vendors on street corners an hour or so after a game to catch up with the match reports and results around the UK. The main newspaper rivals were the pink Evening Times and the green Evening Citizen.
Under the headline 'CLYDE DRIFT ON AS CELTS SCORE', here is the full assessment from the reporter from the former. Please note the misspelling of McNeill. The journalist at the match afforded him only one 'l'. Such is fame.
GOLDEN BHOY…Celtic icon Billy McNeill poses for the photographer at Parkhead in the sixties.
BRIGHT sunshine and a new-look Celtic with teenagers Frank Haffey in goal, Billy McNeil at centre-half and Jim Conway at centre-forward brought the crowd in good numbers to Parkhead for the League Cup game against unchanged Clyde.
Both teams opened up at full throttle and all within the first three minutes a like number of commendable efforts from Conway, Ring and Coyle had slid just past with McCulloch and Haffey mighty pleased young men.
Then came three minutes of Clyde disaster. Conway's persistence forced a corner. Tully's cross drifted over and Sammy Wilson headed Celtic into the lead with a clean-as-a-whistle effort.
Three minutes later came further disaster for McCulloch was led off with a cut face and Haddock took over in goal. Just to complete Clyde's misery Archie Robertson shot tamely past from the penalty spot two minutes later after Tully had pushed Coyle off the ball. To a cheer from the Clyde supporters, McCulloch resumed after a 10-minute quick repair job, with a plaster on his forehead. He was hardly back in goal before Conway waded past Finlay and Walters before placing the ball past from six yards.
MEMORIES ARE MADE OF THIS…Billy McNeill and keeper Frank Haffey after the 3-1 friendly loss to European champions Real Madrid at Parkhead on September 10 1962.
Clyde celebrated with a neat attack which fizzled to a bad end when Robertson shot tamely at Haffey from open-sight range. Clyde were improving with every delightful football minute and Ring hurtled a right-foot shot inches past. The Clyde onslaught continued with a Herd shot which Haffey did well to clutch. The young keeper brought out every stop again 30 seconds later to fingertip a Ring volley to safety.
Such activity stung Celtic back into attack with Tully the maestro conducting the sweet rhythm of their all-in-a-line movements. Collins and Peacock almost knocked two Clyde defenders right of the park with piledrivers before Clyde's red shirts went charging back to bring danger to Haffey.
In the 35th minute Celtic were in green and white Paradise as Auld scored a magnificent second goal. Wilson gave him the ball in the clear and from 20 yards it hardly rose a foot as it flew past McCulloch who had no chance.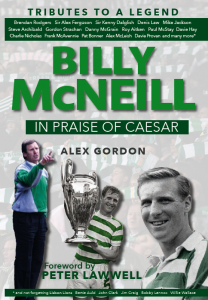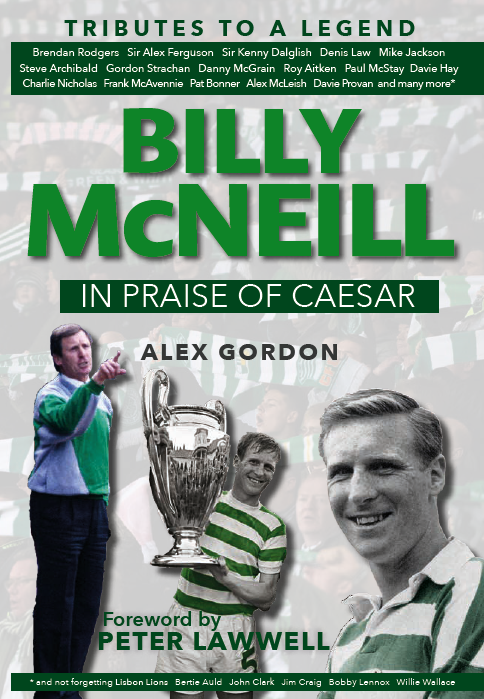 Celtic's new-look team were certainly playing with spirit and excellent understanding against a Clyde team who, although neat enough in outfield, sadly lacked a killer's touch near goal.
Half-time: CELTIC 2, CLYDE 0
Clyde resumed still playing their precise football, in contrast to Celtic, who were moving the ball around in a much more purposeful manner.
Herd finally showed what was wanted with a firece drive which slid inches over. Then Tully danced Clyde into trouble again with a ballet effort in which he gave Conway a perfect pass, but McCulloch brought off a fine clearance from the centre's cross. Celtic were playing with all the confidence in the Parkhead world, with young McNeil a steady pivot.
The pace was now slowing down with Clyde continuing to pattern-weave the ball into Celtic's goal area before undoing all their good work by ineffective finishing.
In contrast Celtic were still a hard-hitting team with Tully and Collins a good wing, and Conway an "up-and-at-'em" centre giving Finlay a busy afternoon's chasing.
CELTIC: Haffey; MacKay and Mochan; Fernie, McNeil and Peacock; Tully, Collins; Conway, Wilson and Auld.
CLYDE: McCulloch; Murphy and Haddock; Walters, Finlay and White; Herd, Currie, Coyle, Robertson and Ring.
Referee: J. Blissett (Edinburgh)
And with that report, a legend was born…
Click Here for Comments >