IT'S difficult to keep referees out of the headlines today – mainly for all the wrong reasons.
The situation is not new to Scottish football and Celtic have been caught up in more than their fair share of controversies over the decades.
Club legend Davie Hay had his run-ins with officaldom as a player and a manager to such an extent he asked the SFA to make sure one match official didn't take charge of another game concerning the Hoops during his four-year reign between 1983/87.
In another CQN EXCLUSIVE, the current Parkhead ambassador reveals all to his friend and author Alex Gordon who co-wrote the club great's best-selling autobiography, 'The Quiet Assassin', published in 2009.
Here is an edited extract from a chapter that conveys Hay's feelings at the time.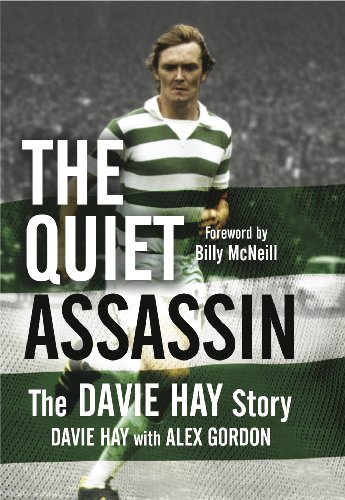 BOB VALENTINE had his moments when he was in charge of Celtic games. In fact, I asked the authorities to ban him from handling any further Celtic matches in my last season.
Of course, he had been the referee when we lost the League Cup Final against Rangers and the Scottish Cup Final to the Dons in my first season as Celtic manager.
I had been unhappy with his handling of both of those games and, in fact, was hauled before the SFA Disciplinary Committee after remarks I made following the Scottish Cup Final.
I had been asked by the Press for my thoughts on Valentine's display and, as you might expect, I had strong opinions on his sending-off of Roy Aitken. I said so and that led to me being fined by the SFA bosses. So much for free speech.
OFF…Roy Aitken is sent off by referee Bob Valentine during Celtic's 2-1 Scottish Cup Final loss to Aberdeen in 1984. Davie Provan can't believe it.
COMFORT ZONE…Davie Hay escorts the red-carded Roy Aitken off the Hampden pitch.
As a player, despite the hardman tag, I was rarely in trouble with the authorities. I picked up and booking or two, but nothing serious. As a manager, I seemed to be continually getting involved and that fine was the first of several I would be hit with during my four-year spell as Parkhead boss.
I realise it was irrational and completely out of character for me to request the SFA to remove Bob Valentine from officiating at Celtic matches. Like that was going to happen.
After a particular game, I had had enough. That's when I made my plea to the SFA, but, if I had stepped back and been a bit more patient, I would have realised I was merely wasting my time.
This will surprise you, but I actually thought Bob Valentine wasn't a bad referee. And there is no way I am accusing him of being biased one way or another. It was just we didn't seem to get too many breaks when he was around.
Tiny Wharton was another official who seemed to get up the nose of the Celtic support. He sent off Jimmy Johnstone on two occasions and, sorry, Wee Man, the ref got both those decisions right!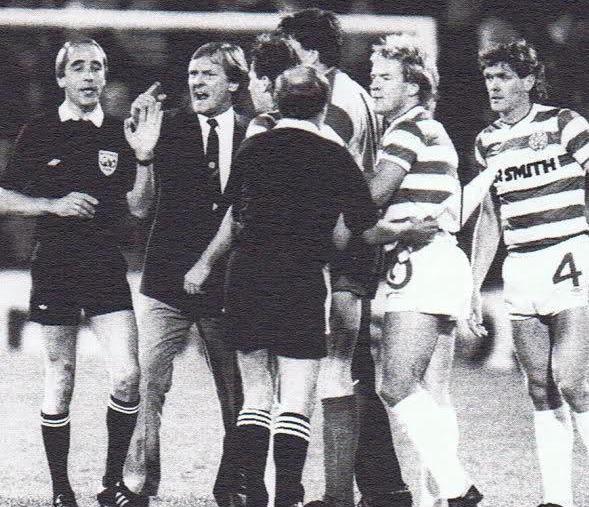 RAGING…Davie Hay lets rip at referee Bob Valentine after another baffling decision from the match official.
One was for taking a lunge at Rangers midfielder Therolf Beck, a fairly unassuming Icelandic player who rarely courted trouble, and the other was for a touchline fight with Partick Thistle's Ian Cowan.
In the case of Beck, I think Jinky was heading down the Ibrox tunnel even before Wharton could tell him he was off and his fight with Cowan was always an accident waiting to happen. The Thistle lad, like Jinky, had bright red hair and when these two came face-to-face it was like nytro meeting glycerine.
Tiny – who was about 6ft 4in – was a referee I liked although I believe I might have been in the minority of one in the Parkhead dressing room with that train of thinking.
I used to believe foreign referees should take charge of the biggest games in our country. They couldn't possibly be accused of bias toward any Scottish team if they came from Italy, Spain, Germany or any country you care to mention.
OLD FIRM BUST-UP…referee Tiny Wharton gets between Celtic's Davie Hay and Rangers pair Davie Smith and Kai Johansen.
I don't think there would have been a communication problem, either. The rules of the game are the same wherever football is played. It would have removed any lingering doubts about a match official's questionable decision-making.
However, I am not of that opinion these days for one very good reason – new technology. Big Brother is watching and that can be no bad thing. Surely match officials would welcome and embrace anything that can only help them when it comes to calling it right.
It's all in the spirit of fairplay, after all. The paying customer, the guy who turns out every week in all sorts of weather conditions, should't be shortchanged, either.
Or maybe we should just accept the obvious – a lot of referees may know the laws of the game, but do they actually know football?
* TOMORROW: It's a knock-out! The referee Davie Hay sent flying.
Click Here for Comments >