THE remarkable Ronnie Simpson was voted Celtic's Greatest-Ever Goalkeeper by the Hoops supporters in the Millennium Poll.
To celebrate the extraordinary Hoops career of the Lisbon Lion, CQN are publishing a week-long tribute to the netminder who was known as 'Faither' to his team-mates.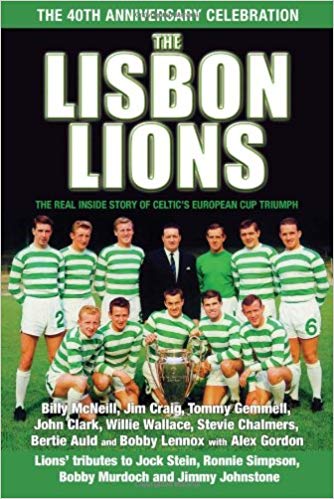 In Part Two of our EXCLUSIVE series, author Alex Gordon has opened his book files once again as we travel back in time to acknowledge the fabulous career of an incomparable character.
Here are the thoughts of club legend Billy McNeill, in an interview with Alex for his publication, 'The Lisbon Lions: The 40th Anniversary', which was published in 2007: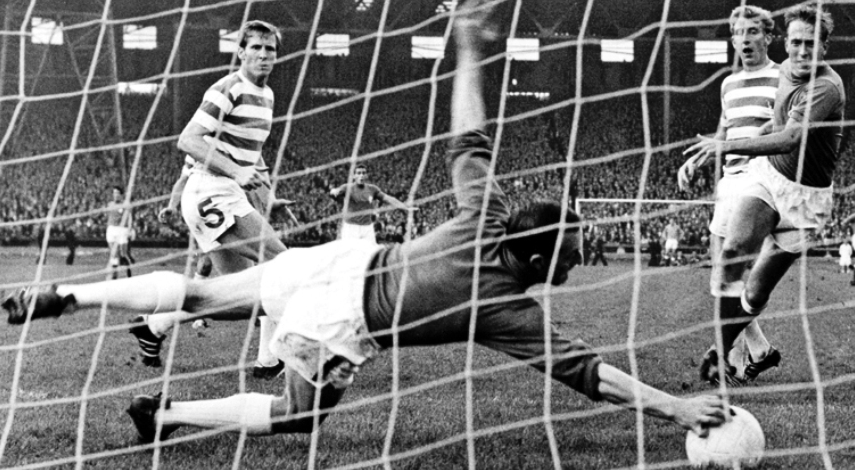 BREATHTAKING…Ronnie Simpson swoops to his right to thwart a close-range drive from Rangers' Orjan Persson with Billy McNeill and Tommy Gemmell looking on.
"FAITHER was quite magnificent, as simple as that. You always felt safe when he was behind you. He talked you through a game and must have been exhausted even though he might have had very little to do.
"Being a Celtic keeper back then was either the best job in football – or the worst. Because we had the ball in our opponents' half most of the time, Ronnie would be virtually unemployed. I know some keepers much prefer to be in the thick of it. Obviously, if you are busy it helps you keep your eye in. You're on the go all the time and that is no bad thing.
"In Ronnie's case it was all about concentration. And, my goodness, did he possess that much-needed commodity in plentiful supplies. He could have been asked to do nothing for 89 minutes and then produce a wonder save in the last minute. It really was a gift and he put every ounce of his vast experience to a good use.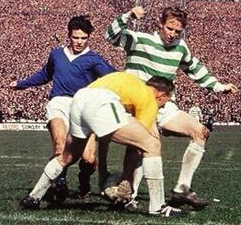 I'M IN CHARGE…Ronnie Simpson races out to pick up the ball as Billy McNeill shields the keeper from Rangers' Jim Forrest.
"Although fans say he was an unspectacular goalkeeper, relying solely on anticipation and positioning, I can tell you he still managed to pull off some breathtaking saves on the odd occasion when the situation demanded it.
"I can recall a save he made from Rangers' Orjan Persson in a game at Celtic Park that defied belief. I still don't know how he managed it. Persson first-timed an effort from goal, low, hard and accurate, to Ronnie's right.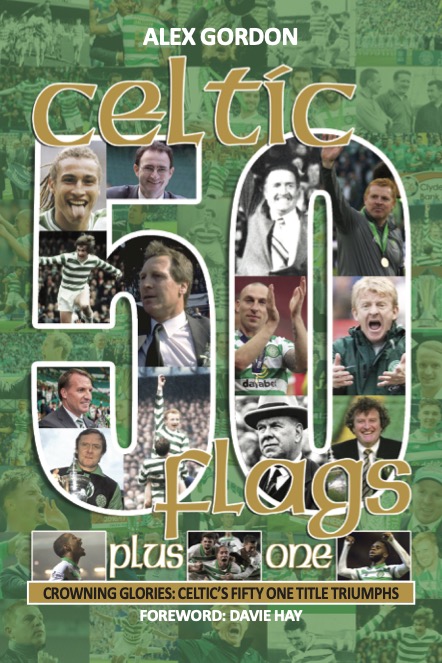 "It was from about eight yards and Rangers' Swedish forward packed quite a wallop. It looked a certain goal, but my moan was immediately stifled when Ronnie sprang into action and, not only got to the ball, but held it.
"If Ronnie had made that save in a World Cup Final or a European Cup Final you would still be watching it on television replays today. Yes, it was that good. Ronnie did, of course, make a very good stop against Inter Milan, but, because of everything that happened that day, it, too, seems to have been swept away in the mists of time.
THREE CHEERS…Ronnie Simpson is flanked by Billy McNeill and Tommy Gemmell as they prepare for the kick-off in Lisbon.
"Even before the Italians got their early penalty-kick, Sandro Mazzola snapped in a wicked close-range header from a left-wing cross. There was a lot of power in it, but Ronnie, as ever, was alert and threw himself to his left to parry the effort and the danger was cleared
"If Faither had made that save at the end of the game and kept the score at 2-1 for us everyone would have been raving about it.
"It was a pleasure to play in front of Ronnie Simpson. He was the best."
* TOMORROW: PART THREE: What the rest of the Lions thought about Celtic's favourite keeper.
Click Here for Comments >