CQN continue our EXCLUSIVE extracts of Alex Gordon's book, 'The Lisbon Lions: The 40th Anniversary', with a look at Tommy Gemmell whose glorious equalising goal opened the way for the historic triumph in the Portuguese capital on May 25 1967.
Alex talked to the Hoops icon who was also a great personal friend about how the players prepared for the game of a lifetime. He received a surprising reply. 
PICTURE this extraordinary scene: Footballers stumbling around in the dark around midnight. It's pitch black and the sportsmen and their manager are stepping over loose stones, fallen rocks and all sorts of other debris lying scattered around the hillside.
They are wading through a stream and trying not to get scratched to bits by wild shrubbery. They are clambering over a derelict fence with rusty nails dangling at dangerous angles. This is Celtic Football Club a mere 18 hours or so before they play in the biggest game in the club's history; the European Cup Final against Inter Milan in Lisbon on Thursday, May 25.
Tommy Gemmell recalls: "When we were in Estoril preparing for the match, Jock Stein was trying all sorts of things to prevent us from getting bored. Put a lot of young men together away from home for a reasonably lengthy spell and you can get a wee bit frustrated.
"There are just so many crosswords you can do. Jock worried about everything. He didn't want us spending too much time in the sun. Our visits to the outdoor swimming pool were curtailed, too. There were fans everywhere and, for once, he wanted us to keep them at arm's length.
GOAL-DEN BHOYS…marksmen Stevie Chalmers and Tommy Gemmell celebrate after exchanging their shirts for Inter Milan tops.
"We met up with a bloke called Brodie Lennox – no relation to wee Bobby – and he had been a top amateur golfer for Scotland in his day. Brodie owned a golfing complex and had a place situated high in the hills about a 30-minute walk away from our hotel.
"England were due to play Spain in an international on the Wednesday night at Wembley – we played on the Thursday – and he invited all the players to his place to take in the action. Jock thought it was a great idea and absolutely perfect for us to take our mind of our own game.
"So, after our evening meal, we took off up this long and winding road to Brodie's place. We were all fit guys, of course, so there was no problem in getting to the complex although, to be honest, it was a fair old hike. Anyway, we reached our destination, watched England win the match 2-0 and, after a few soft drinks, decided to wend our merry way back to our hotel.
"Neilly Mochan, who was our trainer at the time, decided we should take a short cut. He pointed to our hotel and said to Jock: 'I reckon we can cut about 10 minutes off our trip, boss. Let's go down through the fields'.
"Jock, rather amazingly when you consider he had wrapped us up in cotton wool beforehand, agreed to the notion. We found ourselves wandering around in the dark with no lights in sight. All you could hear was an 'ouch' or something a bit more earthy as we tried to find our bearings.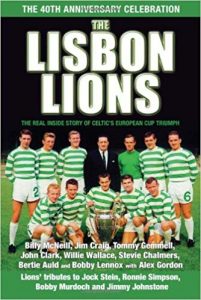 "I felt some rocks go from under my weight a couple of times and I thought: 'Wouldn't it be so typical to reach the European Cup Final and get injured walking down a bloody hill!'
"Jock, too, must have felt the strain because he had walked with a fairly heavy limp ever since injury had ended his football-playing career. We stuck it out, though, and reached the safety of our hotel around midnight.
"Honestly, someone could have picked up any sort of injury. Someone could have turned an ankle or worse. Thankfully, we were all okay, but, upon reflection, it wasn't the brightest thing to do on the eve of such an important match. I couldn't imagine the Inter Milan players being asked to carry out such a task."
No-one was unduly surprised that Jock Stein never repeated the exercise – despite its overwhelming success the next day.
TOMORROW: The Spirit of 67: Another Celtic legend is in the spotlight
Click Here for Comments >