CQN today kicks off another series of EXCLUSIVE extracts from Alex Gordon's tribute book, 'Lisbon Lions: The 40th Anniversary', which focuses of the club's most memorable and historic triumph.
To launch the salute, Alex puts the spotlight on Sean Fallon, Jock's Stein's trusted assistant manager, who was known as 'The Iron Man'.
CELTIC'S players of the Sixties realised the true value of Sean Fallon, the gruff Irishman who was more than just Jock Stein's right-hand man. He was also the manager's confidante and a professional who was quite content to stand in his immediate superior's giant shadow. Sean Fallon and the limelight would, indeed, have made strange bedfellows.
But the players knew Celtic's assistant manager may have been undervalued and underrated by some, but not by those who worked closely with him. He carried out the duties Jock Stein overlooked and, along with Neilly Mochan, he worked the lads hard in training. What many may not realise, if reports from the past are accurate, is that Fallon could have been the manager  at Celtic, the man who had been groomed to succeed Jimmy McGrory when the time was right.
Sir Robert Kelly had been giving Fallon, six months older than Stein, more responsibility at the club as regards playing matters. There is the belief that Fallon was waiting for the nod to take over. If that was the case, he must have been taken more than just slightly aback when Celtic unveiled Jock Stein as their new team boss on the last day of January, 1965.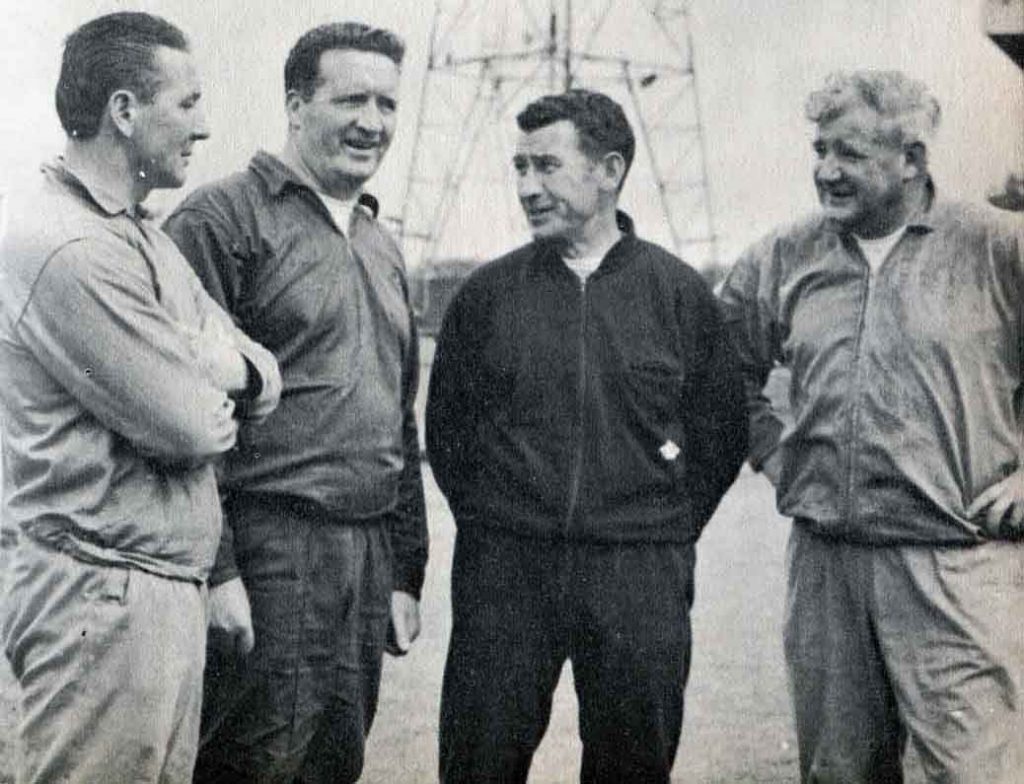 THE FOUR JUST MEN…Neil Mochan, Jock Stein, Sean Fallon and Bob Rooney.
An agreement with Hibs meant Stein had to remain with the Edinburgh club until they found a successor; a process that took five weeks. Kelly would then make one final move to reward Fallon for his resolute loyalty. He asked Stein to accept the Irishman as his joint manager. This request surprised Stein somewhat.
He had always been his own man and he wasn't about to change that outlook at this crucial juncture. Word from within the Celtic boardroom reassured Jock that he would get the post on his own terms. A game of bluff was about to be played and Stein was willing to wait it out. Sir Robert Kelly was known to be stubborn and a man who very much liked to get his own way. Not on this occasion, though. Stein would not relent, but he did, without hesitation, accept Fallon, a former Celtic team-mate, as his assistant.
Both Stein and Fallon knew exactly where they stood with one another and it was a union that worked splendidly well. If Fallon had been upset at not getting the top job he handled his disappointment well.
One thing most certainly emerged all those years ago: Sean Fallon was a man of great integrity and overwhelming professionalism. He always stood up to be counted and he was the perfect foil for Stein.
Big Jock concentrated completely and solely on football matters; Sean took care of everything else that had to be done. Fallon had always been a Celtic man and was credited with bringing through some of the most promising youngsters in the Celtic ranks such as Kenny Dalglish and Davie Hay.
He earned the nickname of 'The Iron Man' when he played against Falkirk at Brockville in severe pain after breaking an arm in the first-half. In those days, there were no substitutes and Fallon refused to come off.
He signed from Glenavon and made his debut at the end of the 1949/50 season. It wasn't the most auspicious of starts as a Celt – he scored an own goal in the 2-2 draw with Clyde at Shawfield. Unfortunately, the broken limb at Brockville was not an isolated incident in his days as a player and, after after another run of injuries, his career ended in 1958 when he couldn't overcome a knee problem. He was 36 at the time.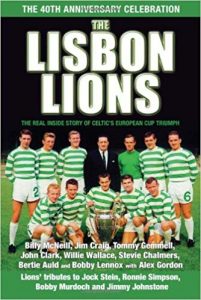 Stein, at 34, had been forced into retirement two years previously with the ankle injury that would leave him with a limp for the rest of his life. Fallon's great claim to fame was scoring the winning goal in the Scottish Cup Final against Aberdeen in 1954. He also played a vital part in Celtic winning the league that year. His captain? Jock Stein.
As the years passed, Jock and Sean, who lived close to each other on the south side of Glasgow, would often be seen in the Beechwood Restaurant, just beside Hampden Park, with their wives, Jean and Myra.
A young footballer would also join their company on occasion and remember the friendly banter and the excellent advice. Sir Alex Ferguson was that young man. He listened and learned.
Both Stein and Fallon had seen a fair bit of action by the time they paced the touchline in Lisbon as they prepared for their most demanding and daunting task yet in their eventful careers.
They didn't fail. No-one was surprised. Jock and Sean had answered the call to arms once again.
TOMORROW: The Spirit of 67: The Nearly Men
Click Here for Comments >