CHRIS SUTTON went on the attack when he locked horns with Ally McCoist in BT Sport's Scottish Football Extra show.
The former Celtic striker rammed home the fact the Ibrox club were now officially the WORST team in Champions League group history after their abysmal six consecutive defeats in Group A saw them take over the unwanted mantle held by Dinamo Zagreb for a decade.
Giovanni van Bronckhorst's side were dismantled by Liverpool (0-2 and 1-7), Napoli (0-3 and 0-3) and Ajax (0-4 and 1-3) as they conceded a landslide TWENTY-TWO goals for a goal difference of minus 20, an all-time low among Europe's elite.
Sutton opened with a sharp question: "I just want to ask my old pal if they are still going to be playing Tina Turner at Ibrox in the future."
ON THE ATTACK…Chris Sutton was looking for answers.
McCoist responded: "Well, I would think they would give that song a couple of weeks' rest. There is no way shape or form I'll be taking any solace from Rangers flying the flag in terms of the coefficient for Scottish teams. It's been a very poor campaign."
The ex-Hoops favourite fired back: "Worst-ever team and he is taking solace in the coefficient cup! You couldn't make McCoist up."
The former Scotland international said: "In all seriousness, I don't think they will be playing it for a wee while."
Moments later, he remarked: "Rangers have not replaced the players they have lost with anything like the quality of replacements."
Sutton pressed McCoist on who was buying the players at Ibrox – the manager or someone else?
His verbal sparring partner was coy and eventually replied: "It's an unanswerable question."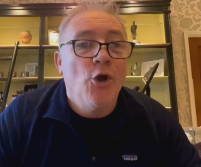 UNDER SIEGE…Ally McCoist on the defensive. Images courtesy BT Sport.
"No it's not," yelled Sutton. "You know the club, you are Mr Rangers, you know the fabric of the club, you know everybody. Who is bringing in the players?"
McCoist admitted he wasn't sure it was manager Van Bronckhorst and eventually tailed off with: "I don't know is the honest answer."
Sutton offered the name of Ross Wilson, the club's sporting director.
McCoist didn't bite.
This could be a long-runner in the weekly half-hour chat between the pair.
To be continued…
* DON'T miss the unbeatable match report from Celtic v Dundee United this afternoon – only in your champion CQN.
Click Here for Comments >