IT'S TOMMY GEMMELL DAY on Celtic Quick News as re recall Tommy's first visit to the blog to answer questions put to him by the Celtic supporters.
We started this morning with the first ten questions that Tommy answered. It is a great read and you can catch up HERE
Moving on to the next ten questions…
Q11: Hi, Tommy. The Big Shot was my first Celtic book – 'that's me in the middle' comment about the Front cover picture, had my brother confused…braw ….do you still shoot? And what is the name o yer dug? NEAUSTADT-BRAW
A: Yes, I used to go shooting, mainly for pheasant, duck or geese. But, no, I don't indulge these days which is good news for the wildlife in Perthshire! I still enjoy a spot of fishing, though. My dog's name was 'Jock'! Honestly, it was good to be able to order 'Jock' around for a change.
——
Q12: Tommy, did you meet Danny Kaye when he stayed at the Central Hotel? And can you rank in order these three footballing greats: Jinky, Dalglish and Best? ZIGGYDOC1
A: Sadly, I never did get to meet Danny Kaye. Do you know people in the States used to say to him all the time, 'You look a helluva lot like Tommy Gemmell'? I don't know about his ability as a footballer, but I reckon I was a better singer than him. And better looking. As far as Jinky, Bestie and Kenny, that's a very difficult question.
For a start, they were three entirely different types of players.
Jinky was a real box of tricks with fabulous dribbling skills and unbelievable close control whereas Bestie was a lot more direct when he was taking on an opponent. Kenny was obviously more of a goal threat than the other two and he was very accomplished at holding up the ball and bringing other players into the game. For me, they were all world class.However, if you twist my arm, I would put them in this order: 1: Jinky; 2: Bestie; 3: Kenny.
——-
 Q13: Best of health, Tommy. Great to know you've recovered and are back to form. My question is, 'Why didn't you lift the Torrey Canyon?' It was a pleasure seeing you play over the years and meeting you a couple of times in Kearny and Manhattan. GG
A: Torrey Canyon? Are you referring to me being well-oiled? Thank you for the kind thoughts and you can buy me a glass of cold white wine the next time we meet!
——–
 Q14: How did you feel when you won the Scottish League Cup for Dundee against the Hoops back in 1973? I imagine it was a combination of professionalism, sadness and delight? But would like your thoughts? All the best Big Man, you were my wee maw's favourite player. LAWRENZO
A: Embarrassed was my main emotion after the League Cup win. I was captain of Dundee and I had to go up those stairs to be presented with the silverware.
Actually, I felt a bit like an imposter because of my ties with Celtic.
However, I had a job to do with Dundee and I remember Gordon Wallace's goal that wet, windy and muddy afternoon at Hampden. I always thought Gordon was hugely under-rated and deserved his 15 minutes of fame.
By the way, your wee maw's got great taste!
  Q15: What were your favourite moments against Rangers as both a player and a supporter? TRADITONALIST88
A: Any win against our old rivals was always welcome. Remember, I came into the Celtic team in the early sixties when we were getting regularly turned over by the Ibrox side. So, it was great to be around when things changed so dramatically.
One game that sticks out is the League Cup Final win over them in October 1965.
We had won the Scottish Cup by beating Dunfermline 3-2 the previous April. For the first time as far as I could remember, the bookies actually made us favourites to win the trophy that day.
Thankfully, they didn't get it wrong and Big Yogi, John Hughes, had his shooting boots on as he smacked two penalty-kicks behind Billy Ritchie and we went on to win 2-1. I couldn't have done better myself! As a supporter, my boyhood team was my local side Motherwell. Believe it or not, I never saw them play Rangers.
 ———–
 Q16: Paolo Maldini was a great left back, but only number 2 in the all-time list after yourself…and he never scored as many goals as you did! Are you proud to be recognised as the best-ever left-back? TALLYBHOY
Thank you very much for the compliment. Actually, I knew Big Jock rated me as the best in the world, but he never told me. He was talking to his good friend Tony Queen, a well-known bookie, when he made the observation. Tony pledged me to secrecy when he told me later.
Maldini was a fantastic defender. Of course, he settled into a more central role with AC Milan in later years, but he was wonderful at left-back. He didn't attack too much, saving himself for set-plays.
————
 Q17: Tommy, I had the pleasure and privilege of meeting you in Dubai around 10 years ago along with Billy McNeil. Anyway, my questions relate to the rise of the modern 'super teams' like Barca and Real Madrid with seemingly unlimited finances who can sign the best players from all over the world and who can compete at the highest level year after year by buying the best players from every country.
My first question is, 'In 1967 and 1970 teams were still largely dominated by home-based players. How would the Lisbon Lions have fared in the current Champions League against these modern teams with unlimited cash to spend and the ability to assemble the world's best players in one team?'
My second question is, 'If not all of them, which of the Lions would today's Barcas and Madrids try to sign?'
And my third question is, 'Do you think you ever scored a better goal than your brother Archie did against Holland?' (Okay, I'm chancing my arm with that one! But I know you like a laugh!) I'M NEIL LENNON (TAMRABAM)
A: I'll need to go and lie in a darkened room after I've answered all these. Maybe we should just do our own 'Question and Answer' book. Okay, to answer your first question I would say you could spend as much money as you like, but it doesn't guarantee success. It helps, of course, but splashing wads of dosh won't, in itself, mean trophies piling up in the boardroom.
The Lisbon Lions cost exactly £42,000 to assemble – £30,000 to Hearts for Willie Wallace and £12,000 to Birmingham City for Bertie Auld.
Ronnie Simpson was bought from Hibs, but the fee was so small apparently that no-one took a record of it. What a bargain!
We had wonderful team spirit, though, and an unbeatable camaraderie throughout the team. Money couldn't have bought those qualities. So, I firmly believe any team with that attitude and outlook would be successful anywhere in any era.
Secondly, the Barcas and the Madrids might have wanted to buy all of the Lions, but we came as a package. It would be difficult to envisage Bobby Murdoch playing without his little sidekick Bertie on his left, for instance.
Or Big Billy without John Clark.
Thirdly, Archie's goal against Holland in the 1978 World Cup Finals was a thing of beauty, no doubt about that. It wasn't the type of goal I could have scored, but, then, I don't remember Archie crashing in 30-yarders in his career.
By the way, you do realise the spelling of his surname is Gemmill and not Gemmell, don't you? We're not related and, unfortunately, played only once together in an international. It was against Belgium in Liege in 1971 and we lost 3-0, so maybe the combination didn't work!  
 Q18: You speak of the Lisbon Lions and their different strengths and how the team gelled to make it magic. Has there ever been another team you have seen or played against that struck you as having similar qualities to those of the Lions? EXPAT CELT
 A: The Real Madrid side that swept all before them in the early sixties immediately comes to mind. They were a beautiful team to watch, a real combination of skill and, when it was required, steel. They had so many graceful players such as Alfredo di Stefano, Ferenc Puskas and Francisco Gento.
No-one who witnessed it, will ever forget their 7-3 European Cup Final win over Eintracht Frankfurt at Hampden in 1960. What a spectacle that was. I recall the West Germans pulling back a goal, I think that made it 6-2. But straight from the kick-off, Di Stefano hared straight through their defence and hammered No.7 behind their keeper.
It was a bit like, 'How dare you score against us!' By the way, how's this for a thought? Eintracht took 12 goals off Rangers as they won home and away in their sem-final. And Real took seven off them. Makes you wonder what the final score at Hampden might have been that day had Rangers got through. Lucky escape methinks!
——–
Q19: Tommy Gemmell. Scorer in Lisbon in a European Cup Final for Celtic. Tommy Gemmell.  Scorer in Milan in a European Cup Final for Celtic. Humbly put Tam, I only dream of dreaming of those heights with Celtic. Do you know just how much you mean to the Celtic family? AN TEARMANN
A: Yes and I'm very grateful, too. I've had a lot of respect from the Celtic family almost from day one. The supporters were great to me very early in my career and I'm delighted I may have been able to pay them back in some manner. I think I was fairly consistent throughout my Celtic career and I was also lucky enough to score a few spectacular goals. If I gave you and fellow-Celtic fans a happy memory or two, then I did my job.
——–
Q20: Can you give us some comparison on the current Celtic players versus the Lisbon Lions? Do present-day Celtic supporters get better value for money now or in your day? TOJO
A: I believe the Lisbon Lions are incomparable and I hope I don't sound conceited in saying that. The Lions simply gelled and, when we sparked, I believe we were the best club side in the world.
As regards value for money, I think it was more exciting and entertaining in my day. But it is also fair to say that players such as Wee Jinky, Bertie, Bobby Murdoch, Caesar and Faither in goal only come along once in a lifetime. It was a happy coincidence we were all at Celtic at the same time.
 ————–
*We will post more Questions asked by CQN'ers and Tommy's wonderful answers throughout the day, part 3 to follow. It is clear reading these questions that Tommy is held in the highest of esteem by the Celtic support. We can tell you that in the last few years of his life he enjoyed the company he found on CQN when we managed  to get onto the site for a read.
The last time Tommy made it onto CQN was on a late afternoon last year, appropriately enough on 25th May, when he popped on unannounced and chatted to the CQN'ers who happened to be around. He signed off as his tea was ready.
CQN has a Lisbon Celtic shirt, the last one signed by Tommy, and so far it has also been signed by Willie Wallace, John Hughes and Charlie Gallagher. Paul McStay also signed it when he popped in for a coffee and a chat when he was over from Australia. Willie Wallace will take this very Celtic shirt and get ALL the Lisbon Lions who are participating in this month's 50th Anniversary to sign it too.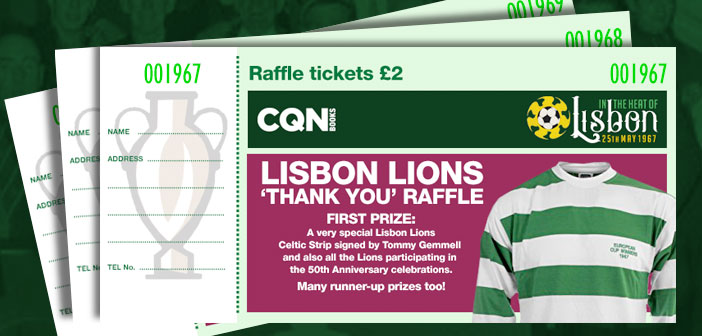 We are raffling this Celtic shirt at the moment on CQNBookstore.com and ALL of the money raised will be used to thank the Lisbon Lions (players from 1966/67 European Campaign) or for those we have lost, their families.
CQN is staging an IN THE HEAT OF LISBON party at Greenock Celtic Supporters Club on Friday 26 May feating Willie Wallace and the Lisbon Lions. This is 50 years to the day since the Bhoys returned to Scotland with the Big Cup. Tickets are £10 and available at the bookstore – demand is very high so please book now.
You can also order our new book IN THE HEAT OF LISBON together with the wonderful CQN Lisbon 1967 JOCK STEIN t-shirt both for just £19.67. The t-shirts sold out but we ordered 100 more to see us through May and satisfy the orders that were coming in. Profits from this to our THANK YOU fund.
Click Here for Comments >