JOHN 'YOGI' HUGHES played in five of Celtic eight ties during their great adventure that took Jock Stein's team to the European Cup Final against Inter Milan in Lisbon on the unforgettable date of May 25 1967.
The non-appearance of the iconic Hoops forward has been the subject of conjecture ever since.
The goalscoring winger offered an insight in his acclaimed autobiography, 'Yogi Bare: The Life and Times of a Celtic Legend', which was co-authored by his friend Alex Gordon and published in 2014.
In another CQN EXCLUSIVE series, we will publish extracts to once and for all provide the answers to the Lisbon question.
Please enjoy.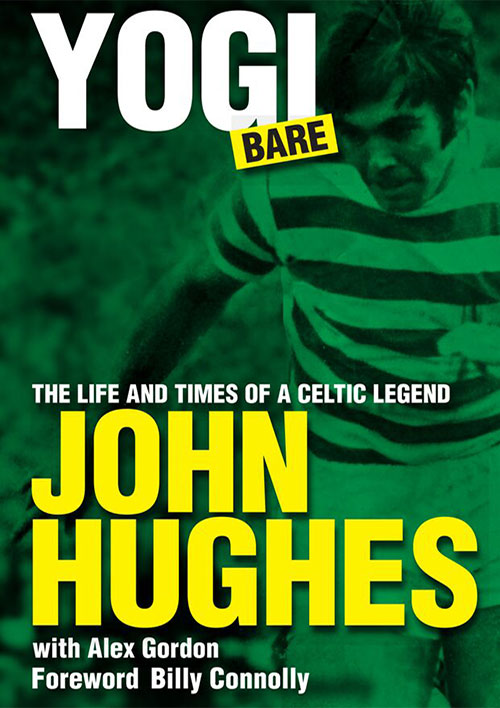 MY problem was now obvious. I hadn't played a full game since the 3-1 triumph over Dukla Prague in Glasgow on April 12 and I was well aware Jock Stein would never contemplate choosing anyone he believed wasn't completely matchfit.
To be fair, he put me in the team for the league match against Dundee United at Parkhead on May 3, a full 22 days before Lisbon. I had played against the Tayside outfit when they had shocked us 3-2 at Tannadice on Hogmanay. They were still the only Scottish club to have beaten us when they came to our place with only three league games remaining.
There was no talk of revenge among the players. Simply put, we were within touching distance of a second successive championship and a victory was the only thing that occupied our minds.
United were no dummies. They proved that by dismissing Barcelona 4-1 in the old Fairs Cup, now the Europa League, winning home and away. The club had also embarked on a Scandinavian signing spree and had brought in talented players such as Finn Dossing, Lennart Wing, Mogens Berg, Finn Seamann and Orjan Persson, who later joined Rangers and was promptly nicknamed 'Orange Person'. Who said the Ibrox support didn't have a sense of humour?
YOGI AMONG THE BEARS…John Hughes is heavily outnumbered by Rangers players after his two goals had won the 1965 League Cup for Celtic in a thrilling Old Firm confrontation.
Anyway, the player who did the damage to us that night was a bloke from exotic Alloa called Dennis Gillespie. He played in their midfield and, at that stage of his career, could hardly have been termed a goal threat. Yet, he had scored against us at Tannadice and, unfortunately, he repeated the feat at Parkhead.
We were coasting at 2-1 ahead after goals from Tommy Gemmell, with another blaster of a penalty-kick, and Wispy Wallace. I think there were only about 10 minutes to go when they equalised and worse was to follow when they got the winner.
Amazingly, they had beaten us 3-2 once more. Only two teams turned us over that season – United and Vojvodina. And the Tannadice side managed it twice. Strange game, football.
GOVAN GLEE…Jimmy Johnstone runs away in delight after scoring the equaliser in the 2-2 draw with Rangers at Ibrox that won the league title for Celtic on May 6 1967.
TITLE LIFT-OFF…two-goal Jimmy Johnstone is hoisted high by joyous team-mate Tommy Gemmell with Bertie Auld about to join the celebrations.
Once more I took my place in the stand for the following game. It was against Rangers at Ibrox and we knew a point would be enough to retain the title. Our opponents, naturally, were determined to make sure there would be no flag celebrations in Govan that afternoon.
The rain poured from the heavens all day and the playing surface became a quagmire. Yet Wee Jinky Johnstone found superhuman reserves of strength to torture and torment their defence for most of the 90 minutes.
They scored first with a pulverising long-range drive from Sandy Jardine, but Jinky swiftly levelled before putting us ahead in the second-half.
That is still one of the best goals I have ever witnessed. David Provan, their overworked left-back, must have thought he had won a watch when our Wee Man decided to take the ball inside. Provan had been getting turned inside out for most of the game as Jinky tore straight at him, shimmied one way and went another on his way along the touchline.
PICK IT OUT…Rangers keeper Norrie Martin flies through the air, but Jimmy Johnstone's ferocious drive is heading unerringly into his top corner for Celtic's magical second goal.
On this occasion, our little magician decided to come inside and Provan believed it was now someone else's problem to pick up our player. However, before anyone could react, Jinky took aim and let fly with a left-foot drive from about 25 yards that almost tore a hole in the roof of the net.
Norrie Martin, their keeper, was still leaping for it while Jinky and his team-mates were celebrating. Roger Hynd equalised late on, but it made no difference.
The trophy was heading back to its rightful resting place where it would remain for another seven wonderful years.
Not too far from me in the Ibrox stand that day was Helenio Herrera, the famed manager of Inter Milan. I have to say he looked fairly grim at the end. A reporter asked for his immediate observations, but he wasn't too forthcoming.
"Celtic? Very fast," he said. And Jimmy Johnstone? "Very fast." The rest of the team? "All very fast."
YOGI ON THE RAMPAGE…John Hughes tucks one of his 189 goals past the Airdrie keeper.
It sounded a bit like a brush off, but when he returned to Italy he had a press conference with the local  media and continued to repeat the same observation. The forward line against Rangers was Jimmy Johnstone, Willie Wallace, Stevie Chalmers, Bobby Lennox and Bertie Auld – the same five who would face Inter in Lisbon.
Herrera had done his homework. "They are very fast because they have all played as wingers at some stage in their career," he pointed out accurately.
"Auld now plays in midfield, but I know he was once an outside-left when he started at Celtic. He also played in that role with Birmingham City in England. Wallace plays as a centre-forward now, but I know he played on the right wing earlier in his career."
I had to admit Herrera was thorough.
* TOMORROW: Don't miss the EXCLUSIVE Part Seven of Big Yogi and Lisbon: The Truth – only in your champion CQN.
Click Here for Comments >