STUART ARMSTRONG admitted the Celtic players have to accept the responsibility for the team's dreadful form in Europe this season.
The Hoops failed to make the Champions League group stages for the second successive season after throwing away a 2-0 advantage early on in the first leg against Swedish side Malmo before going out 4-3 on aggregate.
And it has been a similar story in the Europa League with two defeats from Molde and draws against Ajax and Fenerbahce.
The poor European results have brought Ronny Deila's future into sharp focus, but Armstrong believes that the Celtic players have to be willing to shoulder their share of the blame.
The midfielder said: "Of course, we do. We need to look at ourselves. The manager can set us up and prepare us all he can, but it is up to the players to go out there and perform.
"We haven't and that is why we have found ourselves in this position."
There is an unlikely route to redemption for Celtic, if they can take maximum points from their final two Group A games, against Ajax at Celtic Park and Fenerbahce in Istanbul.
Armstrong, however, has maintained that even in the face of some galling stats – 37 goals conceded in 24 games and not one win in this current group – the Hoops can retain their sense of optimism.
He said: "We need to remain confident. We have lost games, but all we can do is look forward and hope to change things.
"I can understand the frustration of the supporters. But, as players, we are equally disappointed. We know that we can do much better than what we have shown so far in this Europa League campaign and we feel that we are better than the position we currently lie in at the foot of the table.
"It comes down to trying to work harder.
"It is important that we remain optimistic and upbeat. The next two games are huge for us, I think we can all appreciate that, but it is still within our hands to qualify out of the group and that is something that we have to focus on.
"We played well against Ajax in the opening game over in Amsterdam and we felt as though we should have beaten Fenerbahce when we had them here in Glasgow."
                                           —————————————————————————————————–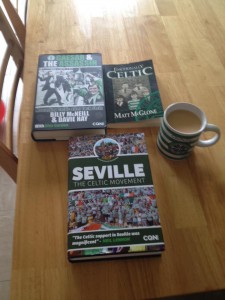 Meanwhile THE WINDS OF CHANGE, CQN's book for Christmas 2015, is published next week. This is the follow-up to our best seller Caesar & The Assassin, which you can purchase
HERE.
We have a limited number of copies remaining.
THE WINDS OF CHANGE starts in 1991 when Liam Brady is our manager and takes us through Macari, Tommy Burns, Wim Jansen, Dr Venglos, Barnes, Dalglish and on to Martin O'Neill. There are incredible highs and horrible lows, mostly as it turned out, as the result of over a decade of cheating.
Celtic started the period covered in The Winds of Change as huge underdogs and ended it at the period someone called on here at the beginning of A Generation of Domination.
The support from CQN'ers for our Celtic books is crucial, so thanks to everyone who has bought one of our books and to everyone who orders a copy of THE WINDS OF CHANGE. Copies will begin being posted out next Thursday and we will have the new CQN Bookstore website up over the next day or so you can order on there.

Click Here for Comments >