It's time to confess the Rapid Vienna debacle was my fault entirely. There I've said it and I already feel better. No, I didn't throw that cursed controlled container instead I didn't go to the match choosing a U2 gig at the Barrowlands over my beloved Celtic. Like many Celtic fans I stupidly feel my thoughts, prayers and actions affect Celtic results much like they used to affect the deid club's results. Let's face it who historically tuned into one of their games hearing they were struggling only to see the ball nestle in the opposition's net a few seconds later. Curses!
The 7th of November 1984 was a huge night in Glasgow's east-end: 48, 813 true Tims-the stand was all ticket- were at Celtic Park to see if we could overturn a 3-1 deficit from the first league. A perfect Celtic nerve-wracking scenario was set up. Glory or despair?
Meanwhile I was among 2,100 hot and sticky U2 fans in the packed east-end concert venue listening to a 19 set playlist that nearly blew the roof off the ole place. A guest appearance by Charlie Burchill from Simple Minds momentarily eased my Celtic guilt as I thought well if Charlie chose the gig…but we were both wrong. Despite the raw energy and brilliance of Bono and his boys my mind was drifting to Celtic park and a quick exit at the end of the last song '40,' as I recall, brought the good news from some old Bhoys in the corner of a momentarily quiet Bairds Bar: 'Cellic won 3 nuthin' son…'
Delight and relief…I could enjoy my underage pint. Before I could ask who scored the goals and wallow in what had turned out to be a momentous night, the same old Bhoy said: 'There was a bit of bother though, a bottle got flung fae The Jungle but it missed…' A shaft of doubt went through me caused by these few words with no firsthand knowledge of what really happened and I already feared the worst. I was back to blaming myself.
What shouldn't be forgotten is how well Celtic played on the night. The goals were scored by McClair, McLeod and Burns and it was the last scorer the cynical Rapid players targeted for some 'revenge' shortly after his goal. Kiensat believed his goalie had been fouled prior to Tommy's goal and his retribution was to punch the Celtic man on the back of the head a few minutes later as Burns raced into the box. The referee did send the player off but unbelievably didn't award Celtic a penalty. This utterly confusing decision was a microcosm of what was to come.
Celtic Park was still in rapture from the goal when this cowardly act took place and bedlam ensued. The Rapid keeper joined in and he booted Tommy. The referee then lost the plot and spent an inordinate amount of time discussing everything that had happened with his linesman; during this feverish period the Rapid captain wanted to take his team off the park only to be dissuaded from this action by a UEFA officials. Meanwhile the referee was still swapping strudel recipes with his linesman.
The game finally restarted and no-one could have predicted what happened next. A clown in the Jungle decided to recycle his glass bottle on the pitch. Luckily it missed everyone but the Rapid player Weinhofer decided to play 'best man fall' and rolled around as if he'd been hit by a wayward William Tell arrow. Mr Magoo could see he wasn't hit but it still doesn't excuse bottle bhoy.
Rapid went into full let's cheat and save the tie mode. Weinhofer was wrapped in swathes of bandages but a Celtic first aider and the linesman both later said they could see no sign of an injury. Celtic's Peter Grant would also miss a late penalty and for the exhausted crowd and players the final whistle could not come quickly enough. It was a crazy ending to a crazy night but it was to continue for a while yet off and, subsequently and disappointingly, on the park too.
My ears took about two days to recover from the gig but that didn't matter as I pored over newspaper reports and strained to listen to Sports bulletins on Clyde for any update on what was happening. The bad feelings persisted. It turns out that Rapid lived up to their name and put in a protest as soon as they could. A few say this was done immediately on their return to Vienna but other sources say Rapid officials were seen leaving a Brigton drinking den known to house a dodgy telex machine. The huns were hurting that night as they had beaten Inter 3-1 at Ibrokes but lost out 3-4 on aggregate. Shame that.
As a fan of Shakespeare I much prefer his tragedies to his comedies but the aftermath of our tie quickly turned into a farce as a bungling UEFA made the SFA look like a slick firm of Philadelphia lawyers. Their goalie would claim he was hit by a 'small object' and Rapid had evidence of a second bottle. All that was missing was the grassy knoll.
Here's a very short summary of what happened next courtesy of CelticWiki:
• Rapid telexed a protest to UEFA before they arrived back in Vienna.
• After a UEFA inquiry the result stands, Celtic are fined £4000 for bottles thrown and Rapid fined £5000 for Kienast's behaviour.
• However Rapid appeal and UEFA double their fine to £10,000 – however they order a replay of the game to be played 100 miles from Celtic Park.
• Celtic choose Old Trafford for the venue on December 12th.
It should be noted that Ernie Walker, the Press both North and South of the border and various foreign correspondents were vocal in their support of our case but despite the blatant cheating and video evidence available we were off to Old Trafford.
As U2 sang at number 2 on their Barrowlands playlist 'I Will Follow' and we certainly did in our tens of thousands. I went on a bus from Buchanan Street to Manchester with my two mates from the gig. This was part of our penance for missing the first game. The omens weren't good as the driver stopped the bus twice on the journey south and the police boarded around Carlisle. Let's just say the underbelly of our support had decided no-one was going to have a quiet journey south even if you were a pensioner or a kid. Definitely bad omens.
The crowd inside Old Trafford was 51,100. We were in the stand across from the main stand. Everyone was pumped up, too pumped up as it turned out. Celtic exploded into attack but couldn't get the all important early goal and the cheats classically hit us on the break. The team's early energy deflated and this horrible day and night went from bad to worse.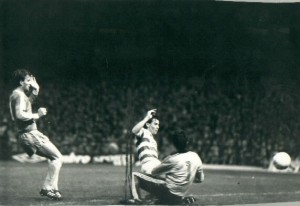 Two fans assaulted Rapid players and I could see our European hopes for years ahead crumble before my tear filled eyes. It was all too emotional for players and fans alike and we were now the bad guys. Cheats had won and U2 were nothing to do with it. We later trudged to Manchester city centre regretting our decision to wear only shirt sleeve Celtic tops for the day trip in December.
Obviously we missed our bus; slept huddled in a bus shelter for a few hours and caught the early bus to Glasgow. Walking the short distance from the bus station to Queen Street we appeared to attract the attention of many followers of another Glasgow team. In the main we ignored them.
No wonder we enjoy the good times.
We beat Hibs 0-1 at Easter Road three days later courtesy of a Johnston goal. This was the day Cammy Frazer gave his own fans the v sign at Ibrox, little did we know what Maurice would do to us in the future. Everton beat Rapid in the final and I've had a soft spot for the Toffees ever since. They displayed banners in support of Celtic but watching that final was sore despite the Everton victory.
I didn't see U2 again for a few years but when they played Celtic Park in August 1993 it seemed a good fit. Now a stadium band with a 22 set playlist, stunning backdrops and 'big heads' it was good but I preferred the Barrowlands. 'I Will Follow' was number 11 now and I had a quiet chuckle at the memories. Celtic Park and our beloved club were in for some big changes too and it wouldn't be too long before some of our own Pride was restored; Europe would take a little longer.
Hail Hail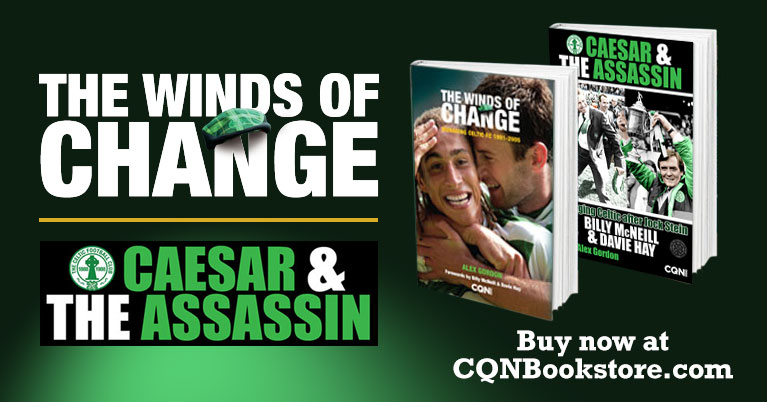 Click Here for Comments >