BRENDAN RODGERS is back in charge of Celtic after an absence of over four years.
The Irishman won seven successive domestic honours during his first spell as manager after arriving in May 2016.
It was a rollercoaster two and a half years before he departed Parkhead in hasty and controversial exit.
Life was rarely dull when the charismatic gaffer was around.
In another CQN EXCLUSIVE series, we are celebrating Rodgers' second homecoming by reviewing his Celtic adventure from the beginning.
Author Alex Gordon, who has had fifteen Celtic books published, including '50 Flags Plus One', 'CELTIC: The Awakening' and 'That Season in Paradise', opens the pages of another publication, 'The History Bhoys', to chart the progress of an extraordinary character.
Please enjoy.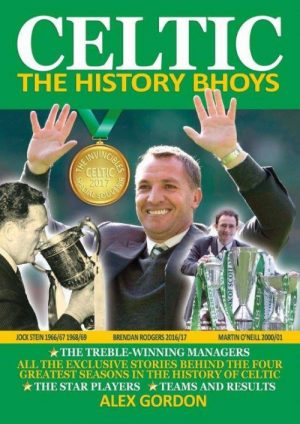 BRENDAN RODGERS hailed matchwinner Ryan Christie after the hard-fought 1-0 triumph over a resolute Aberdeen in a nervy League Cup Final at Hampden on Sunday December 2 2018.
A delighted Celtic manager said: "I am very satisfied. It was a very tough game for us on the back of a tough week of fixtures, but the moment of real quality won us the game in terms of us keeping possession and then made the right moment to penetrate and it was brilliant finish by Ryan.
"That's the way the football gods work. He'd been on loan at Aberdeen for 18 months, helped his development and he comes back and you see the player, he's fantastic and he ends up getting the winning goal and Man of the Match.
MATCHWINNER…Ryan Christie slams the League Cup clincher past Dons keeper Joe Lewis.
"He's shown that he has the personality to play at a big club. He just needed time and I felt when I came in he wasn't ready to play every week.
"Rather than waste the talent, he needed to go out and play every week, so he did that and he came back a stronger player, more physical, better knowledge of the game and he's been absolutely brilliant for us."
Rodgers added: "The only disappointment for me is I felt we could have closed the game out sooner.
"We had the penalty and Scott Sinclair missed that, but we had about four breakaways. The situation at the end where it was four versus one and we didn't make the right pass.
"The players are absolutely amazing, the heart they have, the fight when they're really tired and against a really physical team like Aberdeen, they really test you so I am so proud of them and so satisfied for them that they get another trophy.
THE FINAL BOW…Brendan Rodgers with the League Cup, his seventh – and last – piece of silverware during his first stint as Celtic manager.
"Very proud, but our notion is to keep looking forward. Great experience again for us o this ocasion. Great joy for the supporters and, like I say, we're very hungry to continue to win more.
"This was the first trophy we could win, we've won it and I've very proud of the team."
Astonishingly, it was to be the last honour Brendan Rodgers would win as Celtic manager.
* TOMORROW: Don't miss the twelfth instalment of the remarkable Brendan Rodgers Story so far.
Click Here for Comments >