BRENDAN RODGERS is back in charge of Celtic after an absence of over four years.
The Irishman won seven successive domestic honours during his first spell as manager after arriving in May 2016.
It was a rollercoaster two and a half years before he departed Parkhead in hasty and controversial exit.
Life was rarely dull when the charismatic gaffer was around.
In another CQN EXCLUSIVE series, we are celebrating Rodgers' second homecoming by reviewing the first two and a half years of his Celtic adventure.
Author Alex Gordon, who has had fifteen Celtic books published, including '50 Flags Plus One', 'CELTIC: The Awakening' and 'That Season in Paradise', opens the pages of another publication, 'The History Bhoys', to chart the progress of an extraordinary character.
Please enjoy.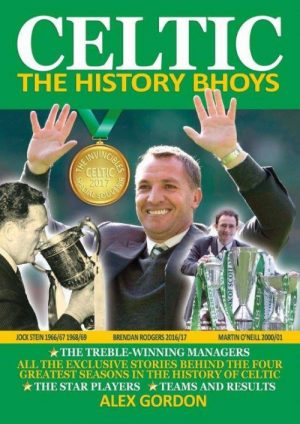 BRENDAN RODGERS totally dismissed any suggestion he might one day get bored of winning trophies as Celtic manager.
The Irishman claimed a fourth successive major honour in the 2-0 Betfred League Cup success over Motherwell on Sunday November 26 2017 as the team extended their unbeaten domestic sequence to a remarkable 65 games.
Rodgers led the team to their sixth successive Premiership title completing last season's campaign with 106 points, 30 ahead of nearest challengers Aberdeen.
And the unfortunate Dons were beaten in the two silverware showdowns at Hampden, 3-0 in the League Cup and 2-1 in the Scottish Cup.
Rodgers has a second clean sweep of trophies in his sights and the Hoops boss admitted: "This is my fifth job now. I always say happiness and energy are the two things you need.
UP FOR THE CUP…Brendan Rodgers with the newly-won silverware after the 2-0 win over Motherwell.
"There's always a challenge at Celtic and there always will be, whoever is in charge here.
"For me, I'm very happy in my professional life. I'm developing players, I love that side of the game.
"I have a look at England now and I see how a manager can very quickly be out of his job and maybe not have the time to improve players.
"That's my life, that's what I've always done.
"I enjoy that side of it, but I also enjoy the pressure of managing a big club. It feels natural for me to do that and Celtic's a huge club.
"It's one where I'm happy, I've got an energy, I'm 44, so I've got a long way to go, but I don't even think of that.
"As long as I'm working well with the club and the club believe in me, the supporters believe in me, then I'm obviously very happy to be here."
THAT'S MY BHOY…Brendan Rodgers congratulates Kieran Tierney on a job well done.
Following the difficult midweek Champions League defeat in Paris, the Hoops rallied to beat the Fir Park outfit at Hampden with goals from James Forrest and Moussa Dembele.
Rodgers said: "It's our fourth trophy in 12 months and it's a phenomenal achievement. And it's a huge credit to the players because their hunger and desire to keep having that belief.
"We had to tick a few character boxes after midweek and yet again the players produced.
"It was always going to be difficult for us, with how Motherwell have started the season and the confidence they have in terms of how they play.
"We had to be patient today and wait for our moments. Once we got the first goal, we settled into our rhythm."
Rodgers added: "Jamesy's goal was a good move and we started to then pass the ball and combine a lot better in the second-half and, in particular, that phase of the game.
SPECIAL DELIVERY…Brendan Rodgers hands over the League Cup to skipper Scott Brown.
"It was a wonderful piece of skill, although it was difficult for the defender because he thought that James was maybe going to go on the outside, but he's got that ability to come in on his left side and play it with the outside of his foot or bend it in like he did, so it was a great finish.
"Craig Gordon didn't have a lot to do today, but his save from Louis Moult was brilliant. It was a great reaction from Craig and those are saves which are important for you. From that, we kept going and got the second goal.
"Today's a trophy for everyone at the club. You saw the support. It was amazing – three-quarters of the stadium really helping the team and our backroom staff, the work they put in, combined with the players.
"So, today's a great win for the club."
* TOMORROW: Don't miss the tenth instalment of the remarkable Brendan Rodgers Story so far.
Click Here for Comments >