Next up for our Fan Of The Week is Declan McConville. Declan is 17 and from Maryhill. Declan has written one or two pieces for CQN over the past year or so including the MatCh Report after Celtic's win against Aberdeen at Pittodrie last May.
What's your first memory of Celtic?
I can always remember getting Celtic strips when I was a wee boy. One of my earliest of memories was before a family holiday to Spain. I couldn't wait to get my new Celtic strip emblazoned with Thompson 8 on the back of it. As well as this I can remember learning the Jackie McNamara song and singing it at family parties.  I also remember my granny buying me small Lisbon Lions figurines. From a very young age I could recite Simpson, Craig and Gemmell…
What was the first game you went to?
I honestly don't have a clue. One of the earliest games I can remember being at would be the day we were presented with the trophy by Billy Connolly in 2006. Not long after that I was regularly taken along to the games with my dad. My first away game was at East End Park, where Robbie Keane came on to save the Hoops and inspire us to a 4-2 victory.
Who are your top 3 favourite Celtic players and why?
1. Billy McNeill – Even though Cesar wasn't playing when I was growing up he is an inspiration to me. He optimizes the club that we all love and is in my opinion the greatest ever Celt. Billy's achievements as a player and manager at Celtic are absolutely unbelievable. Without the leadership of Billy, Celtic wouldn't be the club it is today.
2. Scott Brown- Broony has been a constant in the Celtic team as I have grown up. He has rightly written himself into the history books as a Celtic legend. I can remember Broony being the bad bhoy in the team, making reckless decisions and being sent off. He has matured into the Celtic's second most successful captain and has joined Billy McNeill and Tom Boyd as treble winning captains.
3. Alan Thompson – As I have already mentioned, one of my earliest memories of Celtic involves Alan Thompson. He was a brilliant footballer, that I especially loved because he wore the number eight jersey.
Best game you've ever seen involving Celtic in your time?
Celtic 2-1 Barcelona 2012. I couldn't believe what I was watching, the whole occasion was absolutely magnificent. I can remember rushing home from school to finish off my Maths homework before going to the game. I hadn't long started high school, and all my pals were telling me that the Celts were going to get a hammering. When Tony Watt put the ball past Victor Valdes me and my dad went absolutely mental. Messi went on to score in extra-time and at the point I still didn't think Celtic had won the game.
Worst game you've ever seen involving Celtic in your time?
Celtic 1-2 Hearts Scottish Cup Semi-Final 2012. The reason I have chosen this particular game is very simple. I was born on 8th February 2000, the night that Super Caley went ballistic. I thought that my jinx had been and gone but I was wrong. For this Scottish Cup semi-final I was given the honour of leading the Hoops out the tunnel with Scott Brown as mascot. I then took my seats with my mum and dad in the main stand to watch the Hoops be robbed with a late Craig Beattie penalty. There has been some other horrendous games including defeats in the cup to Morton and Kilmarnock but this game tops them all.
Can you pick your best ever Celtic X1 from what you've had the pleasure of witnessing?
Forster
McNamara Van Dijk  Tierney
Thompson Brown LennonNakamura
Hartson Hooper Samaras
Can you give us a funny or surreal moment from your time supporting the Hoops?
I don't think I could pick one particular moment. I would say the most surreal of moments is when you meet any of the Lisbon Lions. I have had the fortune of meeting Jim Craig, Billy McNeill, John Clark, Willie Wallace, Bertie Auld, Bobby Lennox, John Fallon, Charlie Gallagher, John Hughes and Joe McBride. All of these men are absolutely first class, with great stories to tell. However, at an event last year Jim Craig decided to call me the 'crew cut boy', this immediately encouraged me to change my hair style!
One of the funniest moments supporting the Hoops was the day that Brendan Rodgers was appointed manager. Instead of being home studying for my History and Biology prelims the next day, I left Maths supported study early to head to Celtic Park to welcome the new manager. Upon leaving the ground along with my pal Gerry we bumped into someone I sit beside at the football. We chatted about the coming season ahead and what Brendan Rodgers would bring to Celtic Park. Eventually we were promptly told to exit the stadium as Brendan was waiting to leave. As we trooped down the stairs and headed outside I was met with the site of thousands thinking I was Brendan Rodgers. As the front door opened a cheer was heard, then they noticed it was me and not Brendan Rodgers.
Give us your assessment on how this season has gone so far?
I think the season has gone brilliantly so far. I know that some results and the football hasn't always been brilliant at times but it took until December for us to be beaten domestically. We qualified for the Group Stages of the Champions League again and are in Europe after Christmas. To add to this we also won the League Cup. I think the problem with many supporters is that they expect too much. We were absolutely sublime last season, you surely can't expect that level of consistency again.
Money isn't an option, what 3 players would you sign for Celtic just now and why?
Adrien Rabiot – I thought he was absolutely phenomenal at Celtic Park when PSG defeated us in September. For a young player to be so slick on the ball in such an atmosphere was tremendous.
Lionel Messi – This one explains itself, Messi is such a special player with bags of ability. He could play the Celtic way and above all entertain!
Virgil Van Dijk – Our defence situation at the moment isn't great. Big Virgil knows the club well and is of course the most expensive defender in world football. It would be excellent if again one day we saw him back in green and white hoops.
Finally, explain to us what Celtic means to you?
Celtic means so much to me. It is something I look forward to every weekend and talk about all week. I feel as if I am part of a massive family, that I absolutely adore! As Billy McNeill put it "If there is a better football club in the world, I haven't found it"
Declan that was brilliant. Thommo was an excellent player for us. England were screaming out for a left sided Midfielder for over a decade and Thommo would've been the perfect fit for them. He was doing the business at Home and in Europe for Celtic but England just never fancied him. It was the same with big "Sutty" as well. The SPL as it was at that time just wasn't deemed good enough down South. It's great to get a younger persons perspective on Celtic as well so thanks for getting involved. HH
Declan McConville's Ten In A Row Interview by Scotty Alcroft.
#FanOfTheWeek
#10IAR
#Scotty10IAR
@Scotty10IAR on Twitter
You can follow Declan @declanmc2000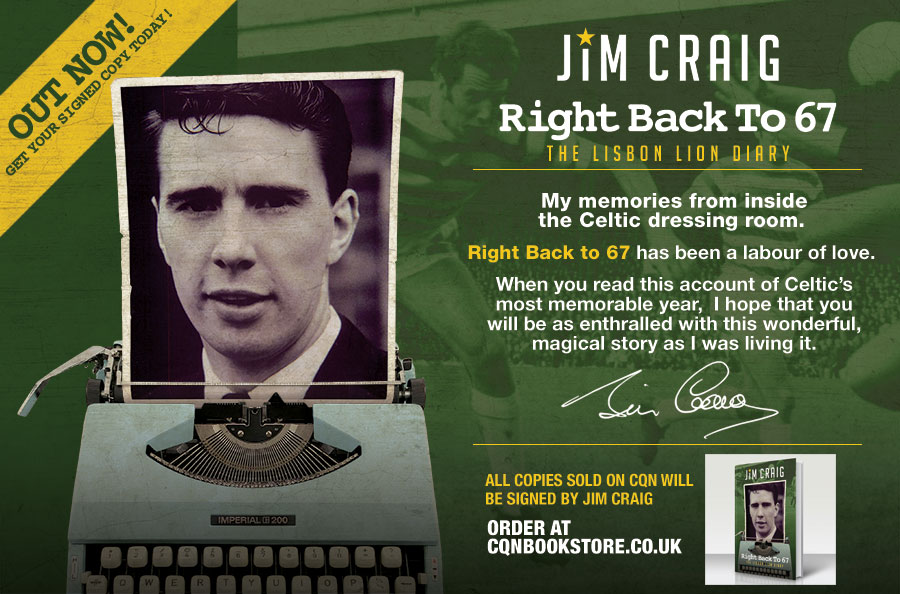 Order Jim Craig's new Lisbon Lion Diary – Right Back to 67 from CQNBookstore.co.uk and you will receive a signed copy from the man himself plus a FREE copy of That Season in Paradise – Ten Months of Celtic Heaven signed by fellow Lisbon Lion Bertie Auld! Simply order Jim Craig – Right Back to 67 and the second book will be sent automatically. Stocks are running very low so hurry! THIS DEAL WILL END IN A FEW DAYS!
Click Here for Comments >