CELTIC great John 'Yogi' Hughes couldn't believe what he was witnessing at Ibrox on Sunday.
The club's legendary goalscorer was horrified to see Kristoffer Ajer DUCK out of the way of Alfredo Morelos' shot that eluded Scott Bain at his near post for Steven Gerrard's side's second goal in the 4-1 flop.
The 78-year-old Hoops icon admitted he had to rub his eyes in disbelief as he watched the slow motion replays as the skyscraper Norwegian international defender clearly dodged the ball as it sped towards its target.
Author Alex Gordon, who co-wrote Hughes' autobiography, 'Yogi Bare: The Life and Times of a Celtic Legend', interviewed the seventh-highest marksman in the club's history to get his view in an another CQN EXCLUSIVE.
"It was an absolute shocker from Kristoffer Ajer," fumed the former fans' favourite. "I immediately thought of how Big Billy McNeill would have dealt with the situation.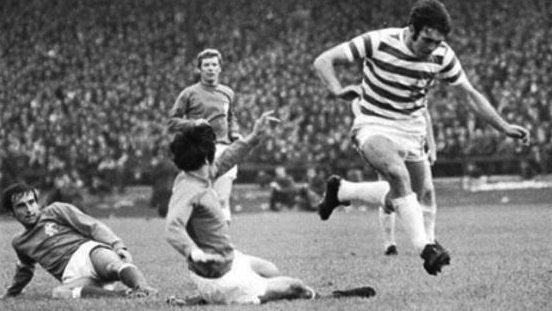 HE WENT THATAWAY…John Hughes races away from grounded Rangers duo Ronnie McKinnon and Colin Jackson.
"Caesar would have been right out there doing everything possible to protect his goal. He would have taken one straight in the face if it was required to make sure the opposition didn't score.
"There would not have been a second thought as far as my old pal was concerned. He was a defender and he was there to defend and if that meant taking a sore one then that came with the job description.
"I couldn't even start to count how many times I saw Big Billy in those sort of situations. His instinct was to do everything possible to make sure his opponent did not get a shot on target.
"I recall an incident in our European Cup semi-final first leg against Dukla Prague at Parkhead in April 1967. It was 1-1 at the time and it was shortly after the interval.
"The Czechs, who were an exceptionally fine team, broke with pace on our left. A Dukla player got to the bye-line and pulled one back to a team-mate in a good position. It was one of those moments when a hush descended on Celtic Park.
HIGH JUMP…Kristoffer Ajer leaps above Alfredo Morelos to clear.
"The player took a touch to get his bearings and that was all Big Billy needed to charge in and deflect his shot for a corner-kick. The history books show we went on to score two goals through Willie Wallace later in the half and we all know what happened in Lisbon the following month.
"People look back at the Dukla game at our place and talk about Willie's goals and Wee Jinky Johnstone's opener, but our captain's moment of bravery is overlooked. Trust me, if Billy hadn't put his body on the line at that precise moment, we would have been in trouble.
"Big Billy's fellow Lisbon Lion John Clark, too. He was absolutely superb in these situations. For a start, he would anticipated Morelos getting past Scott Brown. He always looked at worst-case scenarios.
"Morelos would not have had the time to line up the shot with Clark around. And, like our captain, he wouldn't have flinched when it came to attempting to charge down an effort from an opponent.
"You can include Jim Brogan in that list, as well. Jim is another unsung hero who never let the club down.
"He was as hard as nails, no-one messed with Brogie. Morelos would never have been given the luxury of time to hit his shot with Big Billy, John Clark or Brogie around.
"Certainly, none would have ducked for cover when the shot was unleashed.
GROUNDED…Kristoffer Ajer is on his knees as Alfredo Morelos' shot flies over Scott Bain for the second goal.
"The second goal was just a mess. Scott Brown shouldn't have been beaten so easily, Ajer should have been brave when he was facing the shot and Scott Bain has got to do better with an attempt that is just above his head. Okay, it was hit with a fair bit of power, but the keeper's reflexes have got to be sharper.
"Of course, there is the possibility he may have expected the defender immediately in front of him to show a bit more courage in attempting to divert the effort."
Yogi added: "Ajer is a converted midfielder and sometimes it shows. Big Billy was a centre-half throughout his career. There wasn't anything he didn't know about playing in that position.
"Look at the Scottish Cup exit at the same venue last month. Take a gander at the first goal we conceded. Joe Aribo sent in a low cross from the right and it struck Ajer's right foot, spun into the air and Steven Davis was quicker to react than Jonjoe Kenny and he caught the ball on the loop to fire it beyond Bain.
"It was a case of the ball hitting Ajer when the cross came over. The defender should be prepared to attack the ball. If he hits it rather than the ball hitting him, he would have made a clearance.
HAIL THE HEROES…Jock Stein and Billy McNeill celebrate after another Celtic triumph.
"However, he was obviously switched off at a crucial moment and once again Celtic paid the price.
"This is not a witch hunt on Ajer who is a young player and will get better. He will know what he did – or didn't do – at Ibrox at the weekend. He will realise he must have improve on his actions. Safety first is not an option when you are protecting your goal.
"If what I am hearing is correct, he will not be around Celtic for much longer and is likely to be off in the summer. But I can tell him any watching scout at the game on Sunday would have been far from impressed by him ducking his duty on that occasion.
"Goodness knows what Big Billy would have said if he had been around Ibrox. I doubt if he would have belived what he had just witnessed.
"I know I didn't. A Celtic player getting out of the way of a shot at goal? Big Jock would have needed smelling salts!"
* TOMORROW: Don't miss another Big Yogi EXCLUSIVE – only in your champion CQN.
Click Here for Comments >