CELTIC great John 'Yogi' Hughes insists his old club's summer recruitment can be summed up in one word – DISASTROUS!
The 78-year-old Hoops legend admits he didn't know too much about the £9.5million double-act of keeper Vasilis Barkas and striker Albian Ajeti when they arrived in the pre-season.
And he adds: "I STILL don't know much about their qualities. Their talents were certainly well hidden during an awful campaign."
Author Alex Gordon, who co-wrote Hughes' autobiography, 'Yogi Bare: The Life and Times of a Celtic Legend', interviewed the former Hoops star to get his view in an another CQN EXCLUSIVE.
"There was so much expectation in the summer," says the former juggernaut forward, the club's seventh-highest goalscorer with 189 goals.
"There was all the talk of the historic tenth successive title and it was easy to get swept up in the emotion of it all. Let's face it, Celtic were on the brink of something absolutely special – and, as we all know, it's a club that seem to specialise in making history.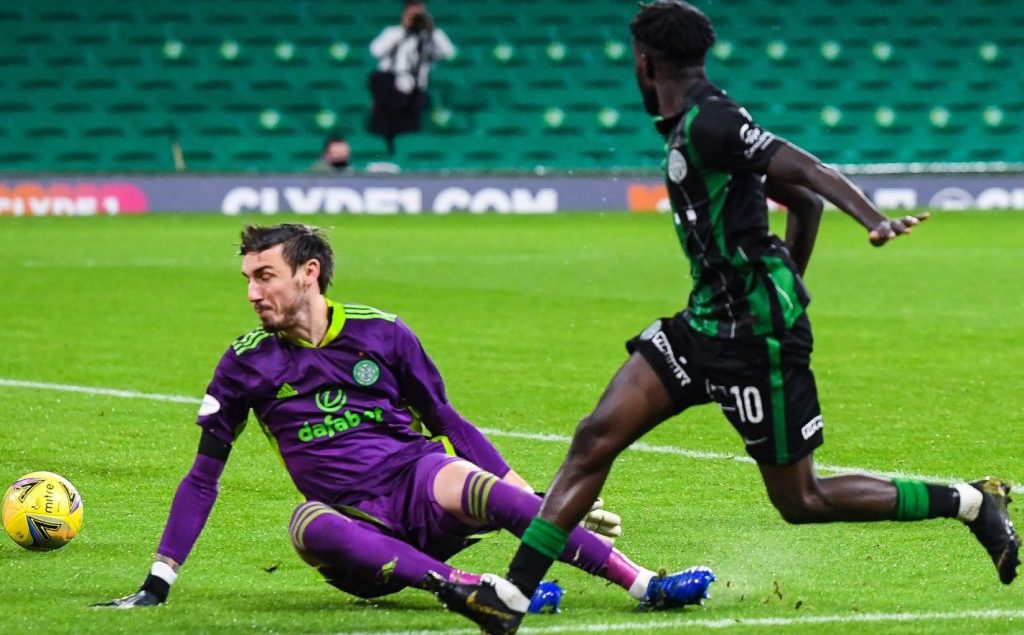 ON THE SLIDE…new Bhoy Vasilis Barkas is beaten at his near post for Ferencavros ' winner.
"Before the big kick-off, I was amazed so many fans were dismissing the challenge in Europe. They were overlooking the glory and the kudos – not to mention something in the region of £30million for qualifying for the Champions League group stages – with the focus purely on continuing the domination of the domestic scene.
"To a certain extent, I could agree with them. Europe is the stage where you really want to make your name, I get that, but at the same time I could see how important it was for the supporters to see the team going into double figures as far as championships were concerned.
"It seemed another world away when I played in Jock Stein's team that won our first flag in TWELVE years when we picked up the intial crown of the original nine back in 1966. Changed days, indeed.
"So, I was excited as the next Celtic man at the prospect of 10 in a row. I had read and heard views of some folk saying Celtic could not afford to get complacent and take anything for granted.
"Genuinely, I don't think you can level that accusation at anyone at Celtic, despite how things have gone so horribly wrong.
PUSH OFF…Albian Ajeti prepares to shoot against Kilmarnock to score one of his six Hoops goals.
"For a start, Odsonne Edouard and Kristoffer Ajer were wanted men back in the summer and all the way through to October with the transfer window being extended during the pandemic. Ryan Christie, too, was on a few radars.
"The club could have sold the players and raised some much-required revenue during a very difficult financial period for every team on the planet. They could have been even more tempted to sell when Ferencvaros knocked us out of the Champions League in August.
"Instead, they kept their most-sellable commodities and added to them in the summer. I reckon they must have paid out around the £15million mark to bring in Barkas, Ajeti, Shane Duffy and David Turnbull.
"It's incredible to believe only one of that quartet showed anything during the campaign – and that was the youngest of the lot who had seen his previous season just about obliterated by injury. David Turnbull had to wait until December before he could put together a sequence of games and he showed why they parted with around £3million for him.
"I like the lad's style. He's busy, can pass the ball and has an eye for goal. He looks as though he can dig in, too, and make a tackle. For all their talents, Callum McGregor and Christie are not exactly terriers in the tackle, are they? The middle of the park has been a vulnerable area this season.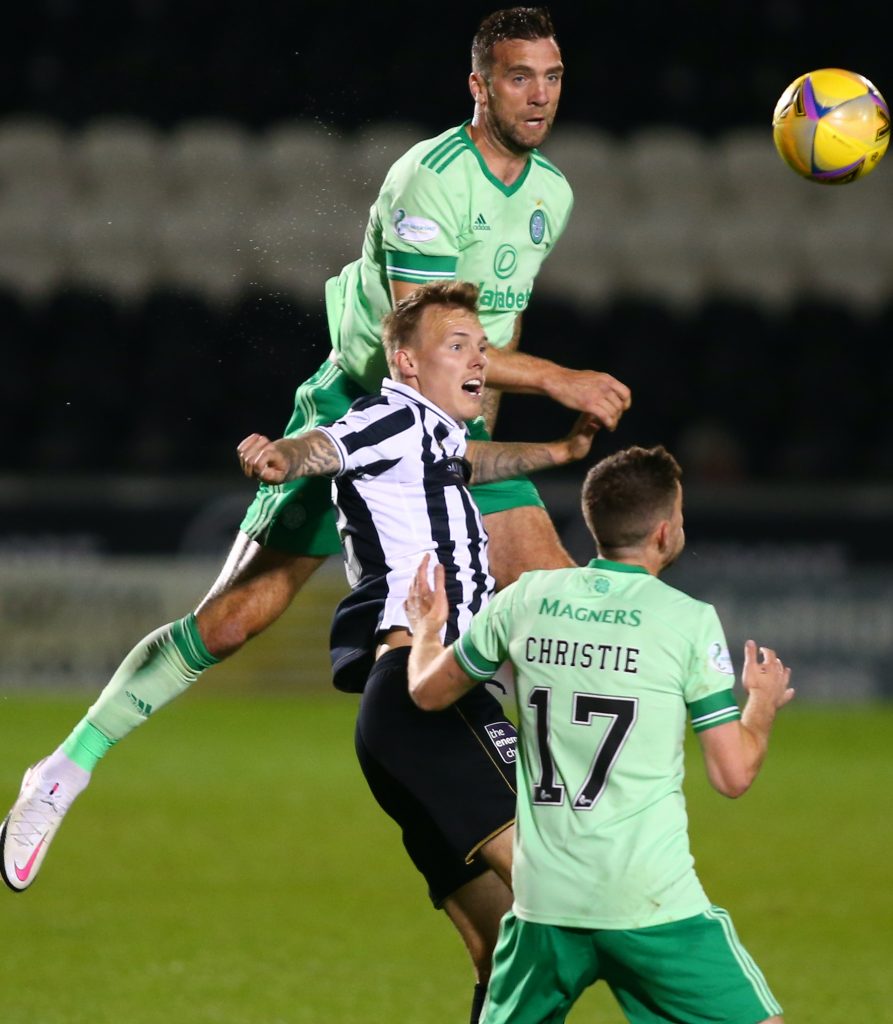 UP IN THE AIR…Shane Duffy shows his aerial power as he heads clear against St Mirren.
"Scott Brown has been an amazing servant and I've liked him from day one. The skipper is 36 next month and the wear and tear of 14 years in Celtic's engine room was bound to catch up on him. I'm sure he would be the first to admit this has not been his finest campaign since arriving in a £4.4million switch from Hibs in 2007.
"He goes to Aberdeen with everyone's good wishes and we now look to see who can take over his role. Ismaila Soro? It looks as though the Ivorian has been earmarked for the position, but I am holding off any judgement until I see a little more of the player.
"He looks neat and tidy, but can he win the ball in a 50/50 challenge? Does he have the ability to impose himself on the middle of the park? It's a big ask and we'll find out soon enough when the new term kicks off in July.
"I read in CQN yesterday morning about Shane Duffy's dilemma and it was a shame it just didn't work out for him at Parkhead. He joined on loan from Brighton and must have hoped he could play in the side heading for club folklore. A real dream come true for a boyhood Celtic fan.
"I believe Celtic paid £2million in a temporary transfer fee and picked up his wages, around the £45,000-per-week region, and that again emphasised they meant business this season.
TRUE GRIT…David Turnbull battles against two Ross County players to fire in a shot at goal.
"Why didn't it work for Duffy at Celtic? We'll probably never know. I doubt if the Republic of Ireland international stalwart could give you a reason right now. So many things can go wrong in a career switch and the player endured a torrid time in Glasgow.
"Of the three other loan arrivals, the only one I would want to keep is Mohamed Elyounoussi, but he showed us what to expect with a solid season previously. Jonjoe Kenny started well enough, but failed to show in the three games against Rangers and is heading back to Everton. AC Milan's Diego Laxalt? Had his moments, but not good enough.
"And what can I say about Barkas and Ajeti? They have been poor, no getting away from it. The keeper arrived on a £4.5million transfer from AEK Athens, the most expensive goalie in the club's history, and we all hoped he could fill the massive void left by Fraser Forster after the fans' favourite had returned to Southampton.
"Alas, Barkas didn't come anywhere near that stature. For me, the alarm bells were ringing after the Champions League loss to Ferencvaros. I wasn't impressed by his positioning at their long-range opening goal. And I wasn't remotely convinced by how he dealt with the winning goal, either.
"Hatem Abd Elhamed made the initial error when he failed to cut out a through ball and then compounded the mistake by not catching up with the attacker as he sped away. Barkas did exactly what his opponent would have anticipated him doing and the forward squeezed the ball home. End of the Champions League, goodbye £30million.
"Given the choice between Barkas and Craig Gordon I would go for the Scot every time. However, we were not to know how the No.1 position would become a No.1 problem as the season developed.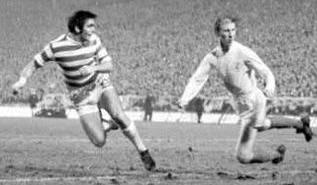 HEAD MASTER…John Hughes shows how it's done with a flying header in Celtic's epic 2-1 victory over Leeds United in the 1970 European Cup semi-final second leg at a packed Hampden Park. Jack Charlton is too late to intervene.
"Ajeti seemed to take forever to get up to match fitness after being ignored by Davie Moyes at West Ham for an entire season. We gave the £5million Swiss international the benefit of the doubt in August and September, but he should have been more of a presence after that.
"From my vantage point in front of my TV at home, I couldn't see properly what he was contributing off the ball, but his tally of six goals is fairly lamentable. On top of that, I don't recall him having a lot of efforts on target, either inside or outside the penalty box.
"When you put all these ingredients into the mix, the keeper who can't make important saves, the defender who couldn't fit in and the striker who failed to score goals, then you are liable to end up disappointed. The recruitment, frankly, has been disastrous.
"David Turnbull will prove to be an excellent player for Celtic, Duffy has already gone and there is every likelihood Barkas and Ajeti could follow and no-one will shed a tear at their exit.
"Whoever takes over as Celtic's manager will do well to look to examine the mistakes the team made this season.
"There are no two ways about it – we MUST get the recruitment right this time around."
* TOMORROW: Don't miss another Big Yogi EXCLUSIVE – only in your champion CQN.
Click Here for Comments >