OLIVIER NTCHAM will return to Celtic in the summer after his failure to win a permanent move to Marseille.
The French midfielder headed for his homeland on loan in January when it was clear he was not 100 per cent committed to the Hoops.
However, the 26-year-old powerhouse's switch to the Ligue 1 club has proved to be disastrous and the player who cost £4.5million when Brendan Rodgers signed him from Manchester City in the summer of 2017 will have to pick up the threads of his career in Glasgow.
Ntcham, who still has 12 months to run on his contract, has split opinion among former Hoops stars and fans.
ON THE RUN…John Hughes leaves boss Jock Stein in his slipstream during training.
Club legend John 'Yogi' Hughes has no doubt how his former boss Jock Stein would have dealt with the situation.
"As soon as Big Jock got the merest hint of the player not totally focused on doing his best for the team, he would have been out the door," said the club's seventh-highest goalscorer. "His feet wouldn't have touched the floor."
Author Alex Gordon asked the one-time fans' favourite for his views on the awkward situation to bring down the curtain on a week-long series of Big Yogi CQN EXCLUSIVES.
Hughes, now 78, recalled how the Hoops' iconic boss reacted when he reckoned one of his players was not contributing as much as expected to the cause. Unfortunately, the Celt suffered from circulation problems which were only diagnosed later in life.
In his autobiography, 'Yogi Bare: The Life and Times of a Celtic Legend', co-written with Alex, he said: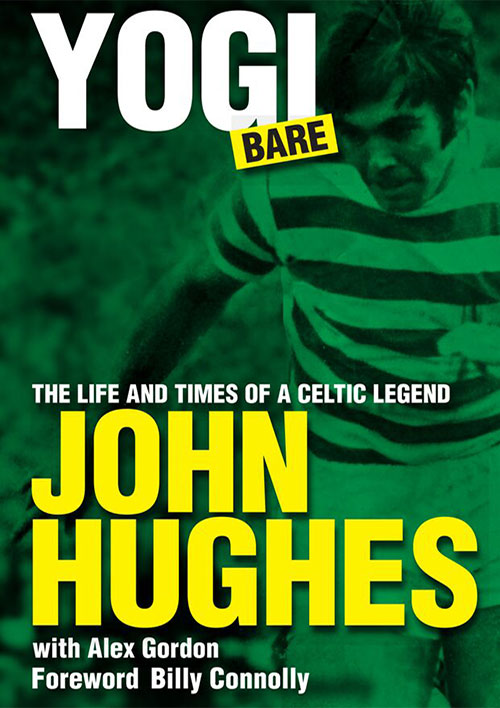 JOHN DIVERS is not a name that immediately springs to mind when fans talk about prominent Celtic footballers. That's a pity. No-one else was ever asked to perform with the sort of burden with which he was saddled. He made his debut for the club in season 1957/58 – just a month after the unforgettable 7-1 victory over Rangers in the League Cup Final.
And, quite rightly, he could say he was the man who kicked off the surge to nine consecutive Championship triumphs. It was JD who scored the opening goal in a 4-0 win over Dundee United at Tannadice at the start of the 1965/66 league season. It was his 100th goal for the club. It was also his last in the league. His final strike came in a 3-1 League Cup triumph over Dundee at Dens Park in September 1965. After his effort against United, JD played only two more league games for Celtic and, although he was still at the club until the end of that campaign, he didn't qualify for a medal.
The John Divers story could have been so different in the club's chronicles. He left after nine years at Celtic Park and, sadly, there was no fanfare of trumpets, no rousing send-off for a fabulous club servant. There was a horrible black cloud over my old mate's final season at the club where his dad, also called John Divers, played between 1932 and 1945. He just failed to join the Celtic Centurians when his goal tally stalled at ninety-two.
ON HIS WAY…John Divers irked Jock Stein – and headed for the Celtic exit.
JD was obviously no speed merchant and possibly some of the fans, admittedly in the dark about his state of his health, might have thought he wasn't giving 100 per cent in effort. Believe me, he was always striving to do his absolute best for the club. One look at his goals total should tell you that. But his perceived laidback style could have confused the paying punters who might have expected a more up-and-at-'em style of play from an old-fashioned inside-forward.
There was no way JD was physically equipped to perform in such a manner. You might as well ask a Sumo wrestler to attempt the pole vault. Even Jock Stein, who had coached the player while he was a youngster in the Celtic reserve team, knew nothing of his ailment.
Unfortunately for JD, Big Jock decided to take in a reserve game against Morton at Greenock one night. My old mate, even by his own admission, wasn't exactly putting himself about on a quagmire of a pitch at Cappielow. The players came in at the interval covered in mud – with the exception of JD, whose strip looked in almost pristine condition. Big Jock stormed into the dressing room. He pointed his finger at JD.
'I hope you enjoy the next forty-five minutes,' he bellowed. 'They'll be your last for this club!' Big Jock was as good as his word. JD was cast adrift and wasn't even allowed to train with the first team at Barrowfield. As punishment, the manager made him exercise on his own at Celtic Park.
FIVE OF THE BEST…Jimmy Johnstone, Bobby Murdoch, Stevie Chalmers, John Divers and John Hughes.
It's interesting to note that John Divers' last appearance for Celtic came in a 2-1 defeat against Rangers at Ibrox on September 18 1965. I scored with a penalty-kick that afternoon and JD was blamed for squandering an ideal opportunity to claim the equaliser in the fading moments. As I recall it, Billy McNeill got up above the Rangers defence to nod down a left-wing corner-kick. The ball went to an unguarded JD about six yards out.
Nine times out ten he would have tucked that chance away with his usual precise finishing. On this occasion, though, the ball took a wicked bounce, JD swung his right foot at it and missed completely. In a matter of seconds the opportunity was gone and so were Celtic's prospects of avoiding defeat at the hands of our oldest rivals.
After the loss in Govan that afternoon, Big Jock was furious and poor JD bore the brunt of his criticism. My mate deserved some sort of medal to be actually still standing with only a minute or so to go after another gruelling and punishing Old Firm encounter. As usual, he would have been knocked around by John Greig and Co. No prisoners were ever taken in the heat of the world's biggest and most frantic derby confrontation.
JD said nothing although he was probably wracked in pain at the time. That was the end of his Celtic career, as far as the manager was concerned. It effectively came to a halt when the ball took a weird ricochet off the Ibrox turf and he had a fresh air swipe. A year later he was a Partick Thistle player.
And I believe he realised he was heading for the Parkhead exit when he read the story in a Glasgow evening newspaper that he was being freed. There must be better ways of discovering you're on the way out.
Click Here for Comments >