LOU MACARI didn't know quite what to expect. The Celtic manager had been informed Fergus McCann, fresh from his dramatic takeover of the club late the previous evening, intended visiting the dressing room before the league encounter against St Johnstone at McDiarmid Park on the Saturday afternoon of March 5. Macari admitted, 'I was ready to meet and greet the new man in charge.'
According to Macari, though, he was blatantly ignored by McCann when he made his entrance. 'He never said a word to me,' is how Macari recalls the moment. 'He walked straight past me and acknowledged Charlie Nicholas, Packie Bonner and Paul McStay. Once he had said what he had to say, he went straight out again. As the manager of Celtic Football Club, you would have thought I'd be the first person he would come to see. Instead, he just brushed past me.'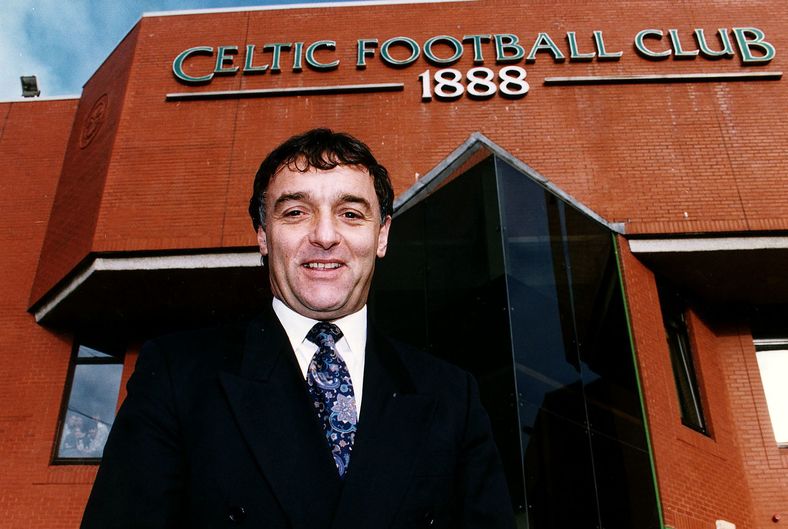 Macari's card had been marked; clearly, he wasn't in McCann's long-term plans for the club. The team boss admitted to feeling 'immediately undermined.' In an uneasy atmosphere, Macari resolved to get on with the task at hand and focus completely on the team. I was at the game in Perth that afternoon and the revolution that had gone on behind the scenes was certainly a lot more intriguing than anything that was being displayed on the park. Celtic won 1-0 with a goal in eighty-five seconds from Paul Byrne after Saints keeper Andy Rhodes had fumbled a Charlie Nicholas cross at the winger's feet. A shade over eighty-eight minutes of general tedium followed while McCann and Brian Dempsey, who had played the role as a campaign manager, watched from the stand.
The previous evening, a beaming Dempsey emerged from the foyer at Celtic Park to face the Press Pack, newspapermen, TV cameras, radio microphones and intrigued supporters, desperate for a snippet of news. 'The rebels have won,' exclaimed Dempsey to an illuminating barrage of popping flashbulbs from photographers' cameras, eager to catch the historic moment. It was the beginning of a new era for Celtic; it was the beginning of the end for Lou Macari. Even before a ball had been kicked in anger, it appeared McCann had already chosen to dispense with Macari and have him replaced. The name of Tommy Burns, then managing Kilmarnock, continually cropped up.
It wasn't an atmosphere conducive to a comfortable rapport between the two most important professionals at the club. Years later, Macari, somewhat ruefully, recalled, 'He saw me as no different from the groundsman or the head chef.' McCann, known as 'The Bunnet' to the fans because of his permanent choice of headgear, had no interest in popularity contests. Without a flicker of emotion, he declared, 'I want people to judge me on what we have achieved after five years. I will go back home to my home in Bermuda, play some golf and live a healthier life.'
*Extract from CQN's new book THE WINDS OF CHANGE Managing Celtic FC 1991-2005. You can order direct from CQN Bookstore HERE or click on the image below. This is the follow-up to Caesar & The Assassin and if you have't read that book yet we have a small number remaining.
Thanks to everyone who has purchased THE WINDS OF CHANGE so far, all orders have been posted so if you haven't received it yet, it will be with you very soon.
Click Here for Comments >