THREE Scottish based newspapers appear in the year on year circulation figures released today the ABC's monthly Newsbrands Report.
The ABC independently monitors newspaper and magazine circulations and has reported on the steady decline in the newspaper sales over the past decade or so.
Long gone are the days when papers like the Sunday Mail could hope to sell a cool million copies every Sunday as was the case 30 years ago.
Now in December 2107 the Sunday Mail sold just 143,788 copies per edition. This is an incredible 16.65% decline from what it was selling in December 2016 (172,513) and a very long way indeed since the glory days for their circulation department in the 1970s and 80s.
Its sister paper, the Daily Record isn't doing much better, recording a year on year circulation drop, in December 2017, of 13.28%.
In December 2016 the Daily Record was selling 160,557 copies a day.
For December 2017 their sales had dropped to just 139,237 copies.
The other Scottish newspaper still with the stamina to remain part of the monthly ABC report is the Sunday Post.
How many people remember their parents buying the 'Mail and the Post' every Sunday. The Dundee based paper always had an older audience and sadly it's been suffering from it's audience dying on them for decades now. Yet it's decline is actually less than either the Sunday Mail or the Daily Record!
The Sunday Post in December 2017 sold 127,370 copies per edition which is 10.84% down on a year earlier when it was shifting 142,863 copies per edition.
Every single time we have looked at these numbers since 2012 there is a sizable decline in the circulation for these newspapers.
Can they turn it around?
Why are people turning away from their daily or Sunday newspaper of choice that for generations were the market leaders and bought by so many Scottish households?
What role has their football coverage played in their decline?
Questions for their circulation managers to consider, before it is too late.
img class="aligncenter wp-image-44468″ src="https://www.celticquicknews.co.uk/wp-content/uploads/2018/01/FRIENDLY_BRE_CEL_0832_preview.jpeg" alt="FRIENDLY_BRE_CEL_0832_preview" width="702″ height="498″ />

NEW CQN PODCAST OUT NOW FEATURING TOMMY SHERIDAN
A Celtic State of Mind presents its 30th instalment of insightful discussion around the culture of Celtic Football Club, the city of Glasgow, and fans of the reigning treble-winning Scottish champions.
Kevin Graham is joined by Scotty Alcroft to interview Scottish pro-independence politician, Tommy Sheridan, at The Penalty Spot in Glasgow.
The interview took place as part of A Celtic State of Mind's first live event – Five-a-sides at The Penalty Spot – and, as such, there is some background noise (including mobile interference – apologies) from the audience.
The other voice you may hear throughout this episode is that of former Celtic striker, Frank McGarvey, who is a friend of Tommy's, and who was also interviewed separately that day for a future show.
You are sure to enjoy Tommy's eclectic input, as he discusses everything from Catalan independence to Coolio, with a constant undercurrent of that thing called Celtic.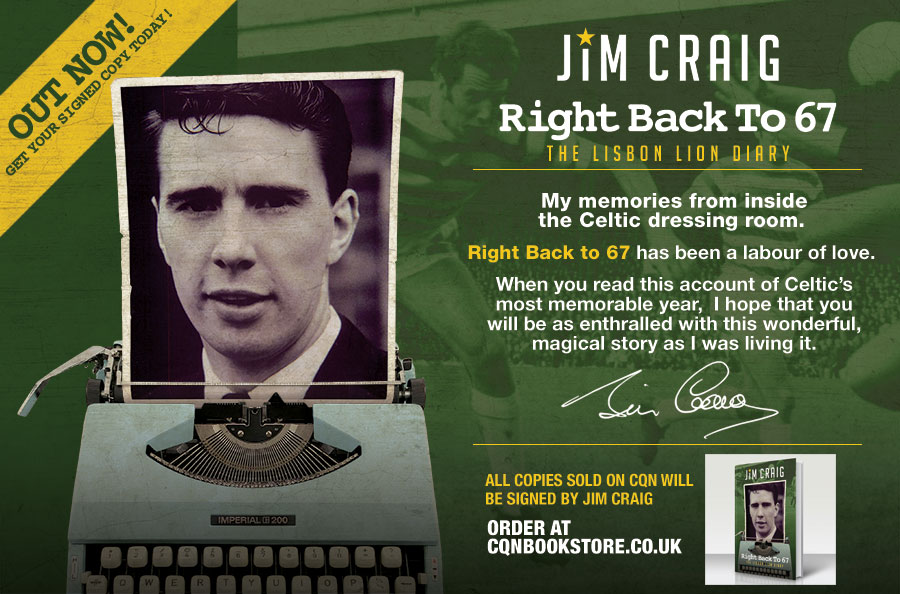 Order Jim Craig's new Lisbon Lion Diary – Right Back to 67 from CQNBookstore.co.uk and you will receive a signed copy from the man himself plus a FREE copy of That Season in Paradise – Ten Months of Celtic Heaven signed by fellow Lisbon Lion Bertie Auld! Simply order Jim Craig – Right Back to 67 and the second book will be sent automatically. Stocks are running very low so hurry!
Click Here for Comments >