BRENDAN RODGERS will not be rushed into making a decision on French striker Odsonne Edouard, who is on loan from Paris Saint Germain until the end of the season.
The Celtic boss admitted he has been impressed by the youngster's progress during the first half of the campaign.
Rodgers has first option on a permanent deal, but will use the next few months to decide if the 19-year-old frontman is worth an investment of around the £7million mark.
The Hoops gaffer said: "I will assess it at the end of the season. He has grown each week he has been with us.
"It's for both sides, as well. He might love it with us, he might not. I know he is really enjoying it, but there is no rush to commit on either side now.
"It's just a case of seeing how it goes in the second half of the season and we'll review it then."
Edouard has scored four goals and is competition for Moussa Dembele and Leigh Griffiths.
Rodgers said: "He is getting better and better each week. The boy has big talent and is a real worker. He's the type of performer I like.
"His English is getting better through lessons and he's still only very young at 19, so he has a lot of potential.
"I don't have any qualms if I have to put him into a game."
Rodgers believes having the third striker has been beneficial and added: "It's not easy to make it work, but you can as long as you give clarity to the players in terms of where they are at.
"They can only play so many games.
"We had a situation last year where we only had two strikers.
"It's a tough balancing act. I don't think you can bring a third striker who is an experienced player.
"You are looking for a young talent with big potential who knows where he sits in the hierarchy, but is always ready.
"By virtue of that, it has kept Moussa and Leigh fitter than they were last year."
The CQN Podcast: A Celtic State of Mind (EP28) with former Celtic director Tom Grant
Paul John Dykes and Kevin Graham are joined by Celtic's ex-director, Tom Grant, who offers a fascinating insight into the running of the club in the 1980s and 1990s.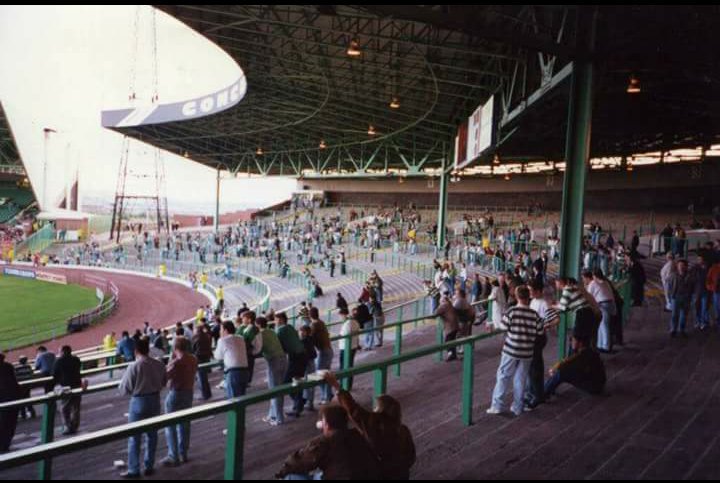 Tom Grant explains exactly why Celtic refused to complete the Mo Johnston transfer in 1989, and lifts the lid on audacious efforts by Billy McNeill to recruit Peter Beardsley and Steve Bruce.
Tom Grant also dissects his relationship with Fergus McCann, and the impact of the 'Celts For Change' movement in overturning the 'family dynasty' board in 1994.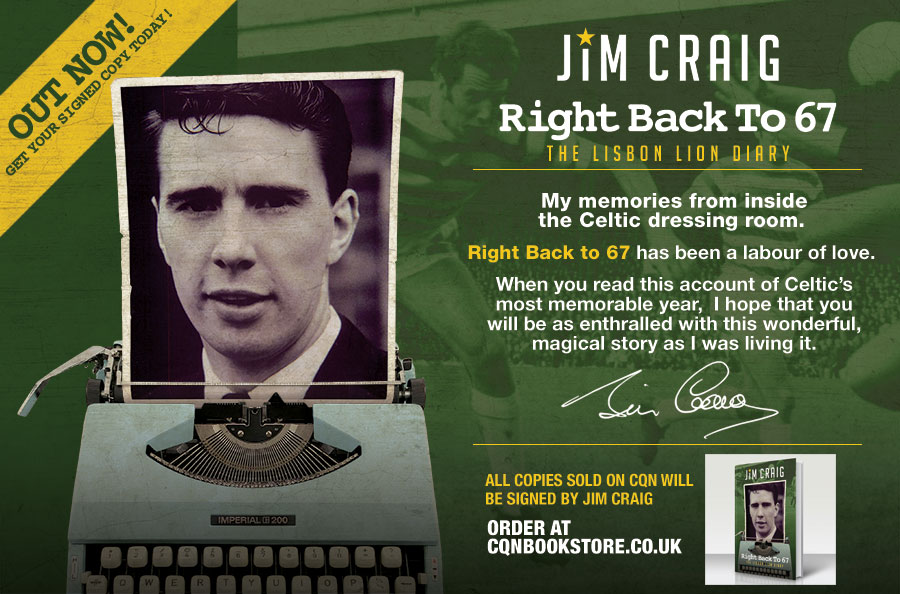 Jim Craig made two of the three goals in the 1967 European Cup Final. There's a great wee video below for you to enjoy. Get Jim's new Lisbon Lion Diary – Right Back to 67 from CQNBookstore.co.uk and you will receive a signed copy from the man himself plus a FREE copy of That Season in Paradise – Ten Months of Celtic Heaven signed by fellow Lisbon Lion Bertie Auld! Simply order Jim Craig – Right Back to 67 and the second book will be sent automatically.
Click Here for Comments >