On 10th June 1989, the financially-doped Rangers juggernaut splashed out another £1.5 million of someone else's money to pull the rug from under Celtic's feet in spectacular fashion.
The hapless Parkhead board proved to have been premature in parading their prodigal son, Maurice Johnston, in the green-and-white hoops eight weeks previously. Although the player had signed a pre-contract agreement at Celtic, his agent thereafter conspired with Graeme Souness and David Murray to derail the transfer.
When Johnston then strolled into the Ibrox Blue Room wearing a Rangers tie and blazer for a press conference on that fateful summer's day, Celtic fan's greatest fears were realised – not only was Mo Johnston not rejoining his supposedly-beloved boyhood heroes, but he had become part of a racket that was well on its way to pulling off Scottish football's greatest swindle.
So where did it all go wrong?
Paul John Dykes and Kevin Graham met up with former Celtic director, Tom Grant, for the latest CQN Podcast: A Celtic State of Mind, and the Johnston transfer was high on the agenda. In a fascinating episode, Grant provided an insight into Rangers' shady pre-EBT transfer dealings, which he described as not "perfectly legal".
"It was a hard one to take at the time," recalled Tom. "I think it made us more angry than anything because Maurice Johnston had committed himself to sign for Celtic and committed himself to a pre-contract agreement, which he was eventually fined by UEFA for breaking."
"Celtic had agreed the fees and salaries, everything was about to be announced, and we were aware that he was going to functions and signing his autograph with 'Rangers FC' at the end of it, so we knew there was something not right about the whole saga.
"Then eventually we became aware that it was Rangers who were making sure that he was going (to Ibrox).
"All the payments were agreed… when it came nearer to the time of the actual transfer, there was another payment that was requested. I don't think that I could say that it was a perfectly legal thing to do, so Celtic decided that we didn't want to go down that path. It (the payment) was probably partly going to the club (Nantes), and partly going to an agent, probably partly going to the player as well… But it wasn't on the top of the table, so we decided not to get involved in it."
Under the table transfer deals at Ibrox? Payments that would not be declared in order to secure the signing of a player who would have otherwise gone elsewhere? These misdemeanors became de rigueur in various different guises during David Murray's tenure at Rangers Football Club (IL), and the bigger scandal is the fact that the financial shenanigans will never be investigated by Scottish football's regulators.
The CQN Podcast has gone from strength-to-strength over the last few months, and this week's episode also delves into the 'biscuit-tin board' era, as well as Fergus McCann's takeover.
You can listen to the interview with Tom Grant using the link below.
As for Judas and his move to Rangers?
Watch this little clip as they put him on the Rangers Electric Chair to 'cure' him as he initially 'kicked with his left foot' – a disgusting football club and a player so revolting that he was actually well suited to them.
A club that was steeped in bigotry…
Mo Johnston, an electric chair, and The Sash.

"And soon he's one of the lads" (From the Rangers Archives on FB) pic.twitter.com/1Q75TmkfMs

— Craig Kore (@CraigAtTheTop) January 9, 2018
There are many more guests lined up in the weeks ahead from the world of sport, music, film, art, broadcasting, literature and politics, so be sure to connect with A Celtic State of Mind @PaulDykes, @anorthernprose and @CQNMagazine and subscribe to the podcast via iTunes or through your podcast player.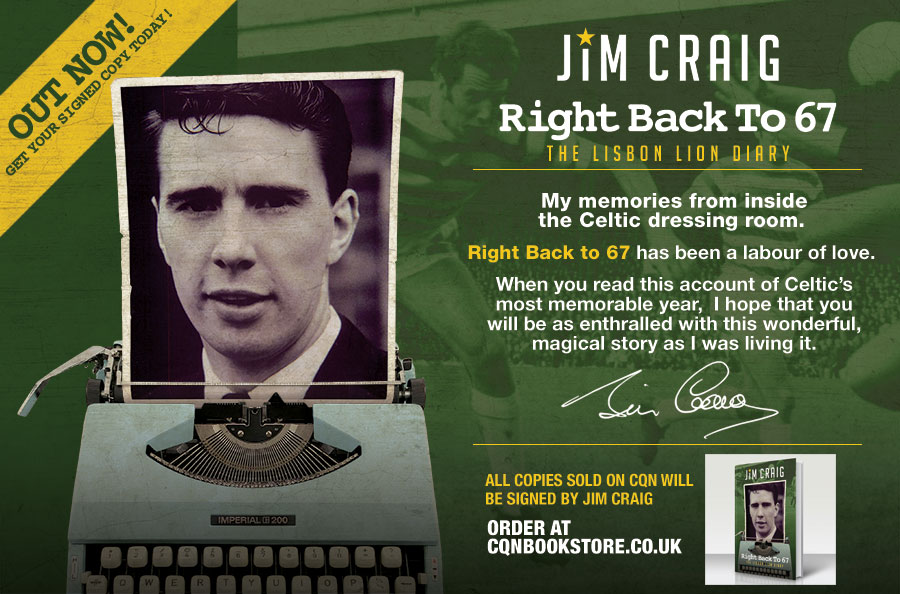 Jim Craig made two of the three goals in the 1967 European Cup Final. There's a great wee video below for you to enjoy. Get Jim's new Lisbon Lion Diary – Right Back to 67 from CQNBookstore.co.uk and you will receive a signed copy from the man himself plus a FREE copy of That Season in Paradise – Ten Months of Celtic Heaven signed by fellow Lisbon Lion Bertie Auld! Simply order Jim Craig – Right Back to 67 and the second book will be sent automatically.
Click Here for Comments >