WHEN the Internationally respected Four Four Two Magazine ran a feature entitled "FFT's Greatest Club Sides Ever" in which they assessed the merits of the great footballing club sides of the past and attempted the virtually impossible task of comparing them to one another, CQN's very own BRTH wasn't very happy. He believed that the London based magazine had unwittingly done Celtic a disservice and he given his right of reply by CQN Magazine. It was never going to be a short reply was it? So here goes…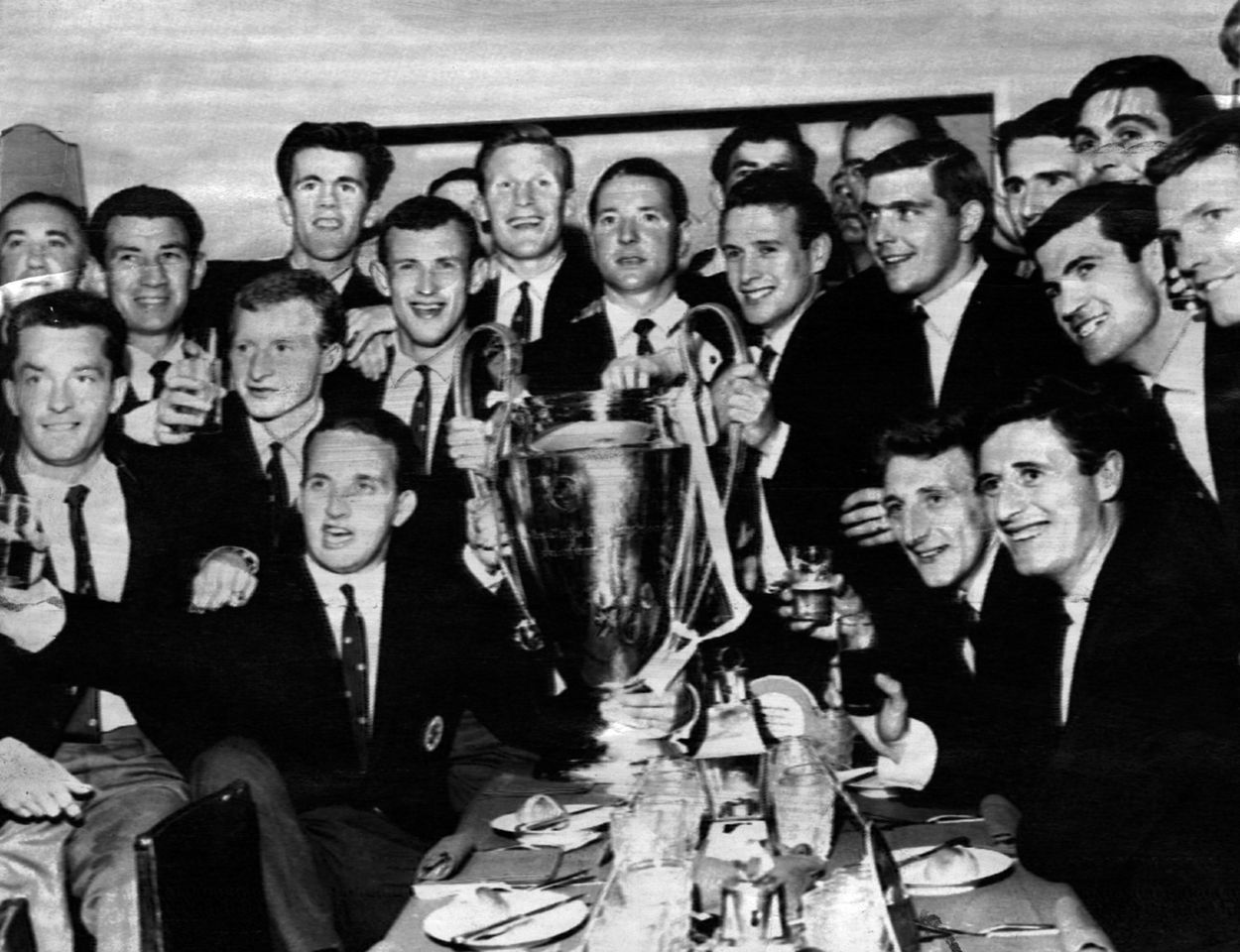 IN making the fun assessment the magazine declared that in reaching a decision about teams from different eras they decided that "any club could only appear once in the top 20." Thus ruling out different teams from the same club during different eras, and that "the list had to be about more than mere trophies, it had to be about intangibles: how cool a team is, their legacy, their aura."
Having consulted what they describe as the footballing world's "Glitterati" the magazine were left with 38 teams which they had to whittle down to their top 20.
In the end they came up with the following list:
20  Nottingham Forest 1977-1980
19   Budapest Honved 1950-1955
18   Borussia Monchengladbach 1970-1979
17    Preston North End 1888-89
16    Boca Juniors 1998-2003
15    FC Dynamo Kiev 1985-87
14    Juventus 1980-86
13    Independiente 1971-75
12    Manchester United 1995-2001
11    Celtic 1965-1974
10    Torino 1945-49
9      Bayern Munich 1967-76
8      Benfica 1960-70
7      Santos 1955-1968
6      Inter Milan 1962-1967
5      Liverpool 1962-1967
4      Barcelona 2008-2011
3      Real Madrid 1955-1960
2      A.C. Milan 1987-1991
1      Ajax 1965-1973
Now, there is no doubt that all of the above would be considered as absolutely fantastic teams, and that to be included in the list has to be seen as an absolute accolade. This is especially so when you consider the teams which don't make the list.
There is no Arsenal at all for example. Don Revie's Leeds United are nowhere to be seen. The Tottenham Hotspur of Greaves, White and Mackay don't get a look in and there is no side in there managed by the special one.
However, as soon as I saw the list, whilst I was proud that Celtic were in the top twenty and just one off the top ten, my brain started telling me that it disagreed with this assessment on purely logical grounds.
For example some of the "Great Teams" mentioned here were only great for a few seasons, whilst others were apparently great for virtually a decade with only Santos in 7th place being triumphant for more than a ten year span.
Surely a team that is deemed great for virtually a decade has an argument to say that they should rank above a similar team who were only great for say three or four years?
However, it was when I actually started to study the teams above Celtic in 11th place that I determined for myself that with all due respect to the guys at Four Four Two their thinking had to be challenged.
Now I know that Celtic have only won the European Cup once whilst others are multiple winners – and I guess that the more often you win the cup with the big ears has to count for something.
However, cast your mind back to the criteria set out by the Four Four Two guys, who say it is about more than the number of trophies won and should be about the legacy left behind and the impact made at the time.
On that basis alone Celtic should move up the league however when you look at head to head results the argument becomes unassailable.
For example, Celtic only met the mighty Benfica once in a competitive match during the period that both teams are cited for inclusion. Albeit, that the match was won by the toss of a coin, Celtic were the victors. Now whilst Benfica can cite Two European Cups to Celtic's one, and point out that they reached 5 finals in 8 years, the fact remains that they only once faced Celtic when both clubs were at their zenith and they lost!
Not only that, when they reached the last final of their great period in 1968, they were beaten by a Manchester United side which featured many of the same players who had been soundly beaten by Celtic at Celtic park in August 1966 when the score could have been far more than the final tally of 4-1.
In addition, the Grande Inter team of  Helenio Herrera had been put together and fashioned in a style which was designed specifically to defeat the attacking football and style of Madrid and Benfica of the early 60's.
This Tactic was successful with Inter putting both Madrid and Benfica to the sword between 1963 and 1965.
It is interesting to note that Four Four Two give La Grande Inter legendary status for the five year period between 1962 and 1967 – precisely half the period of time the same status is granted to Benfica.
Obviously, something happened to Inter in 1967 that caused them to slip from their pedestal.
Like Benfica, they played Celtic on one occasion during the period when both clubs were deemed "Great" and like Benfica they lost!
Yet both of these clubs are ranked above Celtic on the list.
There are lots of examples of great teams on that list who were from different times and so could obviously not have met one another. However, these three teams—Celtic, Benfica and Inter — did meet head to head at the relevant time and only Celtic come out with a 100% record against the other two!
Yet, despite this they rank below their Latin counterparts in 11th place while Benfica sit 8th and Inter Milan 6th.
That just does not seen right to me.
However, even more puzzling is the placing of Bill Shankly's Liverpool in 5th place for their efforts between 1962 and 1967.
Now, I recognise that using my own head to head method above, the records show that the only match between Celtic and Liverpool within the relevant time shows a victory for Liverpool.
Yet, I think it is now even accepted on Merseyside that when the two sides met in the semi final of the European Cup Winners Cup in April 1966 Celtic only lost as a result of a perfectly good Lennox goal being chopped off for no good reason.
However, beyond that, Shankly's Liverpool were not playing at the very top level in Europe in the main, and so were not facing the same level of competition as Celtic during the relevant period. They were nowhere near European Cup Finals at the time unlike Celtic during their cited period of glory.
In fact the nearest they came was the semi final of 1964-65 where they ultimately lost to La Grande Inter whose heyday was to be terminated by Celtic two years later. After the Inter match, Liverpool would not progress past the third round of any European competition for the next 4 years.
Not only that, the only time during the period when both clubs were competing for the big cup at the same time was 1967 when of course Celtic won the trophy outright. Further, in that competition, Liverpool's journey ended when they were thrashed by a Johan Cruyff inspired Ajax by seven goals to three on aggregate. This result persuaded Shankly that he had to change the style of football Liverpool played if they were to ever succeed in Europe.
In that same year, Ajax themselves were eliminated from Europe at the quarter final stage when they lost to the Masopust lead Dukla Prague who were in turn defeated by ………… well you know who?
So Basically, I would argue that there is every good reason to suggest that at least three of the teams ranked above Celtic during these zenith years do not deserve their higher billing.
I recognise of course that there are counter arguments and other factors which may well be given more weight by others when looking at a series of head to head results.
However, I am not finished there, because as has been made clear by Four Four Two, of the factors to be taken into account in this purely for fun assessment you are to include how cool a team is, their legacy, and their aura.
Well I suppose it could be argued that a team which wins the European Cup fielding a substantial number of players who all have their false teeth secreted in the goalie's bunnet is not very cool at all!
However, that is not what the Four Four Two guys mean.
No they mean the lasting impression made on football, and when it comes to that category I would argue that Stein's Celtic shoot straight up the league.
There are very few club sides that can actually boast that they changed the shape of the game, but the Celtic of the era cited certainly come into that category in two ways if not three.
First, as we have seen Inter's Cattenaccio had become a dominant and all conquering style which the likes of Benfica, Real Madrid, Liverpool and many more could not handle or overcome.
It was Celtic, and Celtic alone, who consigned that entire system of football to the bin over a 90 minute period. Whatsmore, the team's manager made it plain prior to the game that winning by any style was simply not an option.
Stein said in advance that he wanted his team to win with style, with an aura and panache, and in a fashion that made the neutral cheer, thus condemning the anti football of Herrera to the scrap heap.
That is why Four Four Two make it plain that La Grande Inter died in 1967. Prior to that date in Lisbon, many other teams mentioned in the top twenty tried and failed to beat that style of football only to repeatedly fall victim to what was the world's most expensive football team at the time.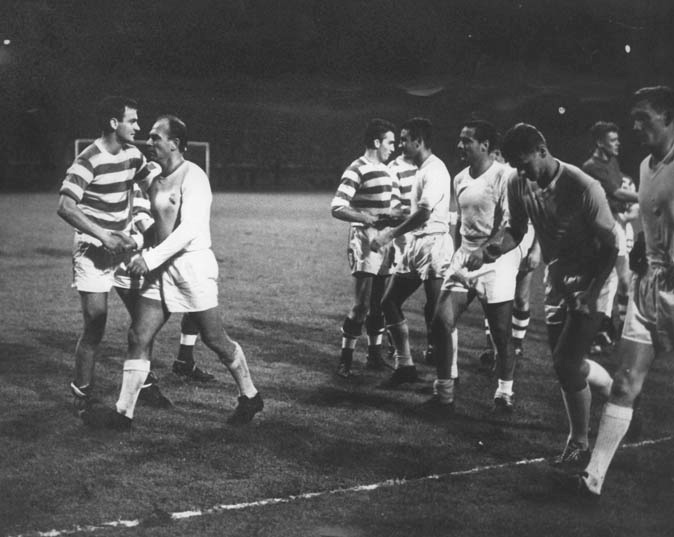 Only Celtic, out of all the teams listed, succeeded in dismantling the Inter myth.
However, not only that, the attacking display by the team in Green and White after Mazzola's penalty was to have a profound effect on all others.
Celtic's style of attacking play became the new mantra and this had a subtle effect on all the other contenders of the time. When Ajax played Liverpool in 1966/67 their style was described as a deliberate and patient passing style — a style far removed from the real glory years of the Dutch masters.
That was to come with the total football Ajax practised between 1969 and 1973 with some saying that the real death of Catenaccio came in the 1972 European Cup Final when Ajax put Inter to the sword by 2-0 in the De Kuip in Rotterdam.
Yet that ignores the fact that after 1967 Ajax changed their playing style and an examination of Celtic's fluid 4-2-4 of the time showed that there were times when attackers were expected to come back and defend and conversely there were goal threats from Celtic from every position bar sweeper and goal keeper. It might be said that total football – including fullbacks popping up in all sorts of strange attacking places—did not show itself on a major stage until one afternoon in Lisbon and then went on from there, with Cruyff's Ajax being the ultimate exponents of the style.
However, perhaps the biggest impact that this Celtic team had in terms of aura and coolness was the fact that they were all from the one place and were not an expensive team.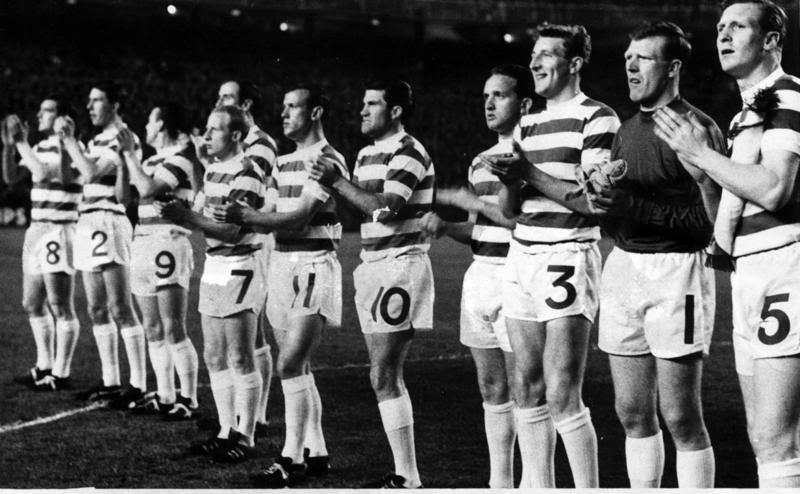 One of the Inter Milan players received a signing on fee which was greater than the cost of the whole Celtic team put together, and his wages for the year would have paid the salaries of half the Celtic line up in Lisbon.
Barry Davis viewed the Celtic of 1967-1971 as the finest team in Europe at the time and it was not until the full emergence of Cruyff's total footballing Ajax that you had a clear successor to the title of Kings of Europe…… as Manchester United and others were not consistent in Europe over a period of time.
I have no quibble at all with that Ajax side being rated as number 1 on the list as they were a devastating side to watch and I can testify to that first hand when I watched them beat Celtic 3-0 in Amsterdam before going on to win the big cup in 1971—although to be fair two late goals exaggerated the difference between the teams.
So to conclude, it is flattering to see that great Celtic side being included among those top sides, but there is room for argument to suggest that they should be ranked higher than 11th given the criteria to be applied.
I know I am biased, but I would rely on the opinion of someone who was playing the game at the highest level during the period when Celtic are cited as being of the best. So, I simply remind everyone of the words of Bertie Auld as he went to walk off the turf of the Estadio National on that afternoon of 25th May 1967.
"Hey Ronnie Simpson, son! Who are we? Who are we Ronnie?—- We are the greatest son, that is who we are—we are the greatest!"
—————————————
*Get your copy of THAT SEASON IN PARADISE – TEN MONTHS OF CELTIC HEAVEN, signed by Lisbon Lion Willie Wallace while there are some left, from CQNBookstore.com – this is a wonderful book, telling the inside story of Celtic's 66/67 season.
Click Here for Comments >