"I can understand only too well how fed-up Andy is with reserve football. His ability has never been in doubt. But he's got to be patient. He's got to produce top form in the reserves so that when a vacancy crops up in the team he's ready to take over. I'm confident he can do it, and justify every penny we paid for him."
I certainly didn't want to be remembered for being big Jock's first expensive flop but I had entered a period of near obscurity which lasted from February 1973 until April 1975, when a series of fleeting appearances in Celtic's first-team proved to be false dawns.
John Clark looked after the reserves at the time and I recall that my lowest ebb came at a cold Celtic Park against Hibs reserves during the winter months of 1973. Big Jock was watching from the stand and he got a message to the reserves' Coach to substitute me before half-time. About five minutes before the break and the number 11 board went up. To suffer the embarrassment of being substituted in the first half of any match was not one I had ever endured and it hurt me to the core. I was disillusioned and distraught as I trundled off the pitch and up the tunnel. About the only saving grace was that I'd have the piping hot bath to myself.
The heat of the bath matched my mood as I sat there on my own pondering my Celtic future. I had just been taken off for Newman, who was as renowned around Scottish football circles as 'Trialist.' Basically 'Newman' was a pseudonym for 'new man' as in new player. Any youngster coming into the reserves would be referred to as such in the following day's match reports, and here I was playing second fiddle to the player without a name.
As I soaked myself clean from 40 minutes' toil, I heard my team-mates entering the changing-room for the interval. Big Jock came into the washing area to use the toilet and, as he turned to offer me a glance, he had a pop at me for my first-half performance and asked me what I thought I was doing out there.
Months of pent-up anger and frustration finally exploded to the surface, and I replied with a volley of verbals towards my highly-esteemed Manager, as he gazed over me nonplussed from the side of the bath. The cutting words flowed out of me like the sweat from my contorted forehead and I remember my closing gambit being, "AND YOU CAN STICK YOUR FOOTBALL CLUB UP YOUR A**E!"
Surprisingly, the Manager – a man feared throughout football for a legendary temper – just gazed at me thoughtfully: "I hope that makes you feel better, Andy," was his measured response, as he made his way through the door to the dressing room. What happened next is all a bit hazy. I can't even recall getting dried off and dressed, but as I drove home that night I finally came to my senses and realised that my Celtic career was surely over. No-one speaks to the great Jock Stein like that and lives to tell the tale. Now, my neck really was on the chopping block.
What would Jock have in store for me? If he could ship out Lisbon Lions before their time was up then would I face a similar fate? Would I be sent off to a club down south without notice? Or even loaned out and banished to some Scottish backwater?
Nothing. Not a word. Everything just went along apparently as normal. What was Jock Stein thinking?
A week or so later, the gaffer told me that he had been discussing my injury with Dr Fitzsimons and that I was to take two weeks off. Not only that, but I was to go on holiday and get complete rest for a fortnight.
The two weeks away certainly gave me plenty of time to think about my career and how I could get it back on track. I was under no illusions that the wheels had come off it in dramatic style. I also knew deep down that Jock truly wanted me to overcome my pelvic injuries and succeed at Celtic Football Club.
A stubborn man, he would not welcome having his judgement of a player questioned, and so seemed determined to persevere with me. Also, I knew he still rated me as a player because, with his vast array of contacts in the game, he could have moved me on without too much fuss. A few clubs had enquired about me during my absence and he had knocked them back. I certainly didn't want to remembered as being a failure at Celtic either.
With the boss, you never knew what to expect next. I had been flying at the beginning of the season and he decided to drop me. I then tore strips off him in the dressing room and he granted me a two-week holiday. He was a complex character and I'm still trying to work him out all these years later.
Written by Andy Lynch, former Celtic captain.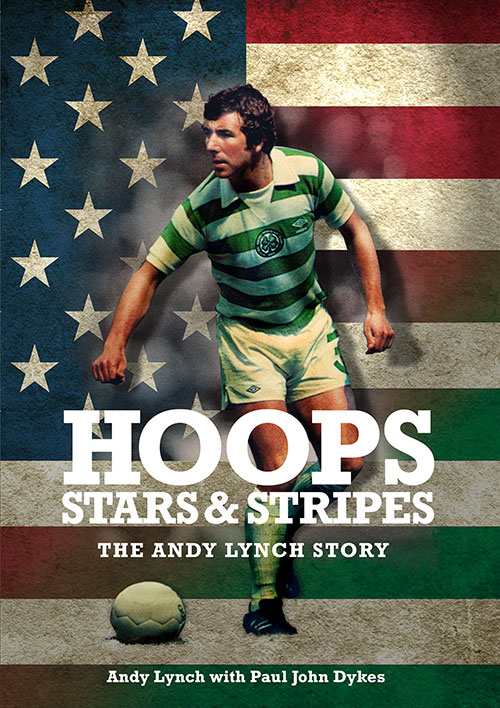 Extract from Hoops, Stars and Stripes, The Andy Lynch Story written by Andy Lynch and Paul Dykes. We have a limited number of signed copies available for only £10 plus p&p from CQNBookstore.com while stocks last.
NEW CQN PODCAST FROM CELTIC PARK ON SATURDAY
Kevin Graham is back with a new CQN Podcast from Saturday. He talks to supporters on the bus on the way to Parkhead, interviews John Paul Taylor outside the ground and captures the atmosphere and action inside the ground before getting some more supporters' views on the bus home after an eventful afternoon at Celtic Park.
Apologies for a few sweary words in this podcast near the end.
Click Here for Comments >