ANGE POSTECOGLOU completed his hat-trick of silverware as Celtic overcame Michael Beale's Ibrox side 2-1 in the Viaplay League Cup Final on Sunday February 26.
After lifting the same trophy – under the guise of the Premier Sports Cup – and the Premiership title in his debut term, the 57-year-old Greek-Australian got his second campaign as the Parkhead club's gaffer underway with a well-deserved victory over committed opponents.
Postecoglou underlined once again he was a master manipulator with his use of substitutes throughout the action at a rocking Hampden.
Coincidentally, the scoreline and scorer mirrored the result against Hibs in December 2021 with Kyogo Furuhashi netting another Cup Final double and the match ending 2-1 for the Hoops.
A MAN AND HIS TROPHY…Ange Postecoglou carries the newly-won League Cup as the celebrations fade after another silverware triumph at Hampden.
January recruits Alistair Johnston, Oh Hyeon-gyu and Tomoki Iwata all played in the most recent success and young left-sided defender Yuki Kobayashi's time will come.
Postecoglou sent a stirring message to the Celtic supporters afterwards. The jubilant gaffer said: "We hope that you are enjoying your evening, celebrating another great achievement by everyone at the club.
"We are delighted to have secured Celtic's 21st League Cup victory in front of so many of our supporters at Hampden and with millions more watching around the world.
"These occasions are very special and I'm so proud of the talented group of players, coaches and backroom staff who once again rose to the occasion, to deliver success for supporters such as yourself.
"Together, they put in yet another strong team performance and with your incredible support once again drove us on to victory. It's another great achievement for this team and one that we should all celebrate together.
"Securing the first piece of domestic silverware on offer this season is really satisfying and is something we will enjoy – and of course we know there are further challenges and more hard work which lies ahead if we are to achieve our objectives.
"We'll celebrate adding another chapter to Celtic's illustrious history before our focus returns to the pitch and our preparations for next weekend's match as we get back to work with one clear aim – to bring yet more success to our magnificent football club.
"On days like today and all throughout the season, your support means everything.
"Enjoy your evening, as we celebrate another well earned success."
SILVER SMILES…Ange Postecoglou with the League Cup, won for a second successive season.
Postecoglou and his players had got February off to a winning start with a 3-0 league victory over Livingston at Parkhead on the first day of the month.
It was all over as a contest by half-time with the Hoops coasting after goals from Greg Taylor, claiming his third strike of the season, Daizen Maeda and Kyogo Furuhashi.
The latest triumph maintained the champions' nine-point advantage and Postecoglou couldn't resist a quip after it was stated the hosts' second goal was in the "lucky" category.It came after Livi defender Ayo Obileye hammered a hasty clearance off the face of Maeda and the ball ricocheted past a flummoxed Shamal George and into the net.
Ibrox gaffer Michael Beale branded the Greek-Australian a "lucky man" last month when he was referring to the manager's spending power and Livi coach David Martindale made a similar comment earlier this week when he was discussing the Parkhead club's budget.
The Hoops chief smiled and said: "You love that word, don't you? It's just so easy! How many runs does Daizen make in a game?
"It was a product of his hard work. Anyone who watches Daizen sees he's constantly making runs and constantly in those areas.
WALKING ON AIR…Daizen Maeda celebrates a strike against Kilmarnock.
"There were a couple of times he lacked a bit of composure, but he's always there – that's why he gets his goals.
"I've known him for a while now and sometimes people say he's fortuitous, but it's on the back of working his backside off when we have the ball. He gets the rewards from that."
And the Greek-Australian was still smiling following the 4-1 weekend win over St Johnstone on a McDiarmid Park pitch which could hardly be described as a field of dreams.
The Perth playing surface was rutted and bumpy, but the champions overcame that obstacle and stubborn opponents to maintain their nine-point advantage at the top of the Premiership.
As well as the massive lead in points, the Parkhead men are also 25 goals better off than their nearest Ibrox challengers.
Kyogo, Aaron Mooy and David Turnbull all collected strikes after the unfortunate Andy Considine, later red-carded in stoppage-time, put through his own goal to get the ball rolling in the 13th minute.
Postecoglou said: "I'm really pleased because the conditions weren't easy, particularly the pitch. We had to overcome that and not steer too far away from our football and I thought we did that.
"Because of the nature of the game, there were times when we had to defend and I thought we did that really well, too, which was good to see and we got four good goals.
"As the game went on the pitch got more and more cut up which meant there were going to be more mistakes and make it harder for us to move the ball quickly, but I still thought some of our football was excellent.
"Those early goals were important because it gave us a foothold in the game. We're disappointed to concede the one we did, but we reacted to it in the right manner."
Former Celtic goal hero Chris Sutton flagged up concerns about Postecoglou remaining at the club and he insisted the popular boss WILL quit Parkhead at some point.
The one-time England international does not believe Postecoglou will leave the champions in the lurch and the timing and challenge have to be right for the manager who has worked wonders in such a short period in Glasgow.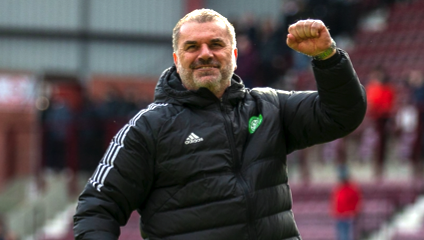 FANS' FAVOURITE…Ange Postecoglou celebrates with the Celtic support.
But Sutton fears such a parting of the ways will be inevitable in the future and his old club will need to react swiftly to replace the phenomenon that has been Neil Lennon's successor.
The 49-year-old media pundit said: "Celtic CEO Michael Nicholson and the hierarchy need to start succession planning right now and keeping tabs on potential new managers because the interest is growing in their Aussie and it is not going away.
"If Postecoglou keeps building up Celtic at his current rate, an offer may easily arrive that the manager feels is hugely tempting. There could be offers this summer.
"It's obvious Postecoglou likes a challenge, but, for my money, it would need to be something that appeals hugely for him to go at this stage because he looks to be savouring life at Celtic and there appears an attachment with the club."
After beating St Mirren in the Scottish Cup, Postecoglou addressed the speculation. Asked if he saw his long-term future at Celtic, the manager said: "I don't know what that means.
"Every decision I make for this football club is for the best of this football club – it's not about me, it's not about me trying to achieve something.
"Every job I've done, I've done as if I'm going to be there forever.
MEDIA TALK-IN…Ange Postecoglou faces the Press.
"Every decision I ever make I'm making as if I'm going to be here forever – but I won't be.
"That decision, mate, might be taken out of my hands.
"We lose today, we lose next week, it's a whole different discussion.
"My role in this is to keep doing what I've been doing, really focused on trying to create a football team that our supporters are going to be proud of – and, hopefully, give them some memories that are going to last forever.
"If I do that, then that's all I need in terms of any credit in my bank."
Quizzed on a message to the fans, Postecoglou added: "I don't think I need to say anything to them.
"I think what the supporters want is to make sure I'm focused on preparing the team every week to win games of football and to play football that's going to excite them and make them proud.
"If anyone thinks for the last seven days I've thought about anything but preparing the team to play today then obviously they haven't got a clear idea of what I'm about."
WIDE BHOY…Ange Postecoglou (extreme left) is almost out of the picture as the Celtic players celebrate the Viaplay League Cup triumph at Hampden.
A week later, Postecoglou reflected on the champions' 4-0 victory over Aberdeen in Glasgow as he singled out two-goal Reo Hatate for special praise.
He said: "Everybody knows he's a good footballer – he's proven that – but like all the rest we want him to be better.
"He wants to be better and certainly, at the moment, he's just pushing himself to new levels."He's a very determined young man, he's so focused on being the best footballer he can be. We see that every day and he gets the rewards for it."
The following weekend saw another Green Party at the national stadium after the 2-1 League Cup victory in the Glasgow derby and Postecoglou said: "When people say 'he's going to go down the road or somewhere else with the first offer he gets', it's not how I'm wired, it's not how I think.
"For me, what it's about is just trying to leave a mark wherever I am. I have done that with every football club I have been at. I want to do that at this football club and that is all that consumes me.
"I don't think about the next step or I need to go somewhere else or I need to do this or I need to consider other things.
"You don't go through life oblivious to it. It is not healthy to put the blinkers up and not know what is going on because that tests your desire to keep doing what you're doing.
THE MANAGER AND THE MARKSMAN…Ange Postecoglou and two-goal Kyogo Furuhashi after the 2-1 derby victory at the national stadium.
"If people are talking about my future or are interested in my future I will sit there and listen.
"But it doesn't mean I am going to jump at anything that comes my way. I am really passionate about what I do and the people close to me know what is most important to me, what drives me and what keeps me sort of happy in my role. I couldn't be happier."
Postecoglou added: "I am still here even though people have been getting me out the door. I am hoping that over the course of time as long as I'm here, and I think you will be surprised how long I am here, I am just be consumed by what I do.
"That is to try to make this football club the best it can be and enjoy every minute of it.
"Mate, the world of management, I am too old to be kidded on by anybody. Things change very quickly.
"How many managers last three years in their roles these days? You have either got to have extraordinary success or in rare circumstances, a club sticks by you. Apart from that, everyone doesn't last that long.
"I am going into my third year next year and I am going to keep doing what I am doing and not really worry about what other people see.
"Because I'll tell you what the first thing people will say is I am not ambitious enough because I am not moving on."
RESULTS
February 1: CELTIC 3 Livingston 0
Taylor, Maeda, Kyogo
February 5: St Johnstone 1 CELTIC 4
Considine (og), Kyogo, Mooy, Turnbull
February 11: CELTIC 5 St Mirren 1
Maeda, Hatate (2, 1 pen), Oh, O'Riley
February 18: CELTIC 4 Aberdeen 0
Hatate (2), McGregor, Abada
February 26: CELTIC 2 Rangers 1
Kyogo (2)
* TOMORROW: Don't miss the twenty-second thrilling instalment of CQN's EXCLUSIVE tribute to Ange Postecoglou.
Click Here for Comments >