ANGE POSTECOGLOU had a stunning message for his players when he returned to Celtic after a quick summer break.
The championship-winning manager told his first-team squad they must improve on EVERYTHING following his superb debut campaign.
The 56-year-old Greek-Australian gaffer inherited carnage from the previous term in which the team had lurched from chaos to carnage in their first trophyless outing in 11 years.
Postecoglou transformed the Hoops fans' fears to cheers as he led the side to the Premiership title following a breathtaking odyssey through the league programme that kicked off with three defeats in the first six games.
SILVERWARE SUCCESS…Ange Postecoglou with last season's honours, the Premiership title and the League Cup.
It ended in a ticker-tape reception on the final day when the Hoops pulverised Motherwell 6-0 at a sunkissed Paradise on May 14 to deliver the silverware by four points – an amazing TWENTY-NINE point turnaround from the previous disappointment.
And the manager collected his first trophy as Hoops leader when Kyogo Furuhashi fired a double salvo to overcome Hibs 2-1 in the Premier Sports League Cup showdown at Hampden six days before Christmas.
However, those achievements, marvellous and unforgettable though they were, are now in the past.
Postecoglou is ready to start again and the no-nonsense coach said: "We didn't set out with any specific targets last year. We just wanted to be the best we could possibly be.
"It will be the same this year. If we can improve on our performances from last year, which we have to, if we can improve on everything we do, then we're going to finish in a pretty good spot.
"We don't know what that means in terms of tangible results. But every year I've started a football season I want the team to be the best it can possibly be.
"Again, that's our aim this year."
GREEN FOR GO…Ange Postecoglou back on the training fields at Lennoxtown.
Pre-season training began for the non-internationals at Lennoxtown in late June and then the full complement of players were prepared for the 10-day training camp in Austria where the team will face games against SC Wiener Viktoria and Rapid Vienna before taking on Czech Republic side Banik Ostrava.
A trip was also arranged to face Legia Warsaw in a special encounter for legendary keeper Artur Boruc.
Championship outfits Blackburn Rovers and Norwich City will play at Parkhead on the Saturdays flanking the match in the Polish capital.
Postecoglou continued: "These games will be super important because, once we get to the first round of the Premiership, we know from them on up until the break in November, we are going to be going at it and we want to be ready. We HAVE to be ready.
"We know we got off to a slow start last year and we certainly don't want to be doing that again with so many important games early in the season.
"So, I think it is a good programme we have put together with the mixture of us going away which is great and playing against different types of opposition.
"We have a couple of games at Celtic Park and a couple of sort of European trips in the middle, which, hopefully, prepare us for the Champions League and the travels we have got there.
"So, we have tried to put a programme together which we think will give us the best chance of being ready."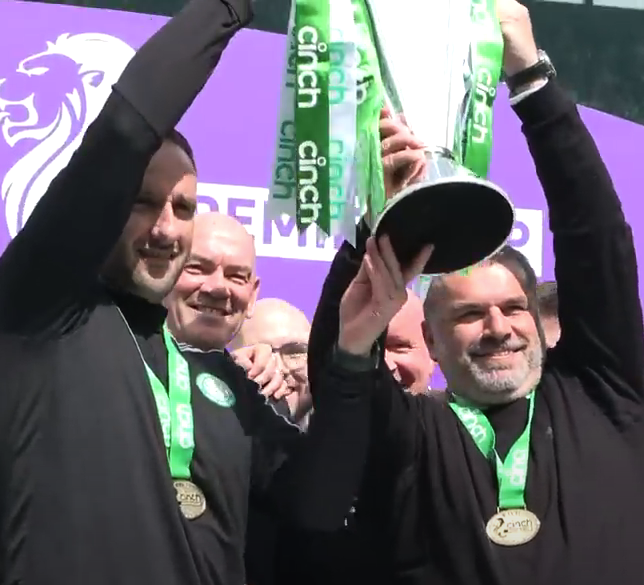 FLAG HAPPY…Ange Postecoglou and assistant John Kennedy hold aloft the Premiership trophy after the 6-0 win over Motherwell in Paradise on May 14.
After his whirlwind departure from J-League Yokohama F Marinos to be named Neil Lennon's successor on June 10 last year, the manager insisted he has now recharged his batteries.
Postecoglou remarked: "I had a good break. When you are in the middle of it, you don't realise that was a pretty hectic 18 months for myself.
"For my family, obviously, coming from Japan midway through last season and going right through to the end of the year, it was great just to spend time with them.
"I got a little bit of a chance to reflect on my first season. You want to switch off a little bit and that includes reflecting on last year, even though you are still thinking about football.
"But I think we had a great final day at Celtic Park and we had a week after that to sort of get around the place and talk to people.
"Not just at the football club, but, more importantly, what it meant to our supporters.
"So, I had a good week here in Glasgow after we played the final game. When I went away I tried to switch off, but as the weeks went on, I started thinking about this year."
Looking back at the scenes at a rocking Parkhead as the final curtain came down on a momentous season, Postecoglou added: "It was a special day I think for everyone.
"We knew we were champions by that point, but credit to the lads and everyone involved, they wanted to make it a really special day with a good performance.
"That allowed everyone to enjoy it in their own way. It was just great to see. My family was out on the pitch as were all the boys' families.
"So, it was great to see them share the moment. It was just brilliant to see our supporters enjoy it more than anything else.
"It was good to switch off and reflect a little bit on last year. But I'm ready to get going again."
* TOMORROW: Don't miss the fourteenth thrilling instalment of CQN's EXCLUSIVE tribute to Ange Postecoglou.
Click Here for Comments >