ANGE POSTECOGLOU celebrated becoming a Celtic Centurian when he guided the champions to a 3-1 win over Hearts at Parkhead on the evening of March 8.
Asked about his proudest moment on reaching 100 games in charge, the Hoops boss answered: "The day I was appointed. All you can ever ask in life is for an opportunity and if people give you that opportunity then the rest is up to each individual to take that."
Before lifting three more points against the Edinburgh club, though, Postecoglou had to face St Mirren in Paisley three days earlier.
The Saints were the only Scottish team to beat the title kings back in September with the visitors on the wrong end of a 2-0 scoreline in their worst display of the season.
CALM BEFORE THE STORM…Ange Postecoglou inspects the St Mirren pitch in Paisley.
Celtic walloped Stephen Robinson's men 5-1 to take their tally to FOURTEEN goals in three games since the earlier setback.
The Hoops turned over Stephen Robinson's side 4-0 in the league at Parkhead in January and followed that up with a 5-1 victory in the Scottish Cup at the same venue last month.
The Hoops trailed 1-0 at the interval in Paisley on this occasion due to a controversial VAR-assisted penalty-kick in only in the sixth minute when Greg Taylor was adjudged to have handled the ball.
It was a preposterous decision by referee David Dickinson after he had been instructed to review the incident on his monitor on the touchline. Mark O'Hara gleefully accepted the gift and whipped a low drive past Joe Hart at the keeper's right.
Remarkably, that was to be the home side's only shot on target all day.
Trevor Carson, on the other hand, had to work overtime to repel incessant Celtic raids, but had no answer to strikes from Filipe Jota, Alistair Johnston, Liel Abada, Matt O'Riley and Oh Hyeon-gyu, with a late penalty-kick.
Ange Postecoglou said: "We knew it would be a tough challenge for us here and after the penalty decision we had to maintain our composure and discipline and I thought the lads did that.
"We didn't get too carried away with the state of the game at that time and for the most part, we handled it well.
"Even when they went down to 10 men I thought we maintained our composure again and I thought the guys coming on gave us that extra bit of energy and drive."
Abada had a massive influence when he was introduced for the ineffectual Daizen Maeda at the interval and Postecoglou added: "He was great, all the boys that came on were fantastic in making an impact on the game and Liel was certainly one of those.
"The way the game was set up I thought it was going to suit him because he would have had a bit of space to beat people and he's a really hard player to stop and he's always a goal threat.
WALLOP…Liel Abada flashes a drive low past St Mirren keeper Trevor Carson.
"Credit to him because he's a young man who has played a lot of football over the past two years and through that time he's been consistent in making an impact on the game and he keeps improving."
Postecoglou enjoyed his centenary landmark occasion three days later and joked: "I guess 100 games is fairly significant and it would have been fairly long odds when I started the job that I would reach it, so I guess that's something.
"I don't think about those things. What I think about is my responsibility at the moment, which is to produce a football team that brings success and that the fans can be proud of.
"That's the responsibility you have being at this football club, that you understand tangible success in terms of trophies is an expectation.
"I clearly understood that and I knew I had to deliver fairly quickly if I was to be here for 100 games.
"Not because of the club's stance, but because I know that's what the club demands."
Postecoglou continued: "From my perspective, my focus is on the football and the team we want to be and the football we want to play.
"With that, what we've achieved in just over 18 months has been probably the most pleasing part and we're well down the track in playing the type of football and being the team I want us to be.
"It means that I can keep accelerating this and make us a more compelling football team and that's where I probably get the most satisfaction.
"Being given the opportunity to manage this great football club was the best day for me and I've just been working hard ever since to repay that faith that people showed in me."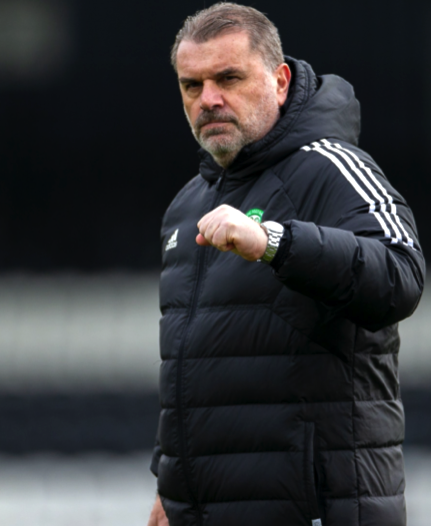 VICTORY SALUTE…Ange Postecoglou acknowledges the Celtic fans at the end of the 5-1 win in Paisley.
On the actual game, Postecoglou applauded the efforts from Daizen Maeda, Kyogo Furuhashi and Sead Haksabanovic that maintained the champions' nine-point advantage.
He said: "We had to work hard for it, we didn't seem to get into our groove in terms of our football.
"Some of that is because I made a few changes and that disrupted things and the two full-backs haven't played in a while, so I have to make allowances for that.
"Ultimately, the players still showed a really strong mentality and it's highlighted again with the quality of our three great goals.
"Kyogo was brilliant and there were so many opportunities to play him in and we just have to be a bit smarter in the way we play our football.
"He never stops running and he broke through with the perfect timing for the equaliser and it was a great ball for Daizen, as well.
"It was important the guys coming on stabilised us and getting the goals helped that. It's a big part of who we are and with three games this week, we knew we had to call on people and the guys coming on did well."
The Hoops chief added: "Sead was brilliant and it was a great goal and we know he has that quality.
"He hasn't had a real extended run in the team for a number of reasons and every time he's been called upon he's been excellent.
"He's got a great attitude and it's great for him to get a reward and he's another player who can give us more and he will."
BAWL BHOY…Ange Postecoglou shouts on some instructions at Tynecastle.
Celtic staged an action replay against the same opponents as they won 3-0 in the Scottish Cup encounter at Tynecastle the following weekend after the Hoops had thundered out of the starting blocks as they swept Robbie Neilson's team aside with a blistering performance right from the kick-off.
Aaron Mooy set the game in motion and, following 10 successive passes among his team-mates, Reo Hatate was presented with an opportunity inside the box. The impressive Japanese playmaker walloped in a ferocious drive which was superbly turned around the post for a corner-kick by the acrobatic Zander Clark.
There were only THIRTY-SIX seconds on the clock and no home player had even got close to getting a kick until they were bailed out by their keeper.
Inside two minutes, even the towering netminder had no answer to a sublime first-timed left-foot effort from Aaron Mooy from around the penalty spot that hurtled over his shoulder high into the net.
After Kyogo Furuhashi and Cameron Carter-Vickers, an unlikely striking double-act, had added to the final scoreline, Postecoglou beamed: "We got off to a great start and that set us off, so it was a really strong performance away from home.
"I thought that was important, when you come to Tynecastle you don't want to give their crowd too much to be up about, particularly early in the game.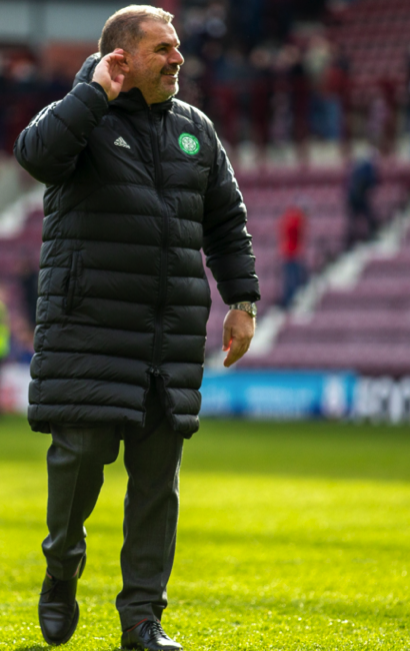 EAR, EAR…Ange Postecoglou in playful mood after the 3-0 Scottish Cup victory over Hearts.
"So, we spoke about that – again, speaking about it is one thing, but the lads really got into the game really quickly and with the quality of our football, we had a chance really early on and scored a good goal.
"The most important thing is that we didn't really give them any oxygen to get a breather in that first part, and I thought that sent us away."
Celtic played Hibs at Parkhead on March 18 in their final game of the month before the international break and they had to come from a goal down to triumph 3-1 with strikes from Filipe Jota (pen), Oh Hyeun-gyu, with his first home league goal, and Haksabanovic.
Speaking about the qualities of new Bhoy Oh, Postecoglou said: "He's a good player and he will be a good player for us.
"We're easing him into things here and he's still learning a lot, but you watch him at training every day and he's got a real presence about him inside the penalty box, and it was good for him to get the goal today.
"I thought when he came on he made a difference just with his physicality."
The Hoops maintained their nine-point advantage after their nearest challengers had won 4-2 against Motherwell at Fir Park earlier in the day.
Postecoglou added: "There were always things happening other than the football and we just couldn't really get into a rhythm or a flow and impose ourselves on the game.
"So, we had to work pretty hard and stay pretty disciplined through that and, again, credit to the lads. In the second-half I thought we maintained our composure a lot better and made the impact when we needed to."
Four games played, four wins, 14 goals and only three conceded – not a bad way to crash the 100-game barrier.
RESULTS
March 5: St Mirren 1 CELTIC 5
Jota, Johnston, Abada, O'Riley, Oh (pen)
March 8: CELTIC 3 Hearts 1
Maeda, Kyogo, Haksabanovic
March 11: Hearts 0 CELTIC 3
Mooy, Kyogo, Carter-Vickers
March 18: CELTIC 3 Hibs 1
Jota (pen), Oh, Haksabanovic
* TOMORROW: Don't miss the twenty-third thrilling instalment of CQN's EXCLUSIVE tribute to Ange Postecoglou.
Click Here for Comments >