BRENDAN RODGERS is back in charge of Celtic after an absence of over four years.
The Irishman won seven successive domestic honours during his first spell as manager after arriving in May 2016.
It was a rollercoaster two and a half years before he departed Parkhead in hasty and controversial exit.
Life was rarely dull when the charismatic gaffer was around.
In another CQN EXCLUSIVE series, we are celebrating Rodgers' second homecoming by going back right to the start of his Celtic adventure.
Author Alex Gordon, who has had fifteen Celtic books published, including '50 Flags Plus One', 'CELTIC: The Awakening' and 'That Season in Paradise', opens the pages of another publication, 'The History Bhoys', to chart the progress of an extraordinary character.
Please enjoy.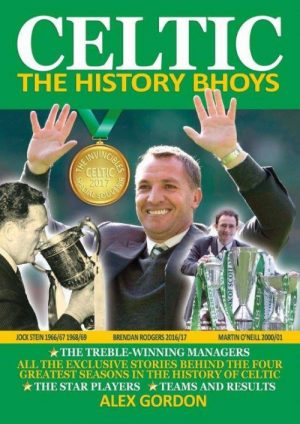 AFTER guiding Celtic to their sixth successive Premiership crown with a five-goal annihilation of Hearts in Edinburgh on April 2, 2017, with eight games still to play, there was further good news for the jubilant supporters when Brendan Rodgers announced he would be signing a four-year extension to his contract.
Once again, the soothing articulation from the popular Irishman was nothing short of melodious to the ears of those of a Celtic persuasion.
"We always want to win the league and as long as I am here that will be the aim," he said.
Was there some blarney involved when Rodgers insisted the deal had NOT been put in place for him still being around to help the club to the magical ten successive titles?
He answered: "The length of contract wasn't necessarily built around that. It was more of a commitment looking forward in terms of improvement, seeing some of our young players through from the academy.
"And it was going to be very hard for me to sit with Craig Gordon, Kieran Tierney, Tom Rogic and James Forrest and all these boys and ask them to commit their futures to Celtic while I was on a one-year rolling contract.
PARADISE…Brendan Rodgers at Celtic Park.
"It is a young squad, we have got some real good experience in there, as well, and over the course of four years that allows that group to develop and improve and I want to be a part of it.
"Players will always look at the manager and see how long he is connected to the club.
"If I am committed to the club fully, hopefully that makes it a little bit easier for them to make that decision. That is important and it felt right. I couldn't be happier. Personally, I'm in a great place.
"It's the beginning of the journey, we have only been here a short time. But there's a lot more to achieve, development of the club and that is exciting."
"For me, Celtic is the greatest club in the world. I have the privilege to manage it and while I manage it I want to make it the best I possibly can.
"I just love being here, love helping the players develop and making the team better."
And, as Brendan Rodgers spoke, memories of a confounding July evening in Gibraltar drifted seemingly into the mists of a bygone era.
The curtain had yet to come down on the season with the club due to face Aberdeen in the Scottish Cup Final on May 27 2017.
TOMORROW: Don't miss the seventh instalment of the remarkable Brendan Rodgers Story so far.
Click Here for Comments >