ANGE POSTECOGLOU is refusing to get caught up in the whirlpool of speculation that has linked him with Spurs.
Ill-informed reports are flying around like confetti in a storm and the Celtic manager has dismissed them as "purely guesswork".
Speculation is rife he is heading for the London club as the successor to Antonio Conte, sacked in March, but the 57-year-old Greek-Australian resolutely remains focused on the job at hand with the club he joined in June 2021.
BIG HAND…Ange Postecoglou acknowledges the Celtic support.
Postecoglou is preparing his players for Flag Day against Aberdeen at a sold-out Parkhead this afternoon as they embrace the last day of an arduous and ultimately successful second campaign under his astute leadership.
There is also a treble on the line – only the eighth in the club's history – when he takes the team across Glasgow for the Scottish Cup Final against Inverness Caley Thistle at Hampden a week tonight.
Responding to suggestions about his future destination, Postecoglou said: "I don't put timelines on things. If other people are trying to, then it's purely guesswork.
"I start every year and every job I do I do it as if I'm going to be here forever. The reality is that I'm not going to be.
"I hope people know me well enough now and I have never thought about anything other than being present in where I am. That's the only way I know to work.
"I have never charted a course for my career. There is no chance you could bridge the dots that brought me from Melbourne to Glasgow. It's not something you can do, 'In two or three years time I want to be there'.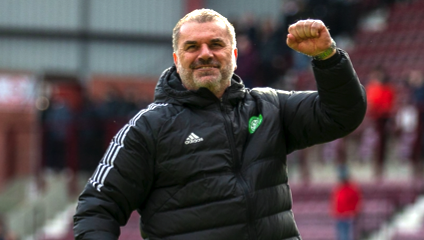 JUST CAPITAL…a delighted Ange Postecoglou celebrates his second successive title at Tynecastle.
"The only thing I have ever done is do the job I have as well as possible, have success and keep doing it until the circumstances change. For me, right now we have a big game. It's an important, special day when we get the trophy.
"Then we have the Cup Final. It's a big week coming up."
Postecoglou, who has just won the Scottish Football Writers' Manager of the Year award, isn't getting carried away with his name dominating the sports pages of the English newspapers.
The Hoops gaffer, speaking to The Scotsman, continued: "That doesn't really rock my boat. Being on the back pages of papers isn't what drives me.
"All I have ever tried to do is the job I have to the best of my ability, bring success and rejoice in that. Not worry about what happens next, or when it happens, or if it happens. When you do that, you miss the opportunity of where you are at right now.
"The most important recognition of what I do comes from the people I am representing. If the people at the club and the supporters are recognising what I do, that's all I need."
Asked about his reaction to fans' concerns he may be lured across the border, Postecoglou responded: "I understand that. It's only natural and I guess it's the same with players.
CROWNING GLORY…Ange Postecoglou with the title silverware in May last year.
"As a manager, I love to think that we will keep all our players for the start of next year, but the reality is that it probably won't happen. I think it's the nature of football and we understand that.
"But whatever the future holds for me or anyone else this football club continues to exist, it continues to be successful. That doesn't change."
Postecoglou added: "Every decision I make is a decision I think will be good for this football club or any football club I work for.
"It's not even about what offers I get. It's about sort of how I feel or how the club feels. If we don't start well next year and we are second and you guys start putting the heat on me then the club starts thinking about my future.
"That's the reality of it, the truth. I don't live in some universe where I think I am untouchable. That's the reality and you deal with it. And that's why I have always made sure that my efforts and consciousness is focused in the here and now.
PARADISE…Ange Postecoglou and his Celtic players on a lap of honour at Parkhead.
"I don't worry about tomorrow. Look at the Premiership this year and how many managers started and finished the year? Not many.
"It's about how you feel and when you get to the end of the year how you feel about the next challenge. That doesn't mean you do it because it is there. There has to be reasons for it to happen.
"I've never taken anything for granted, never looked too far ahead and never worried about the next step.
"I know that if I don't worry about what's happening here right now my future gets taken out of my hands. I don't get to decide anything, other people decide it.
"I have been determined my whole career to have my destiny in my own hands. I wouldn't like to lose control of that."
* DON'T miss the unbeatable match report and best action images from Celtic v Aberdeen this afternoon – only in your champion CQN.
Click Here for Comments >