JORGE CADETE'S whirlwind spell is covered in some detail in CQN's most recent book The Winds of Change. Here an extract which may make you think about Res 12 and the only way to deal with the SFA….
Tommy Burns emulated the legendary Jock Stein in season 1995/96 – and won nothing for his exceptional efforts. Extraordinarily, Burns, in his second campaign in charge of Celtic, suffered one solitary league loss in thirty-six examinations just as Big Jock had managed in 1967/68 during a thirty-four game league season.
There was one major difference, though. Burns saw his team finish four points adrift of Rangers while Stein picked up his third successive crown, two points ahead of the Ibrox outfit.
Burns had transformed Celtic from the previous season, earned accolades for the way he had got the team playing, all neat passing and fluent movement, rapturous applause avalanched in his direction for bringing colour back to the grey east end of Glasgow, but the trophy cabinet wasn't exactly groaning under the weight of silverware while the Scottish Cup was bereft of company. And, in a results-driven business, that was all that mattered to the Celtic manager.
The previous term he had brought in Pierre van Hooijdonk, Phil O'Donnell, Andy Walker and Tosh McKinlay for a total outlay of £3.9million. As Burns plotted for the new campaign, he admitted, 'I was only too aware of Rangers sources being quoted almost on a daily basis that they were now going for eight successive titles, then nine would be the target to equal Celtic and then into double figures. We couldn't stand back and let that happen. I knew the players I wanted, the quality of the individual who would wear the green and white hoops. We had all worked hard throughout the summer because we knew we had to turn the corner once and for all.'
Andreas Thom was the surprise close season signing when he arrived from Bayer Leverkusen on August 4. The former East German international attacking midfielder was once rated as one of the very best by none other than the iconic Franz Beckenbauer, who conceded Thom might have been worthy of a place in West Germany's World Cup-winning team of 1974. Fanciful figures were bandied about concerning the exact amount of the transfer fee with many insisting it was £4million, just £300,000 short of the reported figure paid by Rangers for Paul Gascoigne from Lazio the previous month. The truth is it was almost half Gascoigne's valuation with the deal being concluded and the Bundesliga outfit picking up £2.2million. There was no way Fergus McCann would sanction a £4million move for a player who would be thirty on his next birthday with little or no sell-on value.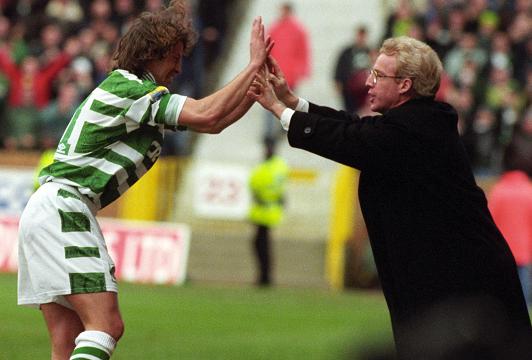 Three days after the razzmatazz of Thom's arrival, there was barely a ripple when John Hughes, a rugged, no-nonsense centre-half, arrived from Falkirk in exchange for £350,000. Burns had identified central defence as a problem area, as it had been for predecessors Liam Brady and Lou Macari. Over the course of the first half of the season, versatile Jackie McNamara, son of the former Celtic favourite of the same name, joined in October in a £600,000 shift from Dunfermline and Danish midfielder Morten Wieghorst would cost an identical fee from Dundee in December. Portuguese attacker Jorge Cadete turned up in March the following year in a convoluted and protracted transfer after falling out with his club, Sporting Lisbon.
There were remarkable scenes at Parkhead when Jorge Cadete was introduced to the Celtic fans in the 37,017 crowd before the league match against Partick Thistle on February 24 1996. The frizzy-haired Portuguese international was still wrapped in red tape while wrangling went on with club side Sporting Lisbon to come to an agreement about his transfer. Celtic would eventually discover that very little was straightforward as far as this individual was concerned. The rain was spiralling from the ominous, angry clouds above the east end of Glasgow as Cadete took to the pitch, waving and smiling radiantly at his new set of soon-to-be beguiled followers. Celtic won 4-0, but the loudest cheer of the afternoon rang around the ground when the player kneeled to pick up some blades of grass and kiss them. Without kicking a ball, Cadete became an instant hero with the fans….
…On April 1, though, the Parkhead fans were in raptures after Jorge Cadete, following a delay of five weeks waiting for his clearance, finally made his debut. Tommy Burns was hoping the late introduction of the prolific marksman might just give Celtic the impetus to get over the finishing line. The Portuguese striker came on for Andreas Thom in the seventy-third minute and two minutes later scored with practically his first touch of the ball. The Dons had already taken a battering and were trailing by four goals, two apiece from Pierre van Hooijdonk and Simon Donnelly. Peter Grant created the opportunity with a raking pass through the already-exhausted defence and Cadete swept onto it, carried it on and whacked the ball past the advancing Michael Watt. You only get one chance to make a first impression and the Portuguese striker didn't pass up the opportunity.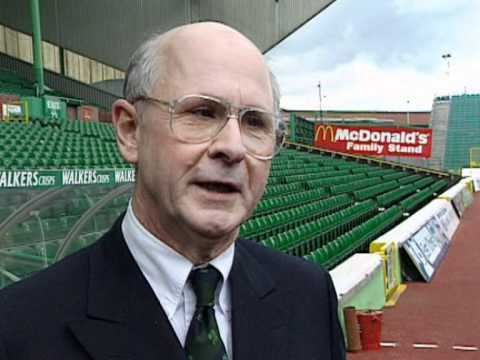 Now there was the little matter of a Scottish Cup semi-final meeting with Rangers at Hampden on Sunday. And there was drama even before the kick-off.
Celtic were informed by Jim Farry, the Scottish Football Association Chief Executive, they would not be allowed to field Cadete. Apparently, he had not been registered in time for the national competition although the Scottish League had already been satisfied that everything was in order to allow him to play against Aberdeen. Fergus McCann was not convinced and immediately sought legal advice. It was a courtroom saga that would be drawn out over almost three years. The stubborn Celtic Managing Director refused to accept any of the explanations put forward by Farry, who was known as an infuriatingly bumptious and punctilious powerbroker within Scottish football's HQ.
The case revolved around the wording of an International Transfer Certificate for Cadete. Celtic forwarded the ITC to the SFA on March 7 1996, with all the other relevant paperwork arriving a fortnight earlier. Initially,  the club believed the player was a free agent. He wasn't, but that should have had absolutely no bearing on Farry registering Cadete. Celtic could not convince him of this because of a 'conditionality clause' within the ITC. Under law, this was an irrelevance, as a fax from the world's governing football body, FIFA, explained. Yet, it was not until Celtic lodged a third application to register the player at the end of March that Farry was eventually persuaded of the fact. Under the SFA's 14-day clearance rule, that was too late for Cadete to face Rangers. On March 8 1999 Farry was sacked for gross misconduct. McCann had won his argument, but it was too late to help Celtic's Scottish Cup cause three years earlier.
It makes you wonder, how would Fergus have dealt with the SFA Chief Executive over Resolution 12?
————————————————–
Order your copy of The Winds of Change, for only £13.99  HERE or click on the image below.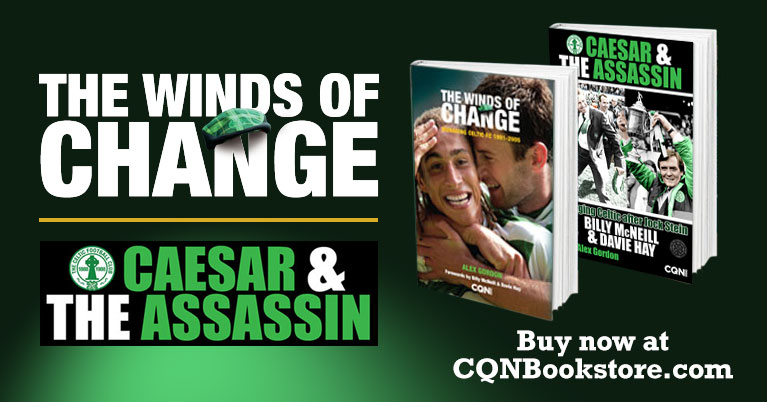 Click Here for Comments >