ROBERT SNODGRASS appears to have closed the door on any possible move to his boyhood heroes Celtic.
The Scotland international midfielder has pledged to give everything for Hull City after their Premier League Play-Off Final win over Sheffield Wednesday at the weekend.
Snodgrass has been consistently mentioned with a move to Parkhead and he said: "To be honest, I think everyone and their dog has messaged me about the Celtic link.
"As a player, you are the last to know about these things.
"A new manager has gone into Celtic and it's great for Scottish football I have to say, but for myself I am a Hull City player.
"The supporters have been terrific for me. I have a three-year contract and I'm going to give this club every drop I have until I'm told otherwise.
"I have been through so much. These team-mates of mine are brilliant. I have a great rapport with them and I love going into training every day. We go in with a smile on our faces.
"I can't control what happens outside, but I have focused everything on the club. I have loved every second of Hull."
It was thought that Hull would have been prepared to allow Snodgrass to move on had they lost out to Sheffield Wednesday in the Play-Off match on Saturday.
However with Steve Bruce's position as manager uncertain to say the least, there may still be an opportunity for Brendan Rodgers to get his man.
Bruce has let it be known that he wants assurances from the Hull owners if he is to continue and that looks like a collision course with only one winner.
It's a story worth keeping an eye on.
————————————————
Three weeks to Father's Day. Why not order a SIGNED copy of Lisbon Lion Charlie Gallagher's new biography from CQN Bookstore and we'll send you a FREE copy of The Winds of Change. One for you, one for your dad. Then swap!
Just order the Charlie Gallagher book 
HERE 
and we'll do the rest!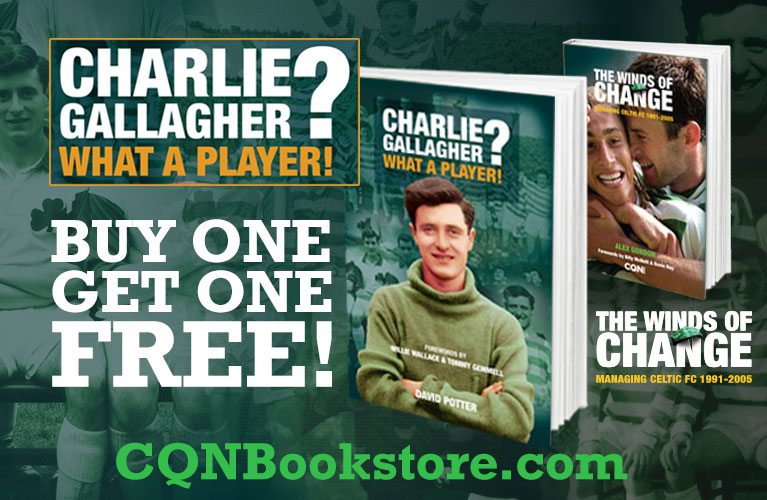 Click Here for Comments >