LISBON LION Bertie Auld was the heartbeat of the Celtic side that conquered all in the sixties.
CQN are celebrating the life and incredible times of the club legend in an EXCLUSIVE series with extracts from his best-selling autobiography, 'A Bhoy Called Bertie', co-authored by his friend and writer Alex Gordon.
The remarkable story continues with Bertie getting the opportunity to return to his first love, Celtic.
Please enjoy.
THE shrill of the telephone in my Birmingham City club flat demanded an answer. I picked up the receiver and was more than just a little taken aback when I heard the immediate question, 'Do you want to come back to Celtic?'
Without a hint of hesitation, I asked, 'When? Tonight?'
I was on my way back to Paradise, a place I had always regarded as my spiritual home. The moment I had yearned for had arrived – as I still maintain I knew it would. I had left in April 1961 and it was now January 1965. I had enjoyed my experience in Birmingham, but Celtic were always my club and I had no problem in agreeing to rejoin them.
My wife Liz, though, must have thought I was going off my head. We were settled in a beautiful flat in Solihull. I had just become a father with Liz presenting me with our gorgeous daughter, Susan. I was a first team regular with Birmingham City, they were still treating me really well and I got on with the supporters.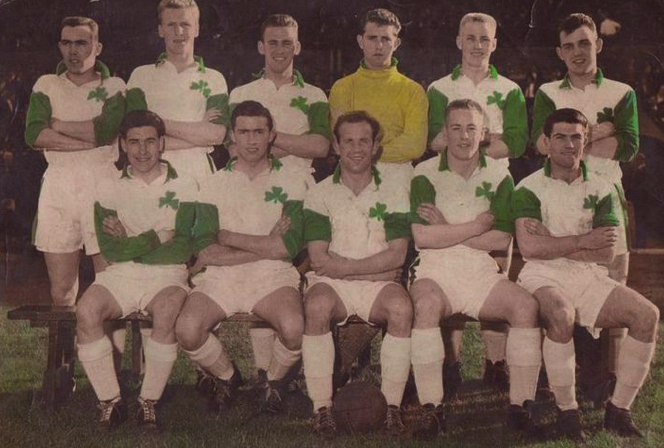 PARADISE… Bertie Auld (front row, extreme right) lines up in an early Celtic team photograph in the iconic 'Shamrock Strip'. Fellow future Lisbon Lion Billy McNeill is second left in the back row.
Yet I still wanted back to Celtic. I even agreed to take a £5-per-week drop in wages and, believe me, that was a fair amount of cash all those years ago. No wonder Liz thought I was going doolally!
But what can you do when the love of your life – after Liz, of course! – comes calling? Now a lot of people have asked me if I agreed to go back to Celtic because I knew Jock Stein was also about to return after his impressive managerial stints at Dunfermline and Hibs. Listen, the man in the moon could have been on the verge of becoming Celtic boss, it didn't matter. I was returning to Celtic and that was the main thing.
Yes, of course, I had heard the speculation that Big Jock was about to take over from Jimmy McGrory. Actually, Big Jock should never have been allowed to leave in the first place, but that's another story. Celtic agreed to pay Birmingham City £12,000 for me – £3,000 less than the Midlands outfit had forked out in 1961 – but they knew my feelings and, thankfully, weren't difficult to deal with.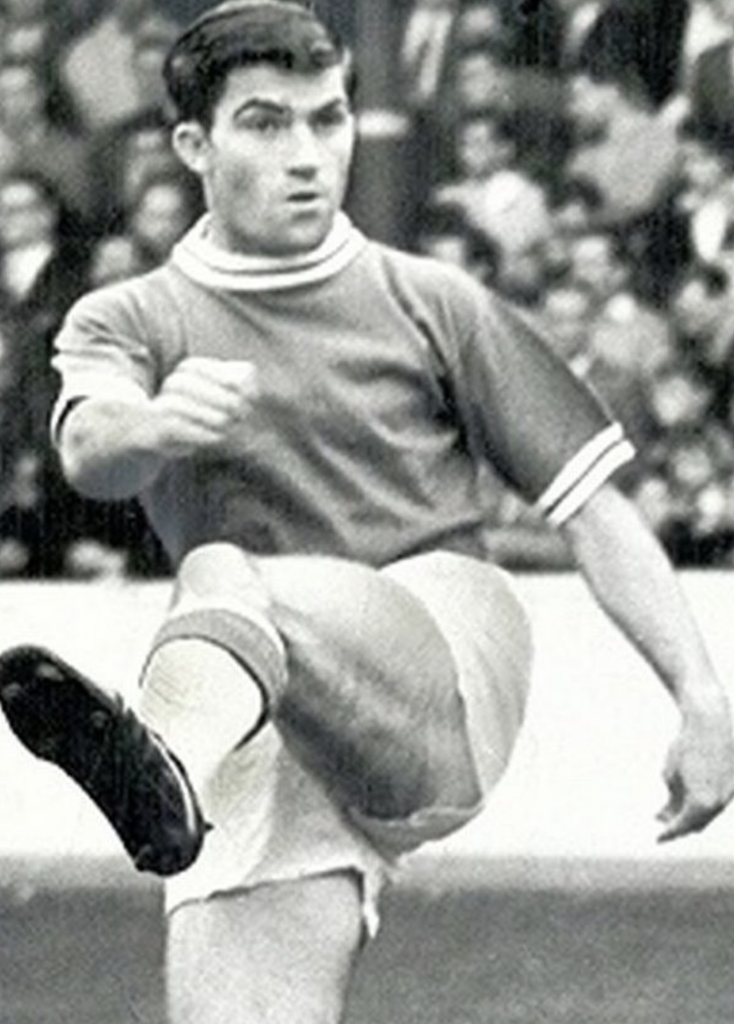 BYE BYE BLUES…Bertie Auld was quick to return to Celtic from Birmingham City.
I thanked the management for all their kind assistance, said my farewells to my team-mates of just under four years, picked up my boots and headed back to Paradise. Little did I know what lay in store for me this time around.
So, who actually bought me? Was it manager Jimmy McGrory? Was it his assistant Sean Fallon? Or was it Jock Stein?
I've never revealed this until now, but I have to say it was Big Jock. Technically, he should not have been allowed to have any say in matters concerning Celtic because, after all, he was the manager of Hibs. However, he certainly had something to do with my return, maybe dropping a word or two in the right ear.
That call asking me to return to Celtic just happened to come from a bloke called Dougie Campbell. Would you be surprised if I told you he was a close friend of Jock? I didn't think so.
The following day Birmingham were due to play West Ham in an English Cup-tie and I was overjoyed to see Sean outside the ground with another guy I knew, Tommy Reilly. He had driven the Celtic assistant boss down to the Midlands and, as soon as I saw them, I knew it wasn't a wind-up. I was, indeed, heading home.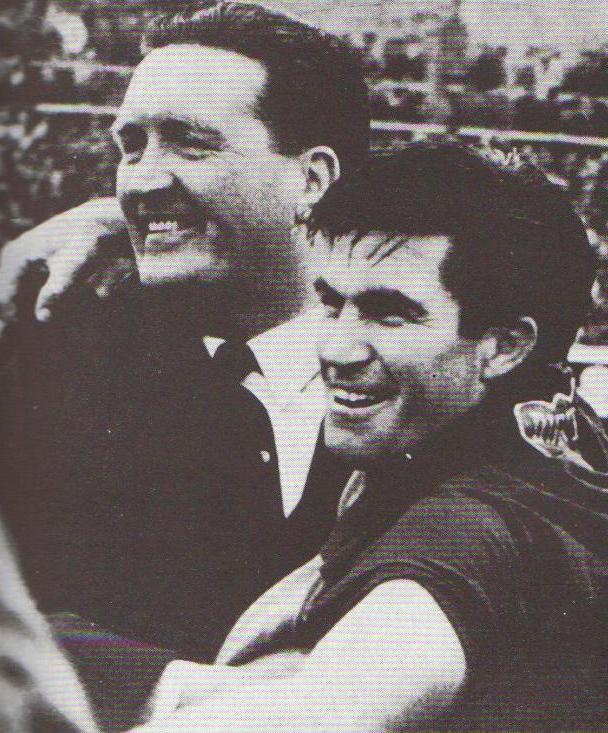 THAT'S MY BHOY…Jock Stein with Bertie Auld at the end of the historic 1967 European Cup semi-final against Dukla Prague in the Czech capital. 
I recall bumping into Big Jock when he was down in Birmingham to take in an English League v. Scottish League game around about that time. He was accompanied by Bob Kelly. The Hibs manager with the Celtic chairman? Draw your own conclusions.
Anyway, he was quite chatty and said, 'How are things going, Bertie? Enjoying yourself?' I answered honestly, 'I'm having a great time. I've just become a father, too. Everything is wonderful.'
Big Jock rarely indulged in small talk, but, on this occasion, he seemed genuinely interested in what was going on in my life, on and off the pitch.
Anyway, I arrived back in January and, of course, Big Jock returned two months later. Six weeks after that we were both celebrating a 3-2 Scottish Cup Final victory over Dunfermline at Hampden on April 24 in front of 108,800 fans. I was lucky enough to score two goals with Caesar, our skipper Billy McNeill, netting the winner with a trademark thumping header from a left-wing corner-kick by Charlie Gallagher, who was always so precise with his deadball kicking.
That triumph didn't seem likely when I made my second debut for Celtic on a cold afternoon on January 16 against Hearts at Parkhead as we toppled to a 2-1 defeat. There have been more spectacular comebacks in sporting history, I suppose. I wasn't caring, though. I was wearing that famous green-and-white hooped shirt again and I knew things would get better. How much better I just couldn't have dreamed.
I BELONG TO GLASGOW…Bertie Auld at his beloved Celtic Park.
Tommy Gemmell, Billy McNeill, Jimmy Johnstone and Bobby Murdoch also played in that defeat against the Edinburgh side. Who would have believed that TG, Caesar, Jinky and Chopper as well as yours truly – Ten-Thirty to you – would all help the club conquer Europe six years later? If you had even dared to make such an outrageous suggestion you would have been put on strong medication for the rest of your life.
If I needed to impress Big Jock in his first match in charge, I would like to think I achieved that target. We were playing Airdrie at Broomfield on the evening of March 10 and we walloped them 6-0 and I claimed five. I had scored five times as many in one game as in my previous five matches since coming home. Talk about good timing!
That was the problem with Celtic back then; an awful lack of consistency. Over the years when Celtic had won nothing they still had fabulous entertaining players. On their day, they could beat the best. A week later they could lose to the worst.
It was something Big Jock was going to address and if he needed a reminder of the hard work that lay ahead then he got it in his next game when we lost 1-0 at home to St.Johnstone. A week later saw a 3-3 draw against Dundee at Dens Park and immediately after that we went down 4-2 to Hibs in Glasgow.
That sequence of results just about summed up Celtic. One minute wonderful, the next woeful.
Big Jock had plenty to contend with as he attempted to awaken the club from its slumbers. I was ready to do my bit.
TOMORROW: DON'T MISS THE UNFORGETTABLE BERTIE AULD: PART EIGHT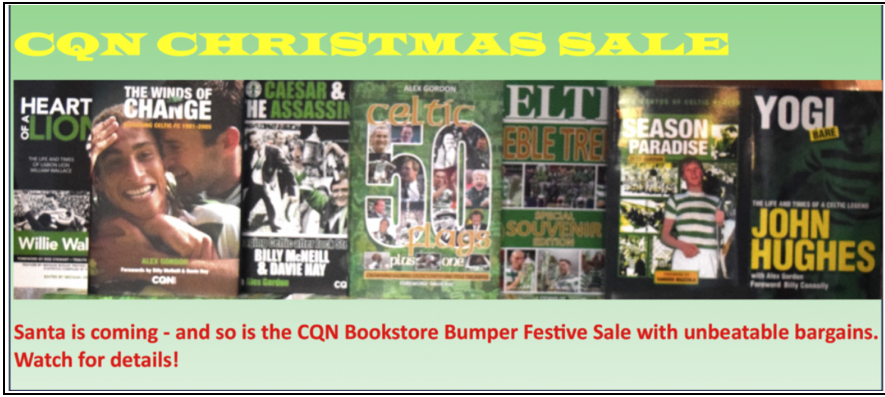 Click Here for Comments >