CELTIC players were still in shock from the European Cup semi-final first leg brawl against brutal Atletico Madrid when they travelled to the Spanish capital for the return game a fortnight later.
The explosive encounter in front of 74,000 shell-shocked fans at Parkhead on April 10 1974 had seen THREE visiting players red-carded and seven booked by the Turkish referee who fought a losing battle to keep the match under control.
Hoops legend Davie Hay played in both torrid ties and gave his forthright verdict of the first game in CQN yesterday.
The Hoops' former manager and player, now 75, reflected on the two astonishing confrontations in his best-selling autobiography, 'The Quiet Assassin,' co-authored by his long-time friend Alex Gordon, which was published in 2009.
In another CQN EXCLUSIVE, we bring you edited extract of the second head to head with a place in the European Cup Final at stake.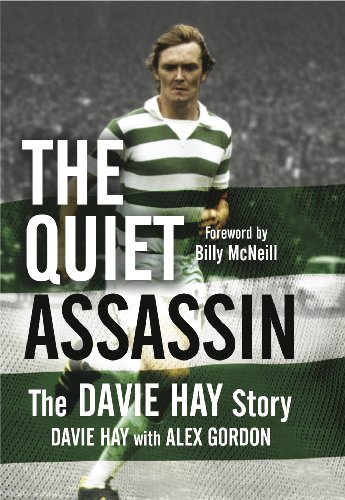 "THE Atletico Madrid fans had discovered in which hotel we were staying and they kept up a steady drumbeat for hours throughout the night before the game.
"They also got a hold of the telephone number in the room Jimmy Johnstone was sharing with Bobby Lennox.
"Apparently, Jinky's face went chalk white when he answered a call in the early hours of the morning. 'Bobby,' he screamed, switching on the bedside lamp. 'Bobby, they're going to shoot me!'
"Someone had threatened to kill him.
"Now, Jinky was as brave as anyone I have ever met, but he was more than just a little perturbed that he had just received a death threat. Who could blame him?
AFTER THE BRAWL WAS OVER…Davie Hay, Jimmy Johnstone and their defeated Celtic team-mates following the 2-0 loss in Madrid.
"He went to Big Jock to relay the news and our manager smiled and said, 'Aye, they've threatened to shoot me, too. At least, you can go out there and run about. I'm a sitting target in the dug-out!'
"The whole pathetic Atletico Madrid episode is one that is better forgotten. We were subject to abuse everywhere we went in Spain.
"Normally, the players will go out sight-seeing and suchlike. We would have needed an armed guard to leave our hotel such was the hostility shown toward us.
"The actual 90 minutes passed in a calmer atmosphere at the Vicente Calderon Stadium. We were doing reasonably well considering the circumstances and were drawing 0-0, but, as luck would have it, they scored two late goals and got through to the Final where they would meet Bayern Munich.
TARGET MEN…Jock Stein and Sean Fallon on the touchline of the Vicente Cauldron Stadium.
"And this bunch of louts and cowards came within a minute or so of winning the trophy. How unjust would that have been? Football would have been the loser.
"They were a goal ahead in the fading moments when the West Germans were awarded a free-kick. Their giant defender Georg Schwarzenbeck strode forward and blasted an unsavable effort into the roof of the net.
"I was watching the game on TV at home and I cheered as loudly as I would have done a goal from Celtic.
"There is a happy ending – Bayern won 4-0 in the replay with two goals apiece from Gerd Muller and Uli Hoeness."
* DON'T miss the unbeatable match report from Celtic v Atletico Madrid this evening – only in your champion CQN.
Click Here for Comments >