Five at the back is an orthodox defensive shape, it's not a headcount of defenders, which is the crux of where we went wrong last night: we chose the wrong system.
Consider the space between (debutant) Gamboa and Lustig at the first goal. No one was sure who should have been picking up Messi (reveal: it was Bitton, who didn't track the run). There was uncertainty – presumably because we tried a new defensive system out at the Camp Nou.
Another consequence of five at the back is that your fullbacks don't get midfield cover. Instead, Sinclair and Roberts were asked to work 40 yards out. This plan came at the cost of protecting Gamboa and Tierney.
The overwhelming tactical memory I have of our win against Barca four years ago was Neil Lennon doubling up in the fullback area.
Then we had two central defenders with Wanyama (a defensive mid, which Bitton is not) in front. Our two full backs were partnered with a wide midfield player. Diagrammatically that was four at the back, but whenever Barcelona were in possession (80% of the time), seven players were protecting the Celtic penalty area.
The abiding defensive memory from that night it the thicket of legs confronting Messi every time he got the ball. There was no space for him to pass and move into. Last night, he had more space inside the box to run into that he'll see all season. It was simply the wrong system.
During the game I was pretty annoyed at Bitton, who I blamed for the first three goals, but he's a deep-lying playmaker, not a defensive mid, and looked clueless in the position. Although even I know you need to track Messi's forward runs, and my 11-yr-old knew they were about to score the third the minute we conceded a free kick 23 yards out in front of goal. Reveal: barging players 23 yards out is a mistake that gets you spoken to when playing 2004s football.
We had numbers but not a coherent defensive strategy. The lessons from The Beating of Barca in 2012 were lost. Four years ago we twice played them with these back fours:
Lustig, Wilson, Ambrose, Izaguirre
Lustig, Wilson, Ambrose, Matthews (out of position)
None of Wilson, Ambrose, Izaguirre or Matthews (at left back) would get in this Celtic team. They were all pretty standard-grade defenders, but with protection on the wings and in front, it worked.
After we lost the third concentration levels dipped, tired legs after Saturday would have been energised legs if we were still in touch. I'd also tell Scott Brown not to worry too much about giving the ball away. We're not good enough to plan to regularly retain possession at the Camp Nou.
We're a 'two pass then lob it into the box or win a foul' team at this level. Accept this and concentrate on what's deliverable – "We are Celtic, try running through this thicket of legs".
Scotts Brown and Sinclair played well. Moussa will beat himself up about the penalty but it was inconsequential. Gamboa and de Vries looked lost, as all Camp Nou opposition debutants (there can't be many) and exposed keepers do.
It may have been the biggest loss in Europe but it doesn't even come close to being our worst performance. It's not even our worst performance in Europe of the season, so we'll get over it quickly.
You and I both remember seven goal victories being overturned a week later.  This is football.  The leap required to deliver a tighter defensive system is not the magnitude it may appear.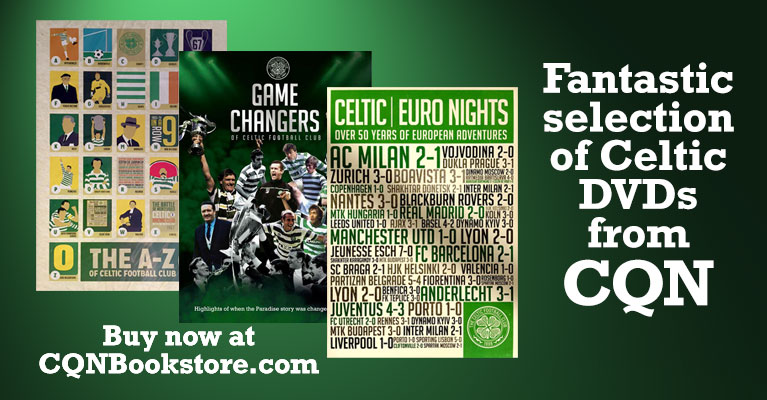 Click Here for Comments >