NEIL LENNON remains the only Scottish football manager to have been reported to the SFA and as a result had to serve a touchline ban for swearing. 
It has always been a source of amazement that no other football manager in Scotland has ever swore while at the match.
Yesterday as the elated Celtic manager approached the smaller group of Celtic supporters in the Moffat Stand to perform his second Ronny Roar, the Sky TV camera was practically in his face.  Many of you will have seen his from the television pictures but for those of us in the Moffat stand – who spent the afternoon trying to ousting the Celtic supporters in the sold out Chadwick Stand – this was perhaps just a little bit more special. Sometimes you have to be there to fully appreciate the moment.
"You can't control your emotion… or the words in those times!" explained Ronny shortly afterwards.
"I don't think I'm the only one in Britain who has been caught saying those words." No you're not but you are a Celtic manager and they do get caught!
"This is a big moment though, a very important moment. We need to lift the performance and there are only eight games to go so it's getting close.
"It's hard to say how much exactly but it was a very important goal," Ronny continued.
"It was a glimpse of magic in the last minute. When you win like that, you remember it for the rest of your life."
Ronny is first to admit that what had gone on before wasn't really good enough from a Celtic side chasing a Championship and every Celtic supporter in the ground knew that as well.
The Celtic gaffer, recognising this, said: "It was very frustrating. We didn't play well at all but you get three points in the end and then the day is perfect.
"I was so pleased with Tom, coming on and doing this, and the fans were fantastic as well."
The performance worsened when young Kieran Tierney was forced to be substituted after receiving a heavy challenge. The player will have his ankle checked today but still stands a chance of making his Scotland debut, as Ronny explained, "I don't think it is a big one. Hopefully he will reach the national team but he has to be 100 per cent."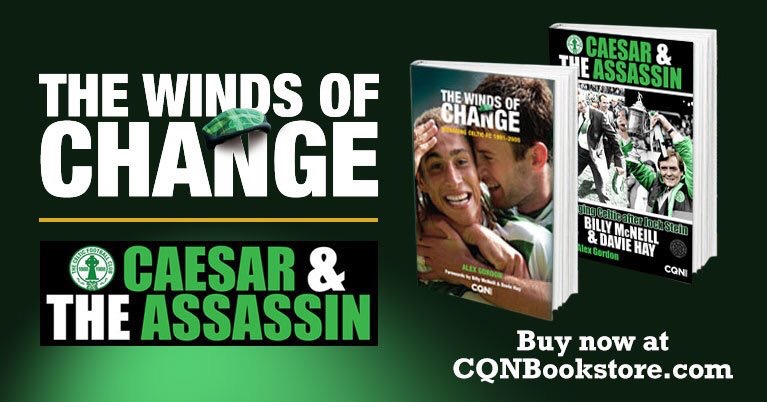 Click Here for Comments >