AT around 6.48pm precisely half-a-century ago today, Tommy Gemmell thumped home what Bertie Auld has always insisted is "the most important goal in the history of Celtic Football Club".
In the Estadio Nacional, on spectacularly gorgeous evening in the Portuguese capital of Lisbon, Jock Stein's team were trailing 1-0 to Inter Milan in the European Cup Final. Sandro Mazzola had swept an impeccable penalty-kick beyond Ronnie Simpson in the seventh minute.
What followed afterwards was the sort of glorious football you could set to music. The Scottish champions thundered forward in impressive, aggressive style, guile and grace laced with grit.
Bobby Murdoch and Bertie Auld were majestic in midfield, Jimmy Johnstone was dragging the dogged Tarscisio Burgnich all over the pitch and the interchanging between Bobby Lennox, Willie Wallace and Stevie Chalmers up front was creating all sorts of mayhem for the defensive-minded Milan outfit.
Celtic dominated as they took charge of the encounter. However, there was one problem – and that was the guy clad in black who protected the Inter Milan net, goalkeeper Guiliano Sarti. He looked unbeatable as he repelled raid after raid, swooping left and right to keep out an assortment of shots and headers.
It was going to take something special to beat Sarti if Celtic had any hope of becoming the first British team to conquer Europe.
Tommy Gemmell provided that something special.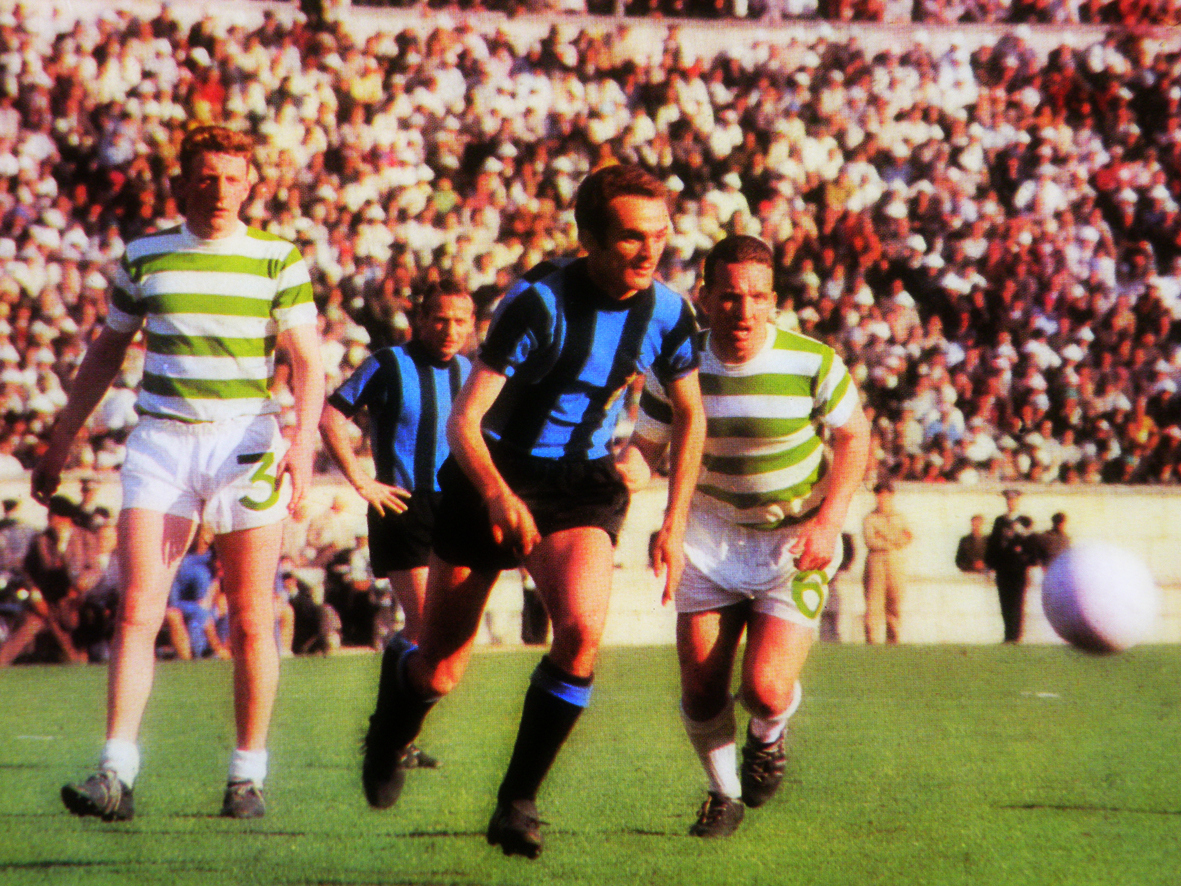 After over an hour of battering away at the Italians' citadel and getting nothing by way of reward, the flamboyant full-back raced onto a pass from Jim Craig and clubbed an effort of awesome power from just inside the box that saw the ball a mere blur as it exploded high over Sarti's right shoulder and strangled itself in the rigging.
"That was the goal that mattered," said Bertie Auld. "No disrespect to Stevie Chalmers, who, of course, got the winner, but until then we were wondering if we could ever get the ball behind their goalkeeper. He was utterly defiant. You couldn't help but wonder if we would ever score that day. It was a procession towards their goal, but we had nothing to show for all our efforts and endeavour."
Enter Tommy Gemmell with that unforgettable pulverising right-foot shot.
Celtic fans throughout the globe will celebrate that mesmerising, magical moment today, fifty years on from the most memorable occasion in the club's proud history.
Alas, my good friend Tommy Gemmell will not be among them.
He passed away on March 2 at the age of seventy-three following a lengthy illness.
Tommy Gemmell had been a special person in my life for many of those years. I was seventeen years old and working as a production journalist on a national newspaper when a football magazine asked me to get a "big-name Scottish player" to do an interview.
I had never hidden my admiration of Celtic. Why should I? I was always proud to be a follower of such a famous institution. As a kid, I would go to Celtic Park with my dad and two uncles and we had our place in the old ramshackle Jungle on matchday. It seemed as though that we had a place specially reserved for John, Hughie, George and a young me. My father John's favourite player was Big John Hughes, known to the fraternity around about us as 'Yogi'. Ironically, he, too, is a great friend these days. Uncle Hughie couldn't see past Wee Jinky and Uncle George was split between Bobby Murdoch and Bertie Auld. Obviously, spoiled for choice.
Me? My main man was Tommy Gemmell, a left-back who actually crossed the halfway line. It was unheard of. Jim Kennedy, the previous owner of the number three shorts, played in that position for six years. How many goals did he score? None. By his own admission, the sturdy, dependable Kennedy said: "I get a nosebleed any time I go into the other team's half."
Tommy Gemmell, thankfully, had no such problem. If he had, we might not be celebrating a special event in sporting history today.
Back in 1969, I telephoned my hero. I was a nervous wreck. I wondered what reaction I would receive from the man Jock Stein acclaimed as "the best left-back in the world".
Tommy Gemmell answered the call and it was one of my most surreal experiences. Here was I, Alex Gordon from Castlemilk, actually talking to Tommy Gemmell.
TOMMY GEMMELL!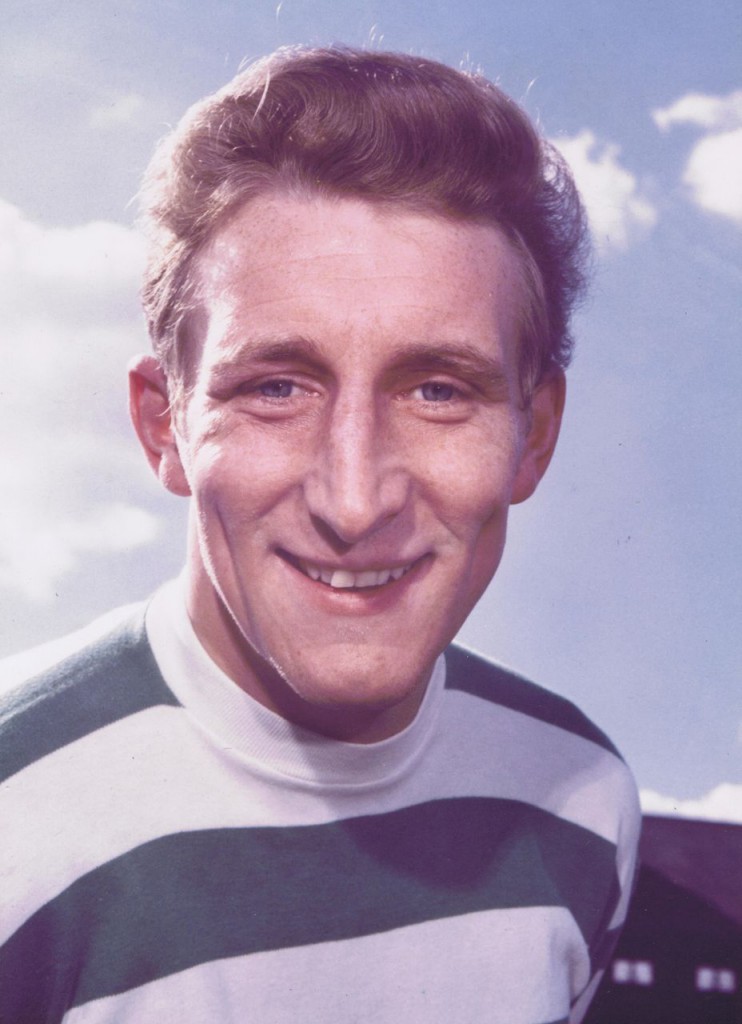 I identified myself – which would have meant absolutely zilch to the individual on the other end of the line – and I spluttered as I asked him: "May I steal five minutes of your time, Mr.Gemmell?"
"My name's Tommy," he replied.
Was he going to be awkward? They often say you should never meet your heroes for fear of being disappointed.
"I have been asked by a football magazine to interview a top Scottish player and I would like to interview you." I repeated my request: "May I steal five minutes of your time?"
"No you may not," came the response.
My heart hit the floor. Was my hero going to be entirely different personalty off the pitch, the guy who played a swashbuckling brand of football with a smile on his face?
"Take as long as you want, son," came the eventual reply. A simple act of kindness that immediately put a rookie journalist at ease.
That interview lasted the best best part of 48 years.
If you don't mind, I won't dwell on the latter years, but I will tell you Tommy Gemmell was an extremely courageous human being.
"Why should a living man ever complain?" he would say to me practically every day for the past six years. It became his mantra.
On the field, my abiding memory of Tommy Gemmell in a green-and-white hooped shirt was that exhilarating salvo that almost took the net away in Lisbon exactly 50 years ago.
Off the field, he was an exceptional and unique gentleman. Totally unassuming.
There will always be a special place in my heart for this man.
I suspect Tommy Gemmell knows that.
Written by Alex Gordon, who spoke so well at Tommy's funeral a few months ago.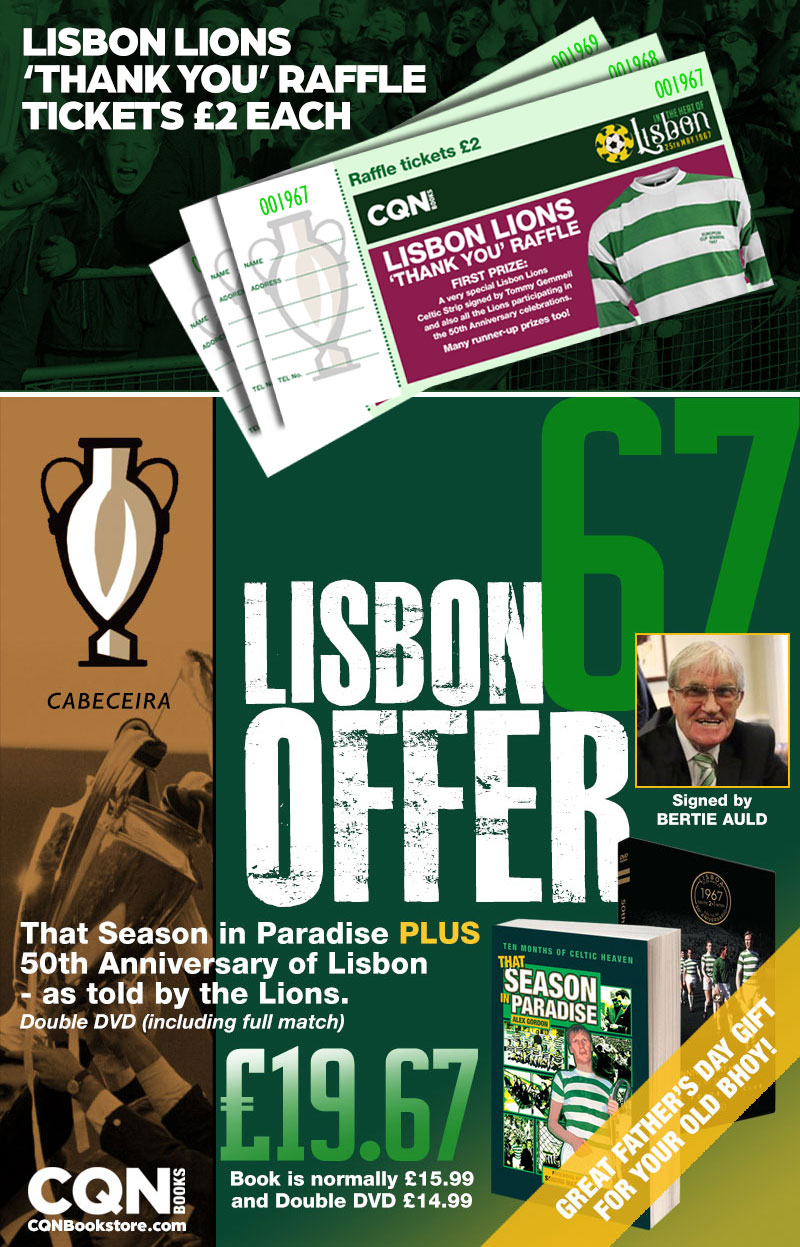 Click Here for Comments >