One of the drawbacks of football – at any level – is the ever present risk of injury. Over the past half century, Celtic have lost many fine players, often with devastating results for player and club. Hugh Gallagher looks at 6 such players for CQN. Yesterday he featured the goalscoring machine Joe Bride (read HERE) and the wonderfully talented George Connelly (read HERE).  Next up is Brian McLaughlin…
BRIAN McLAUGHLIN was a relation of mine who signed S forms (provisional signing), for Celtic, when he was just 12, for which he was paid £3/week. Celtic were the only team Brian was ever interested in and he was overjoyed when he became one of Celtic's youngest ever debutants, when he played his first game – a League Cup match against Clydebank, in September 1971, when he was just 16. Celtic won 6-2.
This was a very exciting time for a youngster to be starting out on his Celtic career. Many of the Lisbon Lions – Gemmell, Murdoch, McNeill, Johnstone and Lennox were still there; some of Celtic's most talented ever youngsters – Hay, Connelly, McGrain, Macari, Dalglish – were establishing themselves as top class players; excellent signings – Deans, Hood, Callaghan – had been made.
Brian was coming into probably the strongest squad in the club's history. It was a sign of his ability and self confidence that he was able to come into that group of players and still shine.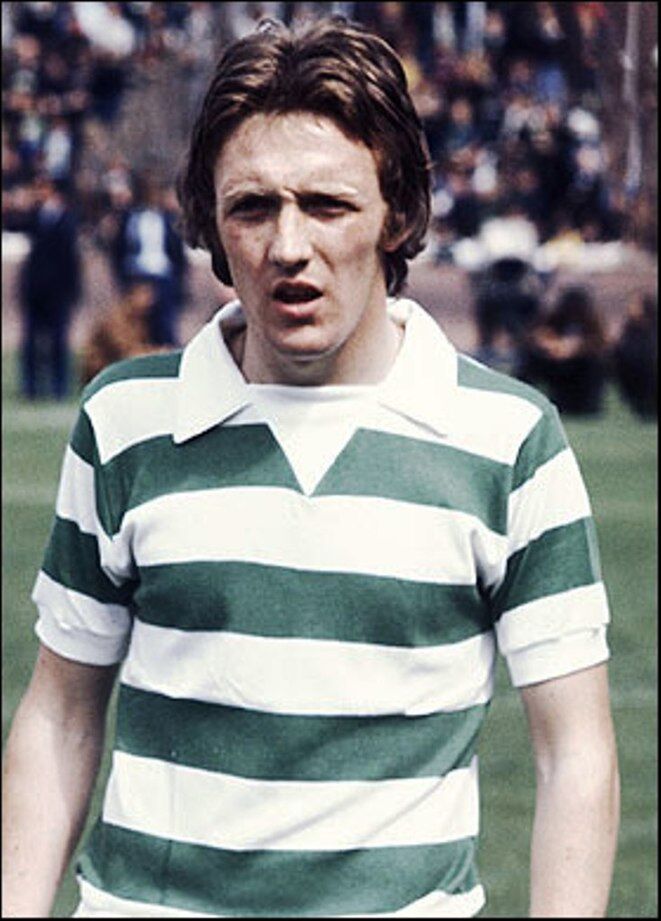 Initially, Brian was used sparingly. However, as 1973-74 started, he seemed ready to push for a regular first team spot.
He was multi talented – a strong runner, excellent passer, great vision, good crosser of the ball, thunderbolt of a shot, strong tackler.
Just at the time things looked bright, disaster struck. Celtic were playing Clyde at Parkhead. Willie McVie put in what could never be described as a tackle.
It was a dreadful, cynical challenge, which I witnessed and which left Brian's knee shattered and, effectively, ended his Celtic career. After a lot of surgery and rehab, Brian tried to come back but could never recapture his earlier form.
He started playing again towards the end of 1974-75 but, like George Connelly, started going AWOL. He went to Donegal to stay with relatives. At this point, Jock Stein was recovering from a very bad car accident. However, Sean Fallon, who was in charge, was able to use some of his many Irish contacts to arrange a temporary loan to allow Brian to complete 1975-76 as a Finn Harps (Donegal's only senior soccer team) player.
Brian returned to Celtic at the start of 1976-77 but the Celtic team had a settled look to it and there were very few injuries, so Brian played only a minor role in the club's League and Cup double. After a few players left in summer 1977, Brian seemed set to  establish himself again. He scored a goal in the first round of the European Cup but was finding it impossible to get his old form back.
He was transferred to Ayr United in November 1977, with right back Joe Filippi moving the other way to replace Danny McGrain, who was out with a bad injury. On December 31st 1977, Celtic fans got a taste of what they were missing when Brian McLaughlin scored a fantastic, individual goal for Ayr to give them  a 2-1 win over Celtic.
Sadly, Brian died, after a fall at a canal in Falkirk, when he was only 54.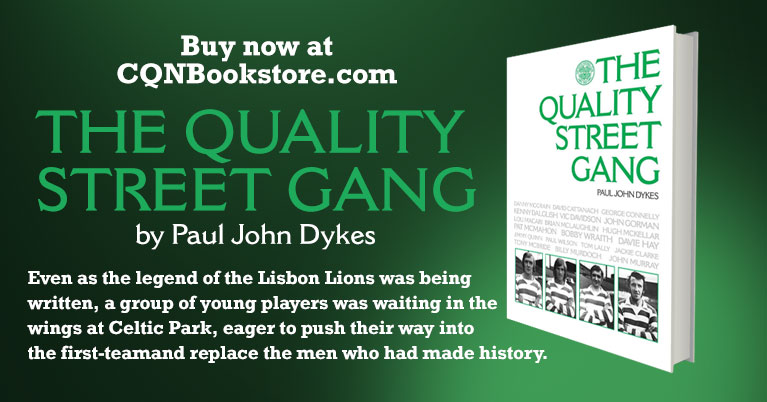 Click Here for Comments >