These days, we can pore over footage and pictures from the recent home CL game against Ajax via umpteen means and devices.  Detailed views on the match, volatile visiting Hollanders and frisbee seats can be tossed around on Twitter and fan forums worldwide.
The recent clash took me back to 1982 and George McCluskey's left foot winner in the 2-1 away victory over the Dutch masters in the European Cup 1st round. In general terms, that result is a notable one in our history. For me though, the way I managed to see the highlights back in '82 at the former Gordon Arms Hotel in Banknock (it's near Falkirk), is a treasured memory from my early teens.
No highlights could be shown in Scotland as Ajax had 'JVC' emblazoned across their shirts. The game was played prior to UK TV authorities finally caving in to commercial pressures in 1983, and agreeing to feature games involving teams sporting sponsored kit.
Whether or not to attract a club sponsor was a big issue 30 years ago. I clearly remember one of Danny McGrain's columns in Shoot's 'Tartan Talk' tackling the subject. From memory, I think Danny was expressing concerns about such a move and making it clear he could not support the club's transformation to 'Esso Celtic' or similar. Desirabilty of such an association aside, Danny was actually aiming quite high on the endorsement front. Still, the cars that People's sold will have used a fair amount of Esso product.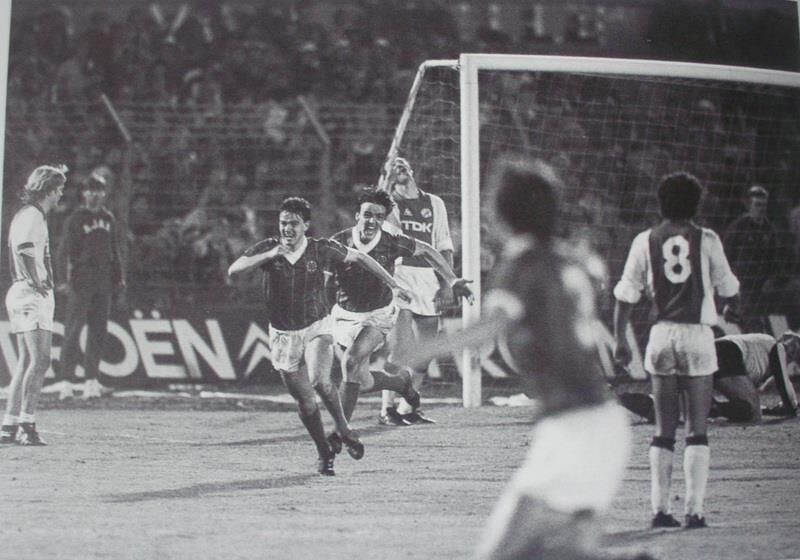 I digress. Back in 1983 the Gordon Arms Hotel was Banknock's premier watering hole. I think it is a residential care facility now – but back then it played host to a relatively newly formed CSC.
The games I went to on the bus from the Gordon Arms between 1983 and 1985 form some of my warmest and most beloved Celtic memories. This period included the Rapid Vienna 'chuck a can' game. Reassuringly, the venom I spouted about the outcome drained away over the years. But that game remains iconic for me. Viewed through a hazy time tunnel, I see it as typifying the frenzied atmosphere of the old Parkhead.
Actually, while I've got that time tunnel open, I'll make a clenched right fist and beat it softly against my chest for my 15-year-old self and Dad standing next to me at the edge of the Jungle.   
In 1982, newly arrived in Banknock from an idyllic childhood period living in the countryside near Bury in Greater Manchester, I was hanging around the Gordon Arms a lot. My aim was to make new friends, get to Parkhead on the supporters bus and maybe beat one of the older guys on the Pool team. This was the 'Wonder Years', Scottish style. Never mind wistful Americana. For me, rights of passage involved older kids dunting their cues against the floor when I slammed home a tough pot; lobbing my own 20p into the hat for the driver; and crossing the hallowed and turnstiled threshold into Paradise.
On the night of the game against Ajax, I seem to remember listening to Richard Park commentating on Radio Clyde.  Younger readers might, just, remember him as the caustic judge on the BBC's short lived 'Fame Academy'.
Next day at school, I heard that someone from the Gordon Arms supporters club had got hold of a videotape of the game, and that it would be shown in the pub's lounge that night. I duly rolled up in my West Ham-esque non-branded tracksuit top and blue cords. Too bad this innocent and wholly un-ironic look was to remain unfashionable until about 15 years later – when it became a Britpop uniform.
The smallish television, mounted on a towering cabinet structure, was set up and the tape slipped in. We didn't have a video at home at that point, so this was a rare treat. As the picture initially wobbled and then settled down a cheer went up. I sipped my juice as I watched Celtic give a very classy away European performance.
In preparing to record these memories, I thought I better watch highlights of the match on You Tube. My memory not being laser guided or razor sharp. My impressionistic view is that we seemed to play an attractive looking passing game – but with our midfield and forwards all crushed into the final third of the park, at the home team's end. Still, it worked that night. 
Back in the Gordon Arms those 31 years ago, both recorded goals were celebrated as if live.  In the title of this piece, I refer to the long lost Betamax format. If the Gordon Arms was actually in possession of a then state of the art VHS Ferguson Videostar, complete with chunky domino like buttons – my apologies.
In trading in nostalgia, the risk of sounding like a rubbish observational comic on a sixth rate clip show on Channel 5 is run. But in a past analogue age, post match analysis was conducted verbally, next morning, on school buses and in workplace canteens.
Social media has removed the dominance of the newspapers as opinion formers and official chroniclers of Scottish football. And this is undoubtedly a good thing.  Although, I do miss some aspects of the Scotsport style of presentation. Tweed jackets of worn-out brown and grey.  Perspiring pale-faced men with brill creamed combovers.  I'd rather have Arthur Montford's 'Aitken, Macleod, McGarvey, buries it' jabbing style than today's oily foghorns and their uninvited editorialising. 
I can see whatever I want now. But will any clip be as memorable as that grainy tape back in the Gordon Arms?
by Timmy Blethers 
Click Here for Comments >