CELTIC skipper Scott Brown's season was completed with the fifth successive title triumph in the win over Hearts at the weekend.
The midfielder, who has been hampered by the effects of tendonitis in both hamstrings in recent weeks, won't play again this season and is likely to sit out Scotland's friendlies against Italy and France. The Celtic skipper was rushed back into action after picking up an injury at the end of last year. He made the bench in the League Cup semi-final against Ross County but probably did not expect to feature that afternoon.
Efe Ambrose's dismissal and the Highlanders equalizing from the resulting penalty meant an early return to action for Brown who has played in every match since then while clearly not being 100%.
Brown, 30, wants to give himself as much time as possible to rest and recuperate before the crucial Champions League qualifiers in July.
After the win at Tynecastle, he admitted: "I think that's me done and dusted now.
"I need to close down for a few weeks and just concentrate on my fitness and try to get back to getting around the park. 
"I've been sitting in front of the back four the past few weeks and I've been struggling to do that. You could see in the last few minutes against Hearts I wasn't moving very well.
"Players get injured during the season and they come back and struggle – it's part and parcel of football.
"Everyone has done it, everyone has gone through a bad patch and the fans get on top of you.
"But it's how you bounce back that's important. Next season is totally fresh and I need to get a good pre-season under my belt, come back fit as a fiddle and go from there.
"Of course, you never know what happens when a new manager comes in, maybe he changes the style, has different players coming in for your position and it's up to you to deal with it.
"But, for now, it's feet up, watch the lads play and, hopefully, we can get three great victories in the last games. I just need to chill, settle and go and enjoy my summer."
Brown also dismissed talk of friction in the dressing room in recent months. He insisted: "We've always been together, there haven't been any fall-outs. Ronny Deila put a lot of faith and trust into me, but in the last few weeks I shouldn't have been playing as I've got a dodgy hamstring.
"It's good to help him out in any way possible and give something back.
"I'm sure it's a relief for him to win the league and get it over and done with and he can sit back and enjoy the last three games of the season."
Asked who he would want as the ideal replacement, Brown replied: "Somebody who loves the club and knows what it is about.
"It's whatever the board decide. The gaffer has done really well, he's come in and tried to change things and won two titles. We should have had a domestic treble last season, so he has done really well."
Scotland play Italy in Malta on May 29 before travelling to Metz to play France on June 4.
The international captain has yet to contact manager Gordon Strachan, but will almost certainly miss the trip. He admitted: "I need to go and speak to Gordon. I don't know what will happen about that."
—————————————–
CHARLIE GALLAGHER is doing a Q&A on CQN tonight from 7.30pm to promote his new biography which is out now on
cqnbookstore.com
If you would like to get a signed copy of Charlie's book which is titled CHARLIE GALLAGHER? WHAT A PLAYER! click
HERE
or on the image below.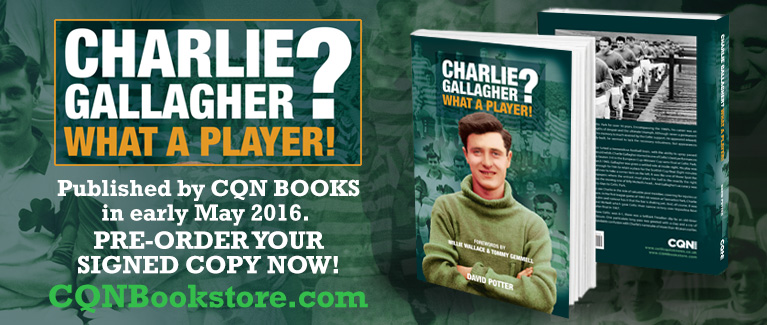 Click Here for Comments >