THREE Celtic legends have spoken out about the news that James Forrest has rejected a lucrative 4 year contract extension at Celtic and instead looks set to join Norwich City in the summer.
Celtic's legendary goalkeeper PAT BONNER believes James Forrest should perform a U-turn and commit himself to the club in a bid to live up to his potential.
The 24-year-old winger is out of contract in June 2017 and has knocked back the offer of a four-year extension.
Ronny Deila has insisted it is highly unlikely Forrest will be given enhanced terms and he could be heading out of the Parkhead exit sooner rather than later with Norwich City and Queens Park Rangers already linked with the international player.
Bonner, 55, who spent two decades at the Hoops, said: "He should be a regular fixture in the starting line-up every single week. I would love him to stay at Celtic because there is no better place if you are playing really well.
"He is a wonderful talent and has great ability on the ball.
"The problem with James is inconsistency. He's had his injuries, but, for me, it looks like a mental thing.
"As soon as you walk on to the pitch, you've got to make things happen, especially if you're playing at home for Celtic, especially if you're playing out on the wing – because some great players have played in that position over the years.
"There are times when I'm surprised he's not in the team and there are times when he is that I'm surprised he's not effective enough.
"When he is effective, there's nobody better at getting the fans up out of their seats.
"But it's up to him, no-one can do it for him.
"He is still a young man and he also has an international career to think about.
"The only way you're going to progress yourself for Scotland is to be playing every week and being successful and he can do that with Celtic.
"Sometimes, going away for more money might not be the right decision.
"Maybe he feels a wee bit stagnated and thinks he needs a change of scenery just to kick on. That can happen, of course."
Forrest has made 13 Scotland appearances, starting on seven occasions. However, he has struggled for consistency this season and has scored only two goals in 32 appearances.
Former Celtic winger JOE MILLER believes that James Forrest is making a BIG mistake in rejecting the new contract at Celtic.
Miller cites the number of players who have left Celtic and later regretted that decision and also believes that Celtic is the right club for the player to develop, with Ronny Deila stating publicly that the player would be part of his plans and could develop even more under his guidance.
Ex-Celtic striker FRANK McGARVEY is just as astonished that James Forrest has reached the decision to reject Celtic's very generous four year contract extension offer.
McGarvey left Celtic reluctantly to say the least after having scored a remarkable headed winner  in the Scottish Cup Final in 1985 against Dundee United.
Frank had this to say about the Forrest contract news: "I'm amazed that he is turning down a four-year deal. Why would he turn that down?
"Fair enough if every club in the country is after him but I don't think that will be the case.
"I'm very surprised that he hasn't bitten Celtic's hand off and signed that deal because I think he was lucky to be even offered that length of contract.
 "He's a player who in the past showed great potential but he's never really fulfilled it. He's 24 now, so not a young boy any more.
"He should have grabbed that offer with both hands. Celtic have made him a good deal and at this point in his career I think he should be signing that."
————————————————-
CQN SPECIAL OFFER!
We have reduced the price of a selection of our Celtic books on CQNBookstore.com
The Winds of Change and Caesar & The Assassin are reduced to £13.99 each, Seville The Celtic Movement and The Quality Street Gang are now only £9.99 each. The Jock Stein book, Willie Wallace & Tommy Gemmell's books are all just £6.99 each.
Order ANY book or DVD and we'll send you a copy of the 2015 CQN Annual absolutely free and we will add a wee dram for you to enjoy when you're reading!
We also have the Neilly Mochan book and DVD from Paul Dykes available and much more.
Order now at www.CQNBookstore.com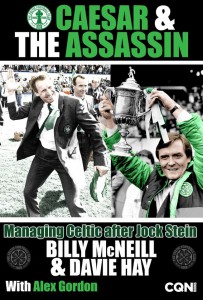 Click Here for Comments >